EPISODE #9
LIFE IN THE 'ELIE' HOME - SUPPORTING FAMILY - THE ROOT CAUSE

Dear Readers,
Let me start this unique eye-opening New Year publication by wishing everyone,
A Happy, Healthy, Safe and Prosperous New Year. And I also say "Thank You" for the positive support received from members of the community this past year, and years before.
What follows is a significant New Year message focused on exposing for the root-causes to what is a never-before seen family drama. Root-causes that are so unique and mystifying that they do not seem believable. But I promise you that by the time you reach the end, I will have made a believer out of you.
Because while I have identified jealousy over my marriage to Marline Mith as a principal motivator, the destructive root-cause at the center is so deep-rooted that it has so far been invisible. However, you're about to be among the first to get a good sneak peek at it.
It is a case that I will present through personal short stories of family togetherness' at the Elie home, in which you will witness the kind of brother, uncle, father, husband I was, and the kind of love and support I extended to my niece Johanne Dupiton as she was running an undercover operation of division. And in the end, you will definitively ask yourself the same question I have been asking for years, which is:
"What Jean-Claude (Claudyy) did to the family, and specially to my niece Johanne Dupiton to target me for elimination after my marriage to Marline?
While the answer will still remain a mystery, you will get a great understanding of why the question must be answered.
Now,, before we start, let me say that one my initiatives in trying to pull my juniors in the family back on the right track was to often send them powerful words of wisdom to touch their conscience. One such below that serves as the backdrop of many of my short stories, is this quote often repeated at religious gatherings, that states::

With that, let's begin our trip down the path of the family's downfall with Short Story #1. Then end the trip with a requested New Year Resolution to the family.

- SHORT STORY #1 -
OFFICIAL INTRODUCTION OF FUTURE WIFE TO FAMILY
The year was 2010 when I invited my family for dinner at the home of my girlfriend Marline Mith, the woman I had hoped to make my wife one day. The picture below shows me in front of the dinner table with my sister, nephews, nicest, daughter, members of Marline's family etc, ready to bless the table as "The family that prays together, stays together".
However, there is a greater meaning to that picture of our praying families. But first take a look at the unified family praying to God at the residence of my girlfriend Marline Mith.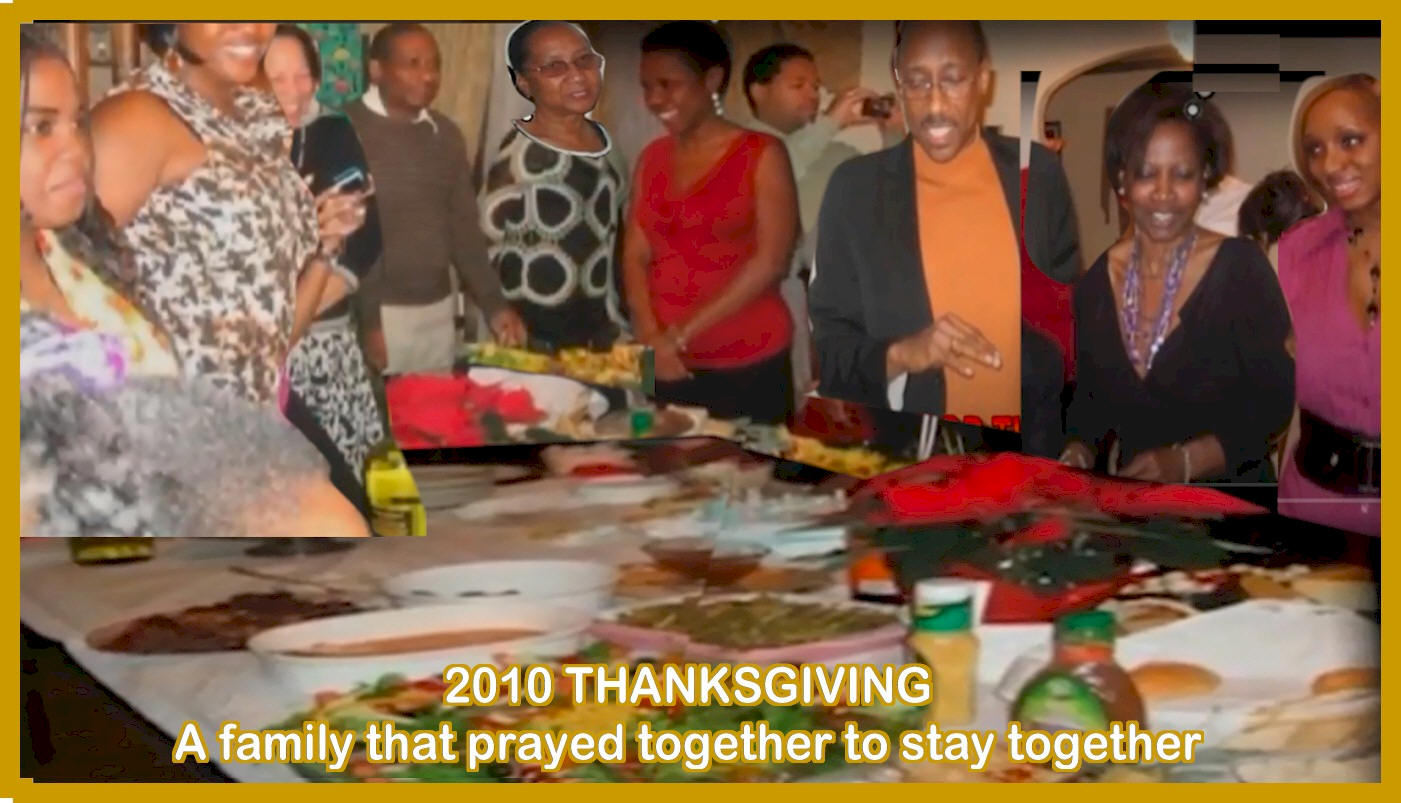 THE GREATER MEANING OF THAT PICTURE
-My main purpose in bringing together my family and Marline's family was to get their blessing as I had planned to propose Marline into marriage in the presence of our families. A moment captured in the picture below showing my daughter Tanisha and my sisters Liliane Claude and Roselyne Balmir caught by surprise as I pulled the engagement ring to put on Marline's finger. The last picture tells you how she answered.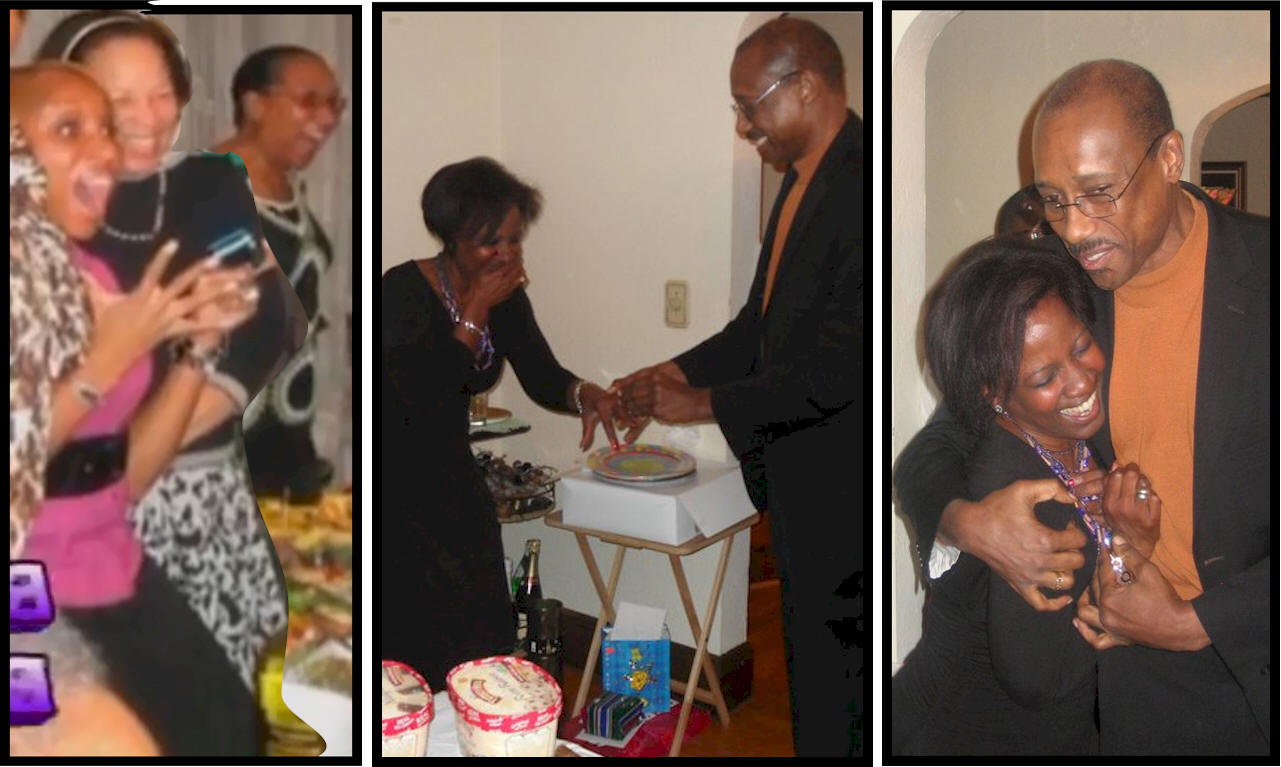 So instead of taking her to a date at an expensive restaurant to make the marriage proposal, I chose her home as the setting and our 2 families as witnesses. Because getting the families approval would be a recipe for success.
AND DID WE GET THE FAMILIES BLESSINGS?
Well, the answer is in the next picture taken at the end of the evening, showing the 2 families, including Carter the dog, together in what I envisioned would become one Big Family united through marriage.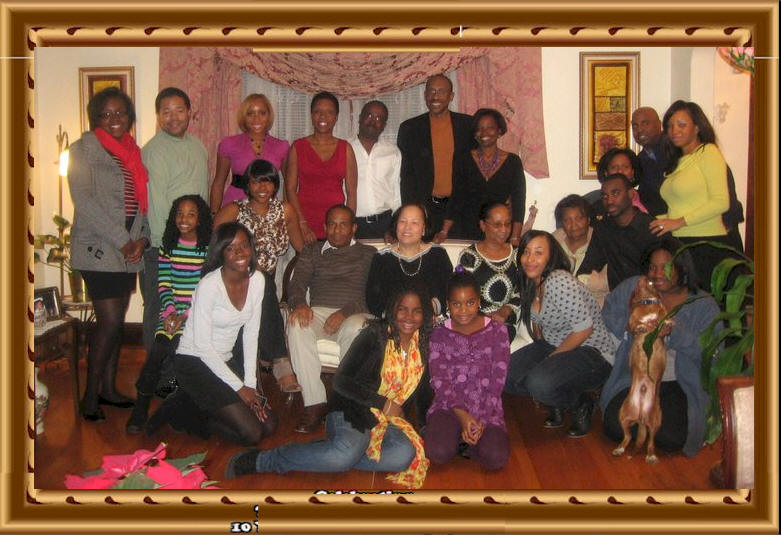 BUT THERE WOULD BE A CATCH THAT I DID NOT ENVISION
It is that, in this picture, there were faces of Judas that would be embarking in a destabilization of the upcoming union and of that home, soon to become the official marital residence of the new Elie family. Faces with the names of my niece Johanne Dupiton, sister Liliane Claude, niece Dominique Colimond, sister in-law Joelle Mith Joseph, step-daughter Tiffany Charles, and others who would later be coerced into supporting a destabilization process.
Now since that destabilization campaign has been published in my reports, and at www.Theclaudes.com, my intention with these stories is to show proof that I was a strong supporter of my family and a loving uncle to my niece Johanne who I used to call 'Jojo', before changing it to 'Mad Doc..
So here comes short story #2 featuring my niece Johanne.
- SHORT STORY #2 -
CLAUDY, THE DEVOTED UNCLE
PROUD OF HIS YOUNG NIECE GETTING HONORED:
This story is about the day that uncle Claudy was filled with pride upon learning that my loved niece Jojo was selected to be honored with a Proclamation by the New York City Council members, and as a proud uncle, I was not about to miss that moment. So my new wife Marline and I took the day off from our daily routines and headed to City Hall to show support and represent the family.
But as I often say, a picture is worth a thousand words, and this picture of a proud smiling uncle with his niece Jojo speaks a million words. A picture taken by my wife Marline Elie.


As wife Marline snapped this picture that I kept as a family memorabilia, I had no clue that today, I would earn demeaning names like crazy man, squatter, wife controller, and be defined by the slogan "You are 0-for-3 in wives", thus reducing the wife I had put on a pedestal to a simple #3
But on that day that I attended her receiving that proclamation, guess who else was present, or better, who was absent?. Missing were her mother, sister, cousin, etc.. But uncle Claudy showed up. So you go figure.
With that, let's raise the stakes with short story #3 on the way to the dismantling of our family.
- SHORT STORY #3 -
UNCLE CLAUDY, SHOWING LOVE ON NIECE JOJO'S PLANNED WEDDING
This one was on the day that uncle Claudy learned that his loving niece was going to embark on her 2nd marriage to Guy Theus. So I decided to show my support by asking my wife to host a bridal shower for her at our home.
THEN CAME THIS INCIDENT. WAS IT AN OMEN FROM ABOVE?
As I had prepared the basement to welcome our guests for the bridal shower, Johanne was first to arrive. But as she started to head down the stairs,
her foot got caught on the carpet and she took a bad fall tumbling head first down the stairs, all the way to the bottom.
Well. uncle Claudy went into panic afraid that I may have broken her ankle or neck, and that my good deed may turn out to be catastrophic to her planned wedding. But thanks to God, she only suffered minor bruises, and I felt relieved.
But looking back at that incident today, I think that her fall was an omen, as , the God who has vision into the future was not happy with her long term plans as I am showering her with love. And an early sign of that long term plan was in her wedding plan itself.
For that, let's go to Short Story #4
- SHORT STORY #4 -
A PLANNED WEDDING WITH ULTERIOR MOTIVE
Now, remember that my goal here is to walk you down the path leading to the demise of my family, and at this point in my stories we are just months into my marriage to Marline, which is very significant to this next part of this story on Johanne's wedding plans.
Now, I am going to make an extremely serious statement that Marline can confirm as we had talked about it more than once. And since you can already see that Johanne was a niece I cared for, I would have no motive to lie about her and her decision to get married,.
THE STATEMENT
Johanne Dupiton's decision to marry Guy Theus only months after my wedding to Marline, was a jealousy-based reaction to our weeding being referred to by many in the community as 'The wedding of the century'
Now, with my niece being an MD and owner of Camkids Pediatrics, she had the delusion that she was the financial guru of the family who must have the best. Therefore to maintain that status, she had to have a more extravagant wedding that will beat our marriage of the century. So she opted for an overseas wedding in the Dominican Republic with all the bells & whistles that is guaranteed to surpass our Long Island wedding of the century. But after we received her invitations, we realized that we had a problem.
Now before continuing, I must pause and go back in time to share a relevant side story during my own wedding preparation the year before. It went like this
At the time Marline and I decided to get married, she was between jobs, house sales slow in her real estates occupation, and as a retired person doing well with my RockMasters Business for which I had made my fiancée the VIP of finance with the tough job of getting Haitians to pay their bills. However, I was never known for saving money, so we did not have much for a big wedding. So Marline came with an idea and told me: "We can have a wedding at City Hall, and a small reception for families and close friends".
Well, while I saw her point, I strongly objected by telling her:
"Listen Marline, you are my Queen. You think that I am going to have my Queen stand in a line at City Hall waiting for some clerk to call you 'NEXT IN LINE? Never. This is our last wedding and I am going to give you a big one""
To which she replied: "Where we're going to find the money??
And my answer was: "God will provide"
So we started shopping around, and had enough to make the initial deposits.
Well suddenly, my business pick up steam, Marline started to collect from delinquent customers, I was not partying like before, and she sold a house. So we kept making small payments, with the last one to the catering hall just days before the wedding, and we were on our way to our wedding of the century.
Now going back to Johanne's Dominican Republic wedding and the invitation we received, we realized that with our tight fiancés, going to her wedding would not be a smart move, and did not attend. So Johanne had her extravagant DR wedding. But since we did not attend to see it, and still determined to show us that she surpassed our wedding, she went to her back up plan,
JOHANNE WEDDING COMPETITION BACK UP PLAN
The plan was simple. Have a 2nd wedding reception in in New York, and the best way to visibly show that she beat our wedding of the century, was to hold it at the same banquet hall that Marline and I got married in so that a perfect comparison can be made.
.At that point, Marline and I were very much aware of what was going on and had talked about it privately even during her reception. Because as we entered the reception hall, it felt like a return to our own wedding as the setting was an exact photocopy of ours. So much so, that Marline commented: "If she had planned to match our wedding, she failed miserably". And she did fail in all aspects.
Below is a picture of Mr. & Mrs. Elie, seated at our bridal table where Johanne was determined to seat also, wrongly thinking that the Dupiton couple could look better than this Elie couple.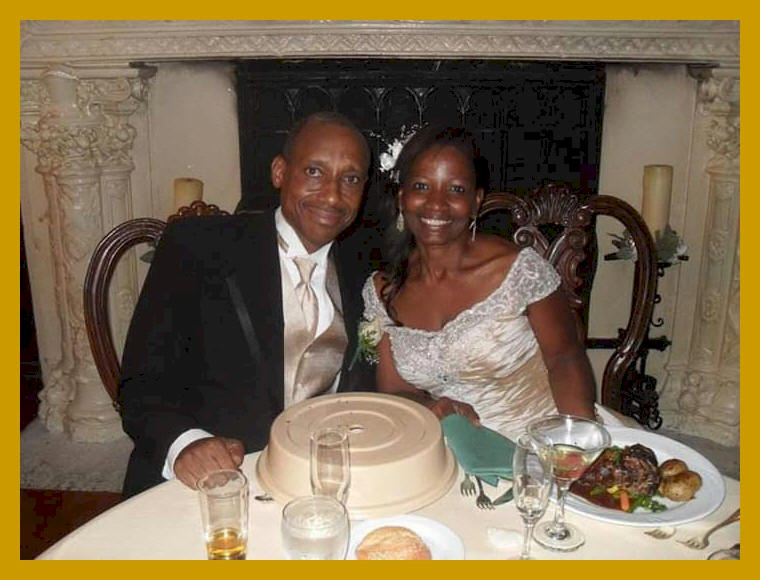 THE JEALOUSY FACTOR:
Now, while Johanne's early jealousy was evident to both of us since her wedding, I we never imagined how strong it was, nor how destructive it would develop. But that did not stop uncle Claudy from continuing to be supportive of his youngest niece Jojo.
For that, let's go to short story #5.
- SHORT STORY #5 -
UNCLE CLAUDY
GIVING SHELTER TO A NIECE IN NEED
Now, it was October 2012, and Marline and I had just celebrated our first wedding anniversary when Hurricane Sandy hit NY and flooded Johanne's house making her temporarily homeless and looking for shelter. At the time I was still renting the office/apartment above Camkids for my RockMasters business. So came good uncle Claudy as the family's good Samaritan to the rescue with Marline & I excited to help a family member in needs.
Not only did we offer her our office/apartment to shelter with her husband, my wife made me clean the bedroom with a toothbrush while she went shopping for new bed sheets, pillows & towels. Then I told her "You can stay as long as you want with your husband" .
But we did more than offer her free shelter, because as her tenants to the apartment, we still paid her full rent for the duration of her stay. And while she did not offer to take off one penny from the rent I did not care, because I did not do it for the landlord, but for a niece in needs who I loved.
However, we did get an undesired Thank You from her a year later. It was after she started to make advances to my wife trying to comprise her with lies claiming that "I was bringing girls to the office, etc.". So when Marline who was still the good wife rejected the advances, Johanne had her lawyer send us a notice of eviction from the apartment. Then after she coerced Marline to break the marriage and had moved to my sick sister Roselyne Balmir's house, she got my Balmir nephews evict me from there and into a temporary shelter. That's when she exposed her eviction obsession by sending me this text message.


Now, let's remember that, beside sending Marline and I an eviction notice from the office/apartment & having my nephews evict me from my sister, even my wife was executing an eviction order from Doc Dupiton when she broke the marriage. So my 2 nephews and Marline were just executors for Johanne's eviction obsession, as she cowardly remained in the dark as usual.
So as she scored me as 0-for-3 in wives, she has scored a perfect Hat-trick of 3-for-3 in evictions. Then being so inhumane, she did not know that shelters are humane institutions that take people in, not evict them from. Just as she forgot that uncle Claudy gave her shelter as the first member of the family and MD who found herself temporarily homeless.
So let's go back to the time my marriage was still intact for more evidence of Claudy's commitment to family togetherness. For that, let's go to short story #6 we as we move toward the family's downfall.
- SHORT STORY #6-
CLAUDY'S COMMITMENT TO UNITY THROUGH FAMILY GATHERINGS
These next short stories recall some joyful days of family unity at the new Elie home that reflect my commitment to family togetherness early in the marriage. Moments that were captured in picture memorabilia and further prove the necessity for answers to the mysteries of the family's transformation you will soon witness.
2012: GATHERING FOR GIANTS SUPER BOWL @ THE ELIE'S
It was in 2012 when the family was still united on the surface, and with the NY Giants heading to the Super Bowl, I saw that as an opportunity for another day of family togetherness. So my wife and I invited our families and a few friends to our home for the first family Super Bowl watch party.

So on game day, as the chef Marline was busy in the kitchen, family and guests started to arrive. Those not into football hanged out upstairs, chatting, snacking, drinking and having fun, while the sport fans headed for the basement where the action was about to get HOT.
Well the high pressure moment of the game was captured in the pictures below picking up the action on the last play of the game with everyone on edge and praying for this last play to make the Giants CHAMPIONS and not LOSERS.

Well, the second row of pictures tells the outcome. The Giants won, and the basement exploded as those upstairs ran down to see what was going on, hoping that it was a Giants win.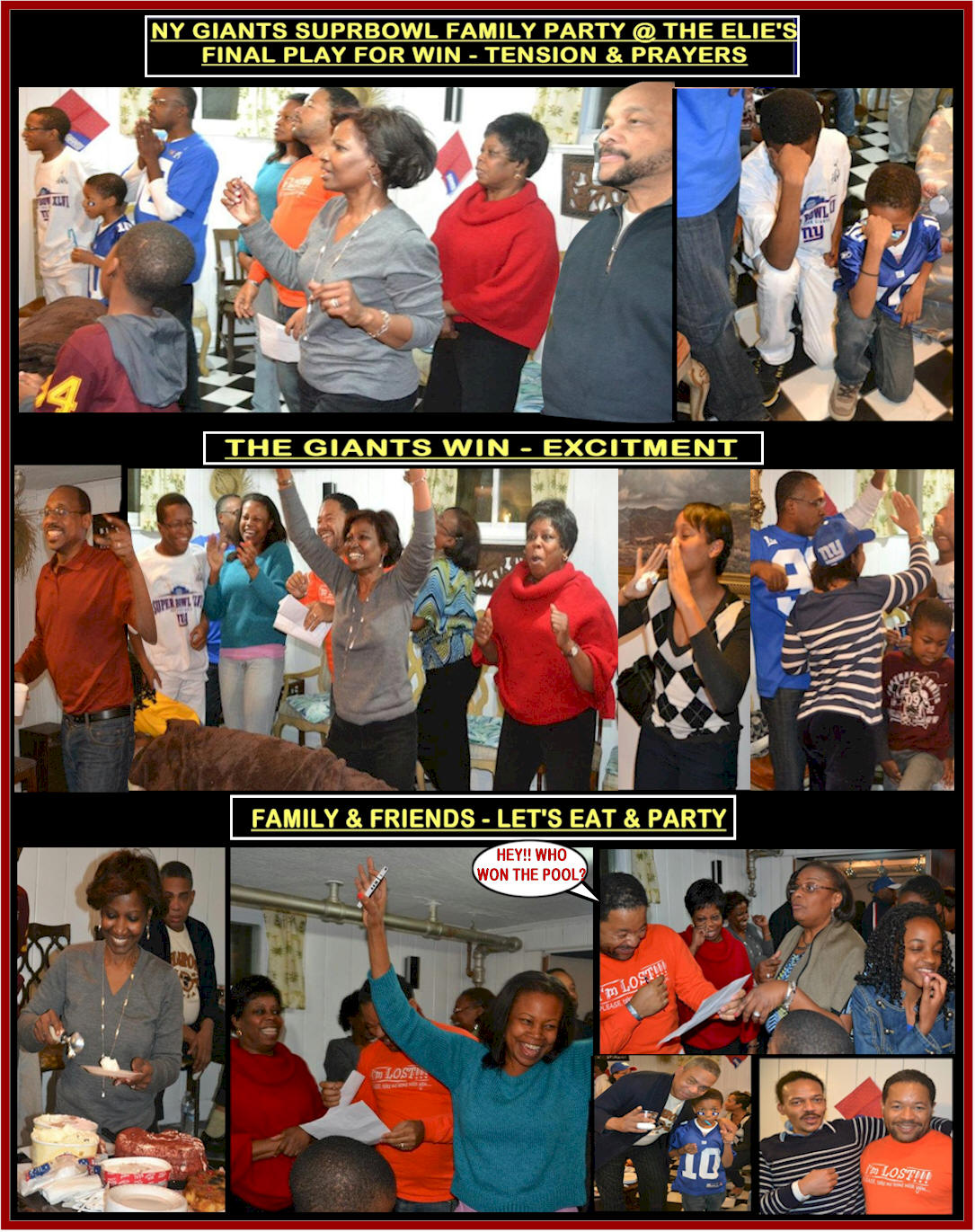 Well, after a win comes the party. So on to upstairs and to the dinner table, starting with the traditional prayer for this family that prays together to stay together.That was the first family super bowl party, and another first by Claudy for family togetherness.
But I did not stop there. So let's go to Short Story #7
- SHORT STORY #7 -
2013: FAMILY GATHERING
FOR CLAUDY'S BIRTHDAY AT THE ELIE HOME.
This story is abut Claudy again gathering the family in prayers for his birthday as the head of his new Elie family. A story that is also captured in the pictures below with me delivering the tradition prayer that "A family that that prays together, stays together" with my wife & daughter at my sides and member of both families surrounding the table for a great day of Elie & Mith families unity .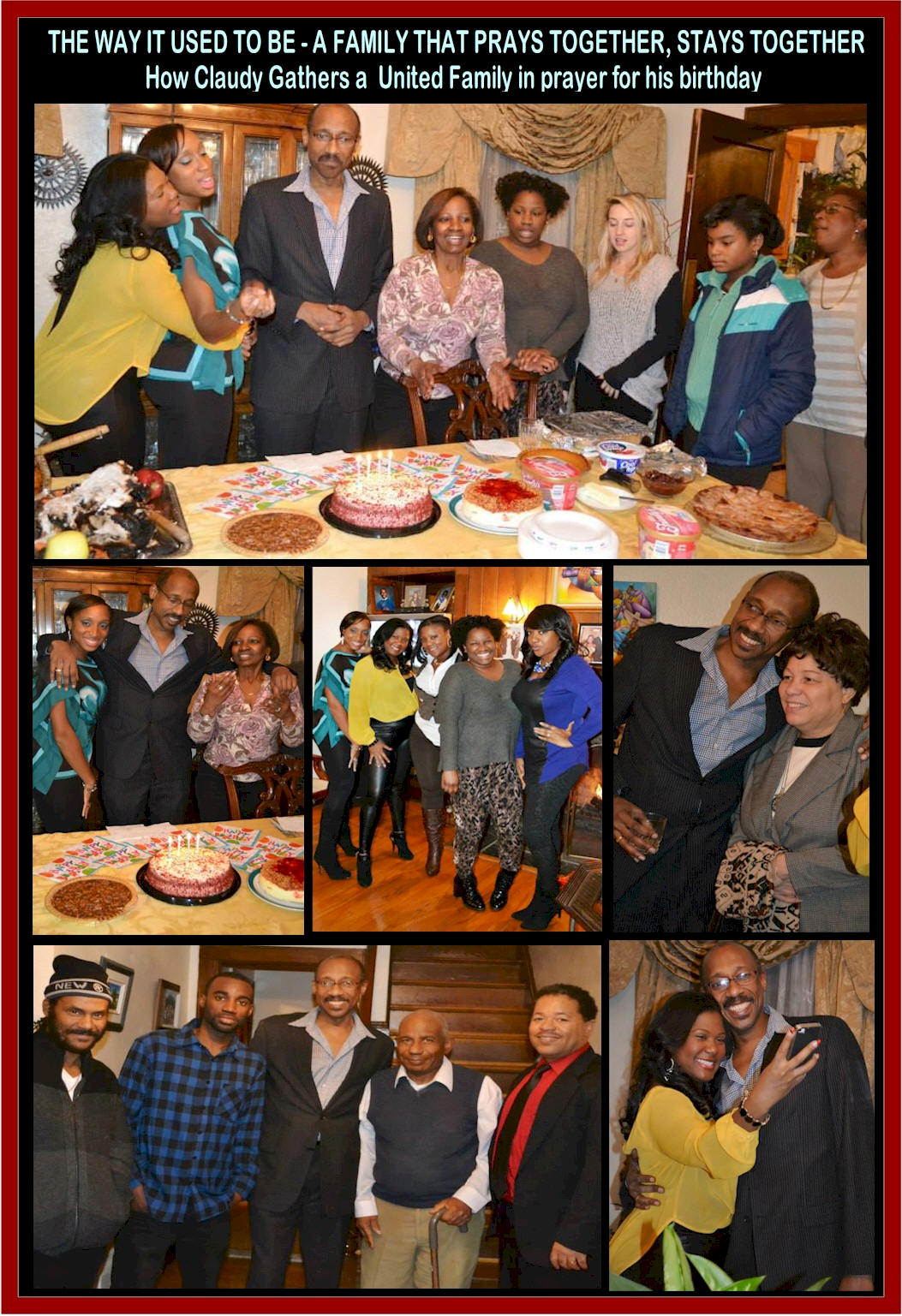 It was at a time when the Elie residence was still a welcoming family home. But as you will soon see, my prayer was falling into the deaf ears of Judas already running an undercover operation to divide the home that welcomed them.

MOVING ON TO THE DISMANTLING OF THE FAMILY
Now as I proceed to the next short story, and have you relive the progression of this family from a seemingly unified one into the current dismembered family, you will soon be convinced that, as the elder male figure, my commitment to get answers from those who executed the downfall scripted by my loved niece Johanne Dupiton, is the right decision.
So let's go to the next slide in Short Story #8
- SHORT STORY #8 -
2015 - 2016 FAMILY REUNIONS
CLAUDY MOVES TO AVERT FAMILY DISASTER
As we entered 2015, a year soon to be know as "The Year of Infamy" for the family, came Claudy's biggest moves yet to salvage the family & his marriage.

Those moves first took place as I started to observe big cracks forming in the family bond from Johanne's efforts to compromise my wife. Something that created friction between the 2 of us and within the family. So I decided to launch my biggest reunification effort to salvage the family by calling for the first official family reunion in honor of our late matriarch on her 10th anniversary in heaven.
Then one year later, as she executed her audacious "Thanksgiving kidnapping" of my wife at my daughter's house, I again called for another family reunion that once more pulled the family back together.
So here are 2 picture memorabilia taken at the end of these reunions showing the family fully reunited thanks to my efforts. But a big catch will soon follow.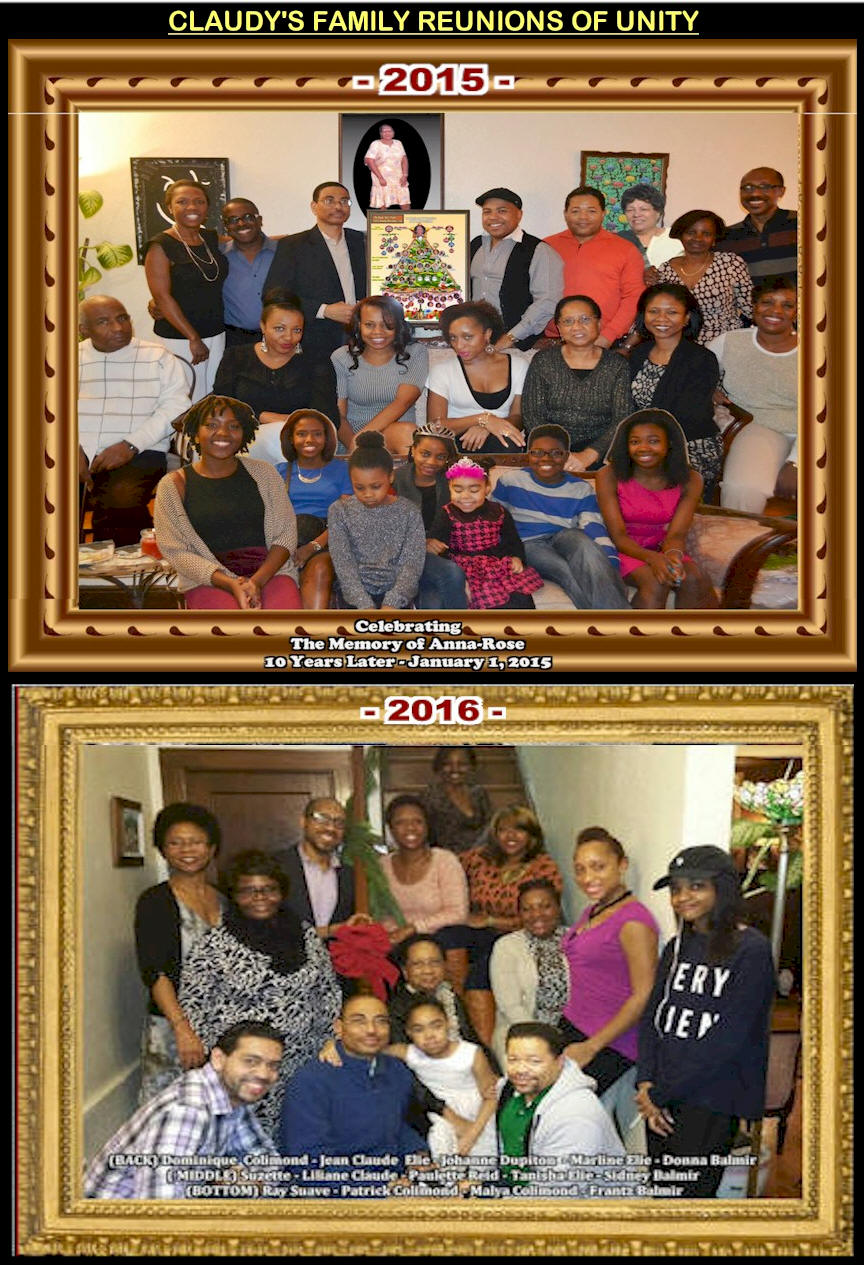 As you can see, this was a great looking family. But to give you a preview of the striking contrast between the family above and the family of today, here is what my nephew Eric Balmir Jr. wrote me after he received my invitation to the family reunion honoring my mother.
December 26, 2014
Hello Uncle Claudy,
I am extremely excited that you have chosen to take the lead and host an event to honor Memmere after 10 years of her passing.
I believe a celebration of our family values is long overdue! You have set an example of how we can continue to share our family values with our children and this needs to be well commended.
By the way I never call you Uncle Claudy ( LOL)/. I just felt I had to follow the chain of command structure you are setting
---
your nephew who loves you and respects you.
Eric Balmir

This was from the same nephew who will evict me from my sister's house on Doc Dupiton's order. Then when I asked him:
"Who is the true Ricky? Is he the one who glorified his uncle Claudy above for his commitment to family values, or the one today who evicted the same uncle to the streets from his sick mother's house?".
Well I am sill waiting for an answer he can't give, because he has to deal with the guilt conscience.
But it gets better:. After the 2nd family reunion in Jan. 2016, I sent a Thank You note to all who attended. Then I got this nice reply from my niece Johanne:
From: Marie Dupiton
To: Jean Claude, Marline
Sent: Fri, Jan 8, 2016 2:02 pm
---------
Thanks cousin Claudy

We had a great time and looking forward for the next New Year gathering.
Big thanks to Marline as well

Love,
Johanne
Except that she knew there would be no nest year, as 2 weeks later she'd be dropping the guillotine on the marriage to immediately made me enemy #, and on the way to the downfall of the whole family. So you can understand why I was blindsided by her undercover operation of division, and why I am demanding an explanation today.
Now, as we're about to reach the family breakdown point in spite of all my efforts to maintain unity, let me introduce my final and most important work on behalf of the family.
THE "ANNA-ROSE VICTOR FAMILY TREE" - AN EMBLEM OF FAMILY PRIDE:
This next family memorabilia depicts my proudest graphical work so far, created to honor our matriarch on her 10th anniversary in heaven. It is appropriately named "The Anna-Rose Victor Christmas Family Tree", and was unveiled at the Jan. 1. 2015 family reunion to remind everyone of her sacrifices and the values she instilled in us.

So let me present you my creation of our family tree of pride, densely populated with great & loving family members.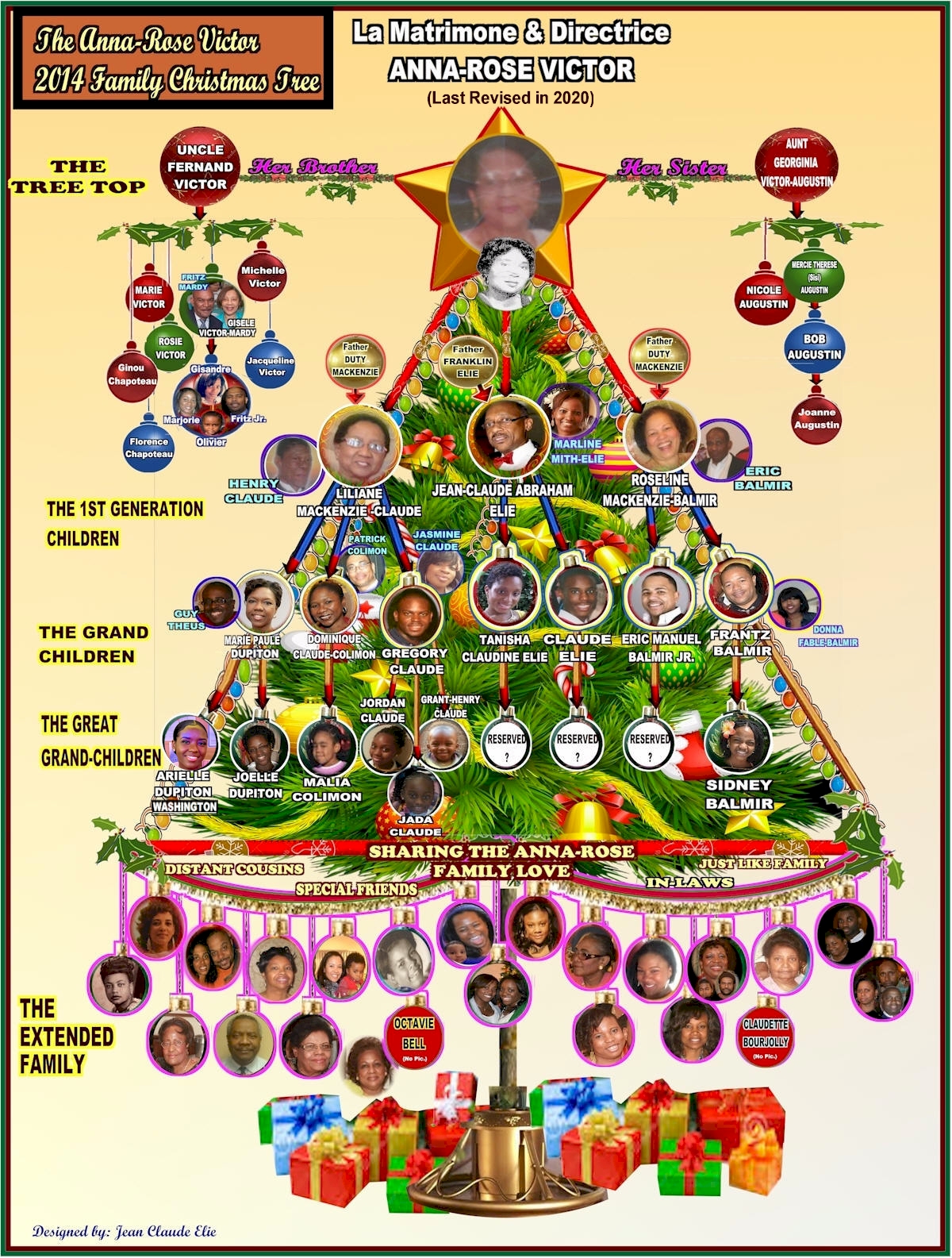 A beautiful tree that's would soon be sadly dismembered by a hurricane of jealousy, hate, vindictiveness and division to become an emblem of the family's moral, physical and social downfall.
But before going into the transition from this densely populated tree to a dismembered tree, let me present you the final positive short story depicting the last day of family togetherness.
So let's go to final story #9 that once more confirms my commitment to family unity to the final days.
- SHORT STORY #9 -
CLAUDY'S FINAL EXPRESSION OF UNCLE LOVE AND
LAST JOYFUL MOMENT OF FAMILY UNITY @ THE DUPITON'S
Now, there are noticeable factors that make this last story extremely significant and eye popping relating to what would be coming next:
FIRST: This event took place at Johanne's Dupiton's Baldwin residence.
SECOND: And most important is that this final moment of family togetherness that is also my last physical contact with niece Dupiton took place exactly 1 week before the marriage sudden break up.
THIRD: It solidifies the necessity for an explanation on the sudden transformation of the family that would follow, and what did the Claudy to them to become enemy #1 targeted for elimination after showing so much love to niece Johanne and commitment to family unity as depicted in the above stories.
It was in January 2016, just 3 weeks after the 2nd family reunion at my home, and with my wife in Haiti that day, my daughter picked me up from home to go celebrate Johanne's birthday at her house for another great moment of family togetherness.
I had such a great time that, I later collected pictures and video clips of the event and put together a short souvenir video that I sent to Johanne as another memorabilia of family togetherness, this time at the Dupiton home.
Well, they say that a picture is worth a thousand words, but I say a video brings life & emotion to words. So please look at this most important video. It is very short, but the message it projects is very significant as you will soon see. So please click to look at it.
Well, this final emblem of family togetherness would soon become an emblem of treason, hate & jealousy that I created for the one plotting the outrage to follow.
FROM 'BLIND FAMILY TRUST' TO FAMILY DOWNFALL
Now, to make a smooth transition to today's family from the one you've witnessed me show support and love for, let me present the conclusive proof that will make you a true believer.
As I've often seen myself as a victim of "Blind Family Trust", the real proof came the day that Marline hinted to me that my family may not be on my side as much as I believed. Well, instead of taking her seriously, I pushed back on that notion by sending her this email in defense of my family. Here is part of it:
From: jeanelie@aol,com
Subject: My family
---
Marline my love,

Let me tell you something about my family. My family has known me for life. They know what I can do and what I won't do.
.They are very polite. They will not talk against me, nor disagree with you. They will just take note. They will always show neutrality.
....
The reason they didn't say anything to me is because didn't want to make things worst. They just act dumb and don't get into people business.
I try not to tell things to my family because I know it hurts them to see me unhappy... Liliane tells that she is always praying for me and always reaches out to my mother
....
Jean Claude
Well, so much about them "not getting involved in other people business, and not wanting to see me unhappy".
So with my love, commitment, and now my blind trust in my family confirmed, we can move to the final stage of the family tree of pride being transformed into a dismembered tree of shame
TRANSITION POINT & CONCLUSION
THE DISMEMBERMENT OF THE FAMILY
AND OF OUR FAMILY TREE EMBLEM OF PRIDE
Now, we have reached the crossroads on the path of the family's transformation. A 6-years path that I took you on with short stories of my commitment to the family, starting with the 2010 engagement day, the creation of the new Elie family, to the unveiling of the family tree, arriving at the 2016 final moment of family unity at the Dupiton home seen in the video above.
As you have noticed, these short stories were centered on the spiritual teachings that.

But as it will now become evident that praying together did not result in the family staying together, as these prayers went into the deaf ears of many influenced by evil forces.
So as I decided to enlighten everyone on the family's moral and spiritual weaknesses responsible for its downfall, I first presented them with the new words of wisdom below. And just as the previous ones stating that "A family that prays together, stays together" was of a spiritual nature, so is this next one from the Bible about division.
Jesus had said to us that:

Which I extended from a house to a family, stating: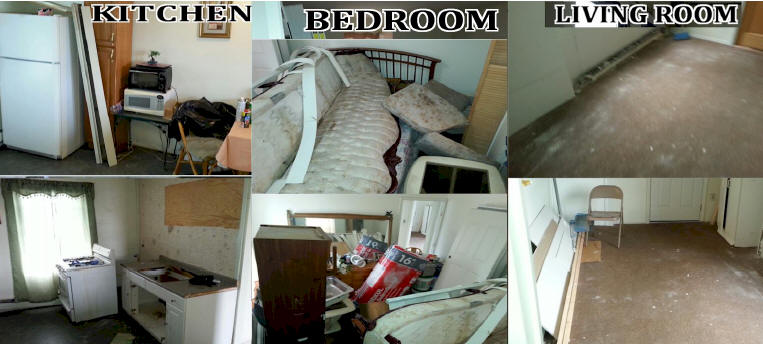 Therefore, this once seemingly unified family that our matriarch built on 3 children legs (Liliane, Roselyne & Claudy), now divided against itself could not stand on 2 legs. Thus it crumbled with the assault on the Elie leg.
And the root-cause of this downfall was clearly exposed to family members in a message delivered to them on Christmas day, hoping that the spiritual meaning of that day would bring them deep moments of reflection. So the best way to present you the last stop on the path of the family's transformation is through the message that they received from me on Christmas day.
And here it is in an edited and expanded version for distribution
.
MESSAGE TO MY FAMILIES - ALSO SHARED WITH THE MITH FAMILY
December 25, 2020

Dear Family Members,

This message centered on the demise of the family and the desecration of the family tree reveals 2 significant incidents that took place during my first family reunion honoring our matriarch. And while you were central to these incidents, you did not notice them as your focus was not in preserving family unity.


So here they are:

1ST INCIDENT: DURING MY SPEECH HONORING MY MOTHER:
This first incident took place while I was delivering my message on the values that our matriarch instilled in her 3 children & grandchildren. Then as you should all remember, Marline kept interrupting my speech saying "The food is getting cold, let's go eat".

It was something that annoyed me in light of the importance of my message, but on her 3rd interruption, I agreed to pause and to continue after dinner. So we headed to the dinner table where I once more delivered the traditional prayer asking that "This family that prays together to stay together".

Now once dinner was over, I was ready to finish delivering my carefully prepared message. Instead I watched in sadness as each of you quietly left for home uninterested to hear any more about our family's foundation and values.


SO WHAT DID THAT FIRST INCIDENT REVEAL?
Well, as Marline was interrupting me about the food getting cold, she was already being brainwashed with false and demeaning information abut me. Such as "Your husband wants to CONTROL you. He is a CRAZY man who broke a door and needs to GET HELP. He also had an uncle named Fernand Victor who was also CRAZY. Etc. Etc."


Therefore, Marline knew that my words about family values, integrity, respect for elders, etc. coming from crazy Claudy were making you uncomfortable. So she tried to cut me short by blaming the food for getting cold.


In fact, Tanisha had provided me real-time proof of that discomfort. Because, as she was seated on my right and I was talking about respect for elders & parents, I could clearly see her look of disdain for these words. That was the moment you saw me turn to her to recall the day that I told her about my wife's daughter Tiffany having disrespected me, and that I told my wife: "If my daughter Tanisha ever disrespected you as Tiffany did to me, she'd get xxx from me".


Well, for reasons that I now understand, Tanisha could not see that my comment to Marline was actually a compliment to her, as I was bragging about my daughter being a well-mannered and respectful young lady. Because Tanisha jumped and told me "No, you won't".


Well, surprised at her quick reaction, I had simply said: "That was a manner of speaking, and I could never do that to you because you'd never disrespect my wife. RIGHT...?"


Well, little could I have imagined that, as the father who taught her respect for elders & parents, she was allowing others to teach her the opposite, and that I'd be the elder she'd later disrespect.

CONCLUSION:

First: It is a fact that my wife was interrupting my message by blaming the food, because she was trying to help you all out of the discomfort created by my positive words.
Second: My daughter's reaction to hearing that I'd scold her if she ever disrespected my wife, was the result of her early indoctrination into the Claude/Dupiton ultra-Feminist doctrine of women superiority, and the dreaded phobia of a "Controlling man". The same indoctrination process that my wife was being simultaneously subjected to.


2ND INCIDENT: FATE OF THE FAMILY TREE EMBLEM OF PRIDE

Now, before you all left for home without giving me a chance to finish my message, I presented to each of you these glass-framed posters of the Family Tree and of our matriarch to proudly display in your home.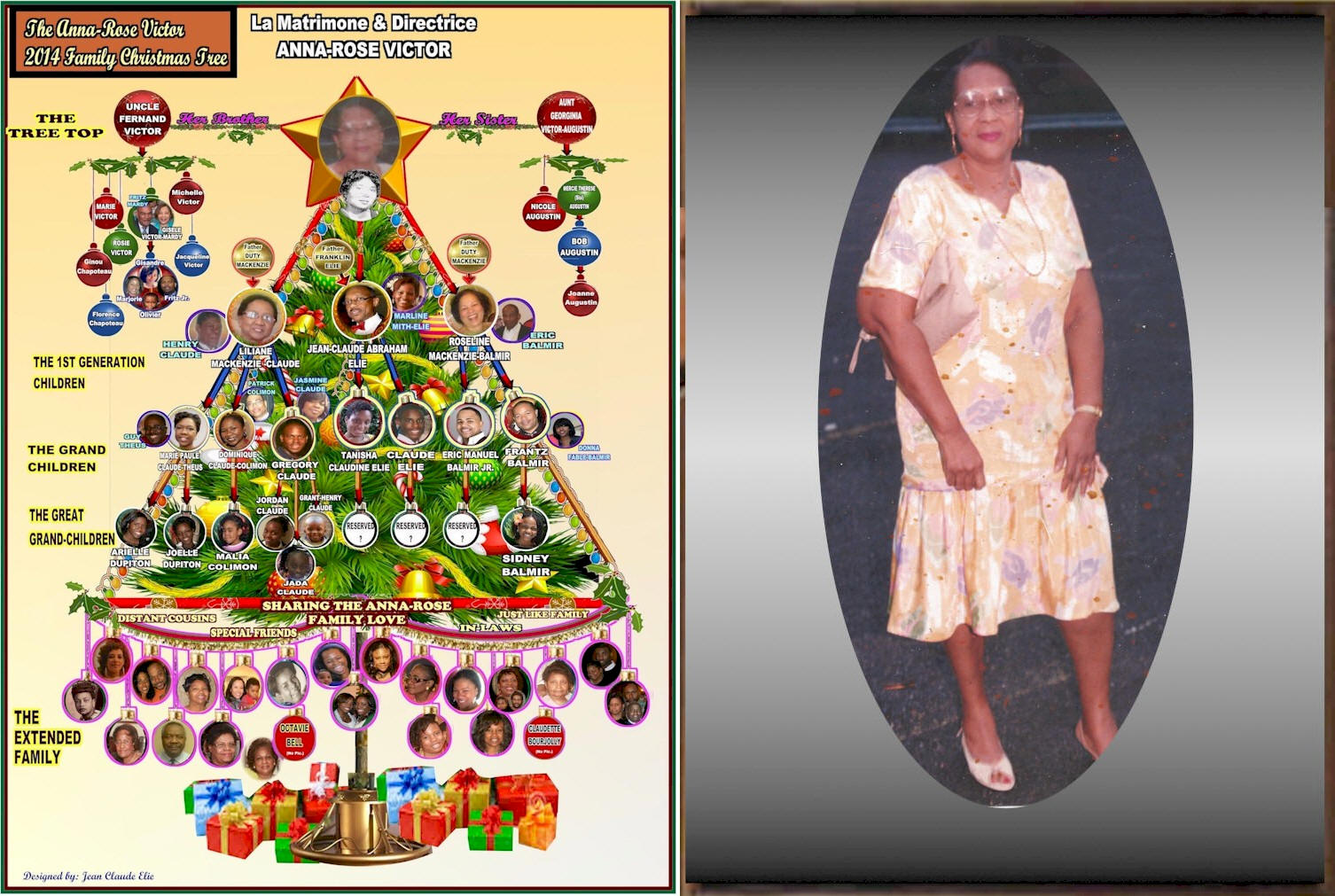 SO HERE IS MY CRITICAL QUESTION TO YOU NOW:
"How much did you value those priceless family memorabilia posters, and what did you do with your copies?".
AS TO MY COPIES: I had them hanging in my living room to proudly share with visitors, and I assume that Marline has them now safely protected and stored for me.

AS TO YOUR COPIES, LET ME ASK:
A) Are your framed posters in display at your home to reflect your family pride?. OR…
B) Are they discarded in some closet or gathering dust in a garage or basement?

CONCLUSION:
My belief from personal observation is that 'B' is the correct answer for most, if not all of you. Because facing those pictures on your wall daily would conflict with your campaign of marriage & family division. Just as the words from my message brought you discomfort. Thus reinforcing the belief that the grandchildren generation contributed to the demise of the family.
Now, let me go into the significance of the Family tree being transformed into a dismembered tree. Then hopefully, my junior nephews, nieces and daughter will realize the values of seniority, elder wisdom and male leadership. And sister Liliane Claude will realize the consequences of having been MIA in her responsibilities the family's eldest and head of the Claude branch that drove the family's downfall.
SO THE BIG QUESTION THAT I AM ABOUT TO ANSWER FOR YOU IS:
How did the Family Tree emblem of pride become the shameful tree below, cut down at the grandchildren generation line?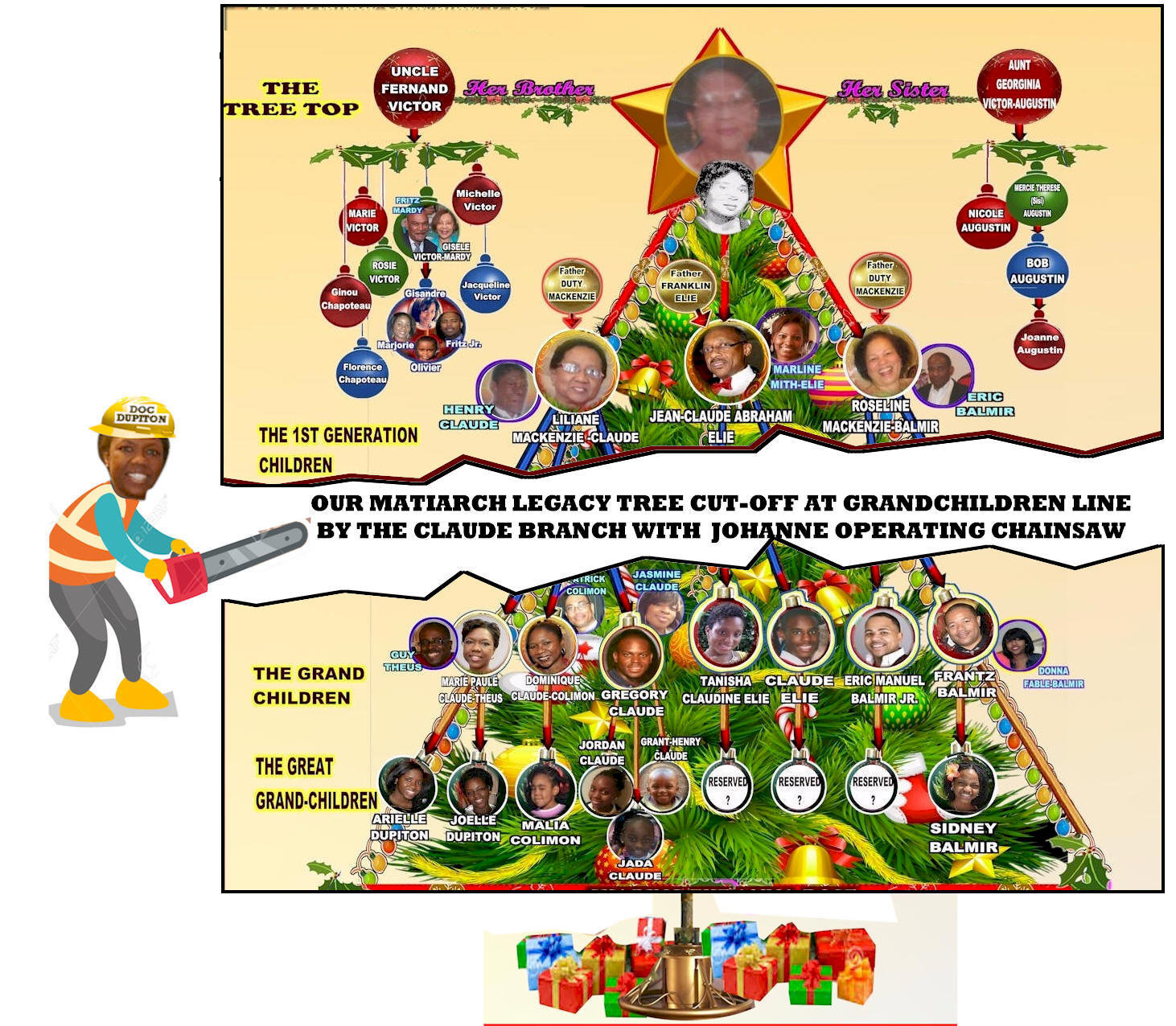 THE COMPLEX ANSWER FROM A SIMPLE WORD:
The answer is in the word 'LOVE' that, combined with the word 'FAMILY', makes the powerful term of "FAMILY LOVE".

It is the True Love that strongly bonds loved-ones into a tight family that can overcome the worst adversities, while a family deprived of True Love will self-destruct in the face of adversities as ours did.

So what are the ingredients or rules that define "True Family Love"?

RULE #1: TRUE FAMILY LOVE BRINGS GREAT JOY OVER THE FORTUNES OF LOVED ONES..

Just as I rejoiced over Johanne's planned 2nd marriage by hosting her bridal shower, and proudly attended her receiving a proclamation from NY City Council members. AS TRUE LOVE is never jealous, nor aim to ruin a loved-one happiness as our family did.

RULE #2:

TRUE LOVE BRINGS FAMILY TOGETHER AT TIMES OF CONFLICTS TO ADDRESS THEM WITH HONEST COMMUNICATION.

Just as Claudy hosted family reunions, called for family meetings & peace negotiations. AS TRUE LOVE does not resort to denigrating a loved one, or call the police on him as Johanne did to her uncle.

RULE #3: TRUE FAMILY LOVE COMPELS YOU TO HELP LOVED-ONES WITH PROBLEMS OR IN LEGAL, FINANCIAL & OTHER TROUBLES.

Just as Claudy gave niece Johanne free shelter after a hurricane, gave nephew Frantz 2 career positions to support his family, and saved my new wife/s house from foreclosure. AS TRUE LOVE, does not send a loved one to the streets, nor ignore pleas for support as our family did many times.

RULE #4: TRUE FAMILY LOVE ALSO CALLS FOR "TOUGH LOVE". THE KIND WE GIVE TO OUR MISBEHAVING CHILDREN, AND THAT CONFRONTS WRONGDOINGS BY ADULT FAMILY MEMBERS.

Just as Claudy criticized his family's wrongdoings, scolded his nephews for degrading their parents' home, and chastised his daughter's newly learned improper behavior & language. AS TRUE LOVE is the TOUGH LOVE that protects a family's integrity and values. Unlike this family teaching a daughter to disrespect her father.

RULE #5: TRUE LOVE SETS ASIDE PERSONAL DIFFERENCES AT TIMES OF SICKNESS & MOURNING TO FOCUS ON THE WELLBEING OF LOVED ONES.

So contrary to my family's actions, TRUE LOVE would never refuse to accompany a family member to 3 surgeries, ignore his hospitalization while abandoned in their framed detention, or turn the funeral of a brother in-law into a spectacle of hate and division. AS TRUE LOVE is compassionate.

RULE #6: TRUE LOVE NEVER HURTS THE ONES WE LOVE, AND IS FORGIVING OF LOVED ONES WHO HURT US.

Just as Claudy never returns hate with hate, or an eye for an eye, never demeaned his separated wife, had agreed to unconditional peace with his daughter, and even held back repotting ex-wife Paulette's involvement in the Claude/Dupiton conspiracies to her new husband Zebe. AS TRUE LOVE values ,and is considerate even to periods of past loves.

CONCLUSION & ADVICES:
So as this family failed these 6 basic rules of True Love, the family tree that I created with pride is now the dismembered tree of a dismantled and disgraced family.

Because with my 6 decades on this planet, and as the family's elder male with the experience of 3 marriages, I have seen a lot. But what I never heard of, is a family purposely inflicting so much division and misery from within itself out of jealousy over a family member's fortunes and marriage.

Neither has anyone ever heard of a family seeking the help of an in-law family to bring down one of its own, split him from his daughter, ruin his marriage, then attempt to eject him from the family to be replaced by the same wife they took from him after tricking her with the false promise of membership in a fictitious ex-wives cub with my remarried first wife. Then coercing his wife into a fraud & invalid Haiti divorce scam. And on it goes. Now, if that is confusing to you, then you understand my motivation for explanation and answers.

So I say to the Claude, Dupiton, Balmir, Colimon and Elie who participated in this outrage, you now have the root-cause to the family's demise. And here it is:

IT IS TRUE FAMILY LOVE THAT NEVER EXISTED IN THIS FAMILY THAT PRACTICED A FAKE, VINDICTIVE & SELF-SERVING LOVE THAT GAVE WAYS FOR JEALOUSY, HATE, CRUELTY & INHUMANITY TO FLOURISH

In fact, let me remind you that TRUE LOVE is something that I previously wrote about in a poem to my wife on our 3rd wedding anniversary upon noticing signs of her being negatively influence by people on both side of our families.

And

the reason the poem is even more significant today is because, while I had shared it with you all at the time,, you acted as if you never saw it. And now I know that the reason is the same one that made you uncomfortable listening to my speech honoring my mother, and why you never displayed the posters of the family tree and that of our matriarch in your home.

IT'S BECAUSE THE WORD LOVE, OR FAMILY LOVE ARE NOT ONLY FOREIGN TO YOU, BUT BRING A LEVEL OF CONSCIENCE GUILT.


So help you with your conscience guilt, let be give you another chance at reading it. So here it is again, read it, and learn what the word 'LOVE' truly means.

TRUE LOVE IN A MARRIAGE
Written for my then true wife on our 3rd wedding anniversary, Sept, 30th 2014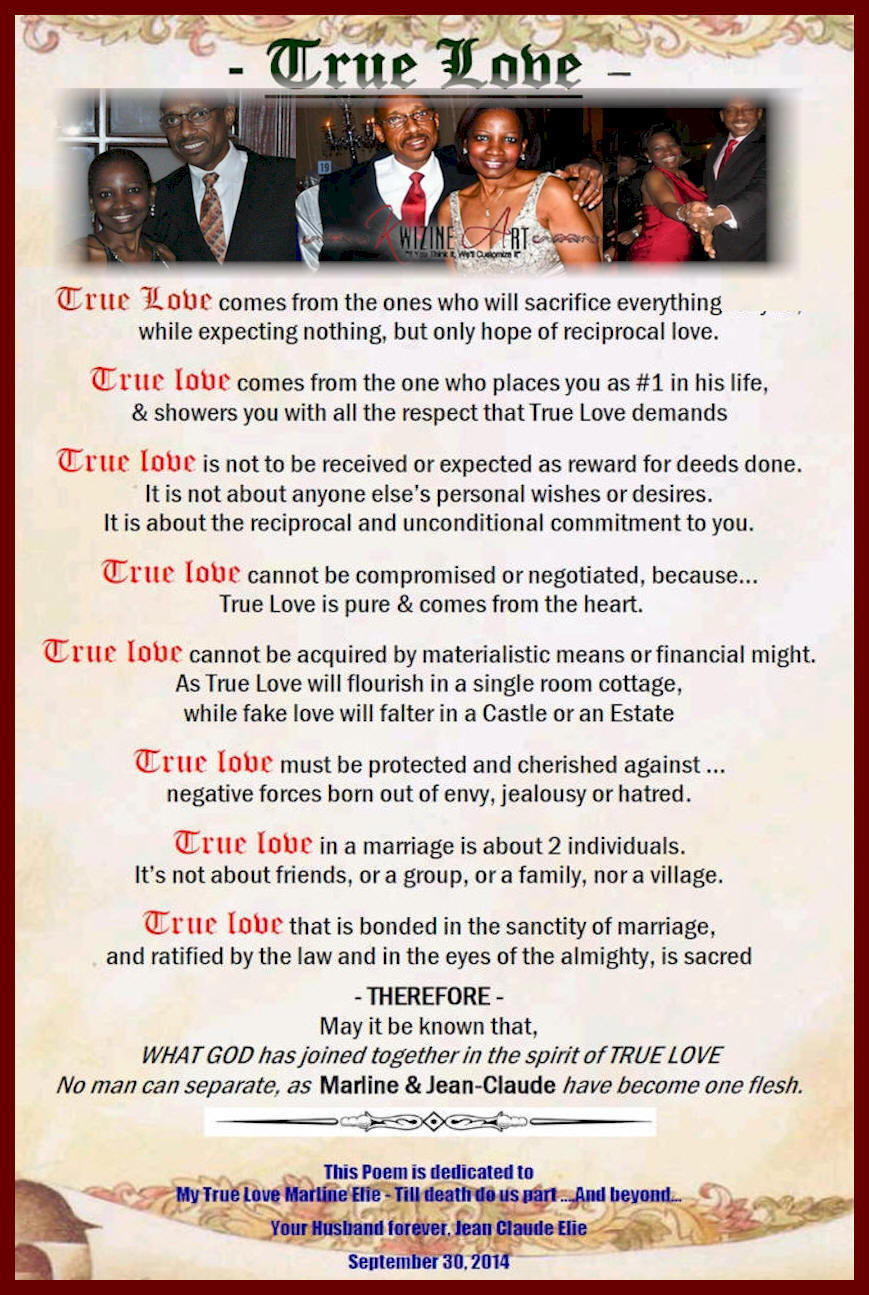 Obviously, it is clear that the Fake and Vindictive love professed by this family is more powerful than the True Love in this poem. Therefore it succeed in bringing down the marriage. And just like the Frankenstein monster that destroyed its maker, the Fake Love swallowed up the family that practiced it.
So Family, when you go church this Christmas, do ask God to put some True Love in your hearts. And I leave you with some more words of wisdom for your conscience.
When you plant the seeds of hate, you will harvest the fruits of hate;
MERRY CHRISTMAS, AND MAY GOD AND MY MOTHER ABOVE FORGIVE YOUR SINS.

Claudy
Family Patriarch
Positive male image & role model.
Now readers, having traveled the path to my family's self-inflicted wounds, I will address my closing comments to the families s with some advices for the New Year 2021, with a suggested New Year Resolution.
SUMMARY & CLOSING COMMENTS
TO FAMILIES ON WHAT YOU JUST READ
December 31, 2020
Having taken the time to take you down the path of the family's reduction to its lowest point, let me give you some thoughts on what you just read, then offer you some suggestion for a New Year resolutions that may bring you forgiveness, salvation and reach closure with some dignity.
To start with, I firmly believe that, with all the facts having been presented and the family's culpability in the creation of this catastrophe established, you have all privately recognized your culpability, and know full well that your actions against me were grave mistakes with today's unforeseen consequences to the family and individuals.
Mistakes due to miscalculations made during the planning stages of the campaigns of division by the chief instigators of Johanne and my sister in-law Joelle Mith-Joseph. For example:
,MISTAKE #1:
The first error committed by this family and especially by Johanne was to think that a man of my caliber would submit to her lifelong M.O. (Mode of operation) that says to her victims:
"I DID IT, AND THAT'S IT. I DON'T GIVE EXPLANATIONS, I DON'T ANSWER QUESTIONS, AND I DON'T APOLOGIZE TO NO ONE FOR NOTHING. SO IF YOU DON'T LIKE IT, THAT'S JUST TOO BAD"
So my dear niece Jojo thought that once she was successful in getting my wife to put me out I'd simply disappear, only for her to discover that uncle Claudy never quits when he is right, and will not quit until right is done or accountability accepted.
So when uncle Claudy did not disappear, she aggravated the mistake by coercing my nephews into the despicable act of evicting me from my sister Roselyne's house. But they soon discovered that listening to Johanne and going against uncle Claudy with lies, plots and slanders was the gravest mistake for them with real consequences to the family.
MISTAKE #2:
While you all knew 'Claudy' the fun, happy-going, party-loving uncle who you referred to as 'Permanent teenager', you unfortunately never knew Jean-Claude Elie the man, the intellectual, the man of principles, respected by all and who, as the male image & authority figure of the family my mother left behind, could never allow her legacy to be stained, nor for any junior to think that he/she could eject me from the family they found me in.
So just as the Mith family discovered that you must be careful in who you pick as enemy, Johanne discovered what happens when you pick on an uncle 100X smarter than she could ever be.
MISTAKE #3 - A BIG ONE:
This mistake that fueled my determination to get answers and motivated my decision to go public was your campaign of character assassination with lies and slanders. A hurtful attack on my character that I had to strongly crush and discredit publicly. So when you people complain about my publications, remember that you only have yourselves to blame.
MISTAKE #4 - AND BIGGEST ONE:
This one is even more personal to me, and one that I find not only immoral, but one that proves 'True Family Love' never existed in this family. It is the mistake of poisoning my daughter's mind against me, and using her in your marriage division campaign. Because, making a young daughter lose her father is not an act of love, just as coercing Marline to lose her husband was not out of love for her.
MY ADVICES FOR YOUR NEW YEAR RESOLUTION
It is for you to find the courage & maturity needed to accept the truth and take responsibility for your actions so that the mysteries at the roots of the family's downfall can finally be understood. Because continuing to hide behind silence to avoid the truth will not bring you peace and closure, as silence itself is an admission of guilt.
And in that light, it is important to remember that, acknowledging your wrongs and taking responsibility for your actions reflect character strength and maturity that will earn you great respect. It is not a sign of weakness. What's true weakness and even cowardice, is hiding behind silence to avoid truth and reality while uncaring of the damages done to others, as in the case of this family.
Now, to help you make that resolution, let me recall these other words of wisdom about truth that I often share with you.
Only the TRUTH shall set you free. As TRUTH will remain undeniably TRUE. You can try to run from the TRUTH, but sooner or later it will corner you on a dead end street.
And while you may not realize it, a dead end is where you've been cornered in a state of dead silence long ago, and the only way to free yourselves from this corner of dead silence is with a resolution to face the truth so that the unsolved mysteries that brought the family to its knees can be understood.
Now I am not referring to the laundry list of unanswered questions, but a willingness to participate in resolving the mysteries surrounding the root-cause & mindset behind it all. For example:
The family making me enemy overnight upon my marriage break up just days after attending Johanne's birthday party, and 3 weeks after you all attended a joyful family reunion at my home.

The matter of my daughter's negative mental and moral transformation & her coerced involvement in the conspiracies.

The matter of the family's disgraceful eviction action, false arrest plots, the secrecy of the 6AM phone call following my life put at risk

Etc., etc.
But the greatest mystery to must be cleared up is your inability to answer the following question that I have asked 100 times. A question that is central to understanding your motivation to go after me.
THAT QUESTION IS:
"Cam you please name ONE (1) specific thing that I did to anyone in the family to make me your enemy #1 targeted for elimination. And while the greater mystery is that this is all linked to my marriage to Marline, PLEASE name ONE (1) specific thing I did to my wife to ruin our marriage, or could ruin any marriage. That does not include the 'Control' idiocy, nor the absurd '0-for-3 in wives' slogan.
In Closing, this is a commitment that I hope you can make with an eye toward resolution as we close the 5th year of the post-marriage outrage that began in Jan. 2016. Otherwise, the most troubling question will be, 'WHY DO YOU FEAR PEACE SO MUCH'?, and pushing the Global Nuclear Campaign for answers and justice to the next level starting with the steps and actions listed in Episode #7 "Top Secret Revelations"
Wishing you a Happy New Year with the hope that God will bring you the wisdom to do the right thing. And if the word 'Family love' ever had meaning in this family, you will make that commitment.