THE MAIN REPORT -
TIMELINE OF CONSPIRACIES IN THE HORRIFIC SAGA
SUMMARY & INTRODUCTION
What you are about to relive is a dramatic real-life story of how one branch of a family coordinated with an in-law family to plan and execute a devious multi-years conspiracy to destabilize and dismantle the marital union of their own 2 family members, Jean Claude Elie & Rose Marline Mith-Elie.
THE CONSPIRACY LEADERS ON EACH FAMILY SIDE.
The brains behind this jealousy driven mission of division were none other than Mr. Elie's niece, Dr. Marie P. Dupiton, and his wife Marline Mith-Elie's sister, Joelle Mith Joseph operating in tandem toward the same end goal.
Dr. Marie P. Dupiton, is the owner of the Camkids Pediatrics clinic in Cambia Heights, NY. As a practicing physician, Dr. Dupiton carries the delusion that her M.D. title makes her the family guru who must ride above everyone with everything revolving around her. An authoritarian delusion of supremacy that she felt was being challenged by her uncle's position as the founder of the reputed RockMasters Marketing Co. serving the Haitian community. A delusion further aggravated by a consuming jealousy over the Elie couple's happiness, lifestyle and VIP status in the community,

\Mrs. Joelle Mith-Joseph the elder sister of Mrs. Marline Mith-Elie is a Psychotherapist working as a counselor for the City of NY at Queens Hospital. She views her sister Marline as her personal property to own & control for life. As such, she sees the husband as a impediment to her control over her younger sister. And just as Dr. Dupiton, she is also consumed by Jealousy toward the couple's fortunes.

THE MISSION OF DIVISION RUNNING ON 2 TRACKS
Their marriage division campaigns were mostly ran independently on 2 separate tracks running in parallel toward the same end goal..

TRACK #1: The Mith Family Track conducted by Joelle Mith-Joseph who led an 'in your face' and openly executed marriage destabilization operation. While that operation created disturbances in the marital home, the couple was able to counteract and overcome its impact over the years to keep the marriages alive. However, it provided the fuel to that got Track #2 rolling.

TRACK #2: The husband's family track conducted by his niece, Dr. M. Dupiton. But contrary to the wife's family Track #1 that operated openly, the Dupiton Track #2 was an undercover operation that was executed by a Renegades women army

headquartered at her Baldwin residence. A women army that enlisted the services of her sister Dominique Claude-Colimond, her mother Liliane Claude and other women married into the family who targeted my wife and indoctrinated her, along with my single daughter, into an anti-men twisted feminist philosophy of women superiority that reads as follow:

A real woman or wife must not allow her husband or any man to "CONTROL" her or tell her "WHAT TO DO". Any woman who allows a man/husband to impose such restrictions on her, is a weak woman under control, and a disgrace to the female gender

THE 2 TRACKS CONVERGE

In the end, both track s converged for the death blow to the marriage in 2016. Then as the husband started to uncover evidences of the Dupiton conspiracies, and the stink started to rise to the surface, Doc Dupiton switched into high gear and into a post-marriage operation targeting her uncle for eradication all the way into the year 2020.

NOW THAT YOU HAVE THE BIG PICTURE, let's go into the real action starting with the Dupiton Master plan, followed by the Mith family archives, the introduction of girlfriend Rachel Berthoumieux, and into the post marriage period of horror. A reading experience you will not soon forget, as you learn about "The perils of Jealousy from within Family, and the dangers of Blind Family Trust"
- CHAPTER 1 -
- YEAR 2013 -

THE DUPITON MASTER PLAN - PART 1 \
TIMELINE OF THE CONSPIRACIES & ASSAULT ON A WIFE
I am starting with my niece Johanne (Dr. Marie Dupiton) early attacks on my wife with the most cruel trash of lies that anyone can dump to a wife of 1 year. At the time, we were Johanne's tenants of an office apartment above her clinic. At some point ,she started a totally unnecessary issue by trying to feed some cruel lies about me to my wife.
SETTING THE STAGE FOR THE FIRST INTRUSION..
Soon after my marriage, landlord Johanne Dupiton started intruding into the apartment to create trivial disputes. Finally she expressed her desire to take over my apartment to expand her Clinic without giving prior notice.. So Marline suggested to me that, since we do not make full use of the apartment, why don't I just negotiate for a small office space. Which. I agreed to do.
So my wife picked up the ball, and after much negotiation, reached an agreement for a smaller office. But she soon created a new issue over the use of the common bathroom. So I again delegated my wife to deal with this new drama, and she set up a meeting with Johanne the next day.
MY WIFE RETURNS WITH A DOUBLE-DOSE OF SHOCKS
So, after meeting with Johanne, she came home looking very disturbed. Then she told me:
JC let's move out of that office & give Johanne her building back. She said two things that I did not appreciate
Puzzled, I asked Marline what the heck happened?. Then she said:
First: Your niece said:
".the reason Jean Claude is acting that way is because he wants to make an excuse not to pay the rent."
To which I replied:
Johanne, that's not true. I see the checks that he writes every month, and he always pays the rent. So why are you saying this?"
Then Joanne shocked me by saying:
"...Marline, I am going to tell you something because I am trying to help your marriage... YOUR HUSBAND IS BRINGING GIRLS TO THE OFFICE"
So I told Johanne:
"..Listen Johanne, my husband promotes parties and deals with all kind of people. Girls come to him all the time looking for free party tickets. So you're not telling me anything I didn't know". - Anyway, I'm not here to talk about my husband. I came about the office
In closing, my wife suggested that we leave her building and move my office to our home. So Johanne's first delivery of trash to my wife failed badly. But I soon learned that Johanne doesn't appreciate not getting her way. So she is about to go up a level of meanness
ENTERING THE VINDICTIVENESS DEP'T.
AS MAD DOC DUPITON AIMS TO GET EVEN
So the next day, my wife informed Johanne that we will be moving out of her building in the next couple of weeks. But since this Mad Doctor must always have the final word, she did not like the fact that we told her we were leaving, instead of her evicting us, and devised a devious plan to have the last word over Marline.
So arriving at my office a day later, I found this letter laying on the table in the hallway, open for full public view. Guess what it was? An eviction letter from her lawyer, so that she can claim having the last word over Marline. So that useless notice fed her hunger for vindictiveness.
But to drive in the dagger, instead of sliding the letter under my office door, she put it on display for all her clinic employees to read, which expose her mean spirit and heart of ice. But she still did not get the satisfaction she wanted as Marline took that eviction notice as a personal insult. So she confronted Johanne telling her:
Why did you send an eviction notice after I informed you that we were moving. That wasn't right. And why leave it open for all to see? And regardless, JC is your uncle
MY RESPONSE TO LAWYER THREATENING TO SUE
Later on, I sent a strong letter to the lawyer threatening to sue Dr. Dupiton with details of her illegal intrusions and damages to my apartment. That letter shown below goes into details of Dr. Dupiton's outrageous activities as a landlord from her greed for money.



So the Mad Doc came up with a new scheme, determined to take control of my wife.

FIRST ATTEMPT TO STEAL MY WIFE
AS THE CLAUDE/DUPITON JEALOUSY EXPLODES

With Johanne not happy with Marline scolding her oveeviction-response-dupiton.pdfr the eviction notice, she went to the robbery department to cook up a plan to steal my wife for a night. . Or as Haitians would say "Volè Madanm Moun".

It all started when my wife said to me one day:

"JC, I am going out to buy a gift for your sister Roselyne's Birthday party at Johanne's house."

Surprised by hearing that, I replied:

"What do you mean? There is no such party for my sister, and there was, I would be the one telling you.

. So confused at my reply, she went looking for the invitation she supposedly received via email.. Then I get this email from a baffled Marline

From: rmarline02@aol.com
Sent: Saturday, Dec. 14, 2013 5:06 PM
Subject: Fw: Manmie Roselyne 70th BDAY

--------

Hi honey,

Here is the invitation Johanne sent to me. You're right, I don't see our name on the invited guest d list. That's strange.

Do you think she did it on purpose? I can ask her, because I don't want u to argue with her again.

- Love u Marline

From: Johanne Dupiton

Subject: Roselyne 70th BDAY

TO; eb1225, rmarline02, frantz.balmir, donnafab; ;telie38, cjherod, justinat, cadijah_vastey; nagenor.camkids, yami.mackenzie, landrinatheus, mjdc03, vastey77, guynamar, pecolimon, djoelle94, arielled95, ebalmir, bourjollys

--------------

Hello Family

We will have a brunch at my house next Sunday December 22nd to celebrate manmie Roselyne 70th Birthday.

I don't have everyone's email but Claudette, Jackie, Paulette were informed .Photographer Donna Fable Balmir with be there to create some great family memories.

This year, instead of Kris cringle, we will have a fun gift exchange called white elephant. Just bring a gift if you wish between $25 and $40, gender neutral. Numbers will be distributed to all. ..

... It is fun! Beware, no one might want your present and keep passing it on to the next person LOL.

3 PM @ 964 Woodoak dr, food drinks music. Feel free to bring your favorite drink/dish

Johanne

Well, I could not believe my eyes. Johanne invited the whole world, even her own husband and daughters to a party at her house. But for Mr. & Mrs. Elie, only Mrs. Elie was invited to my own sister's party & the Family Christmas party, BTW: it is the same sister whose husband funeral I was just kept me from attending. So there was also a plan to split me from my sister since 2013. SO I REPLIED TO MARLINE

From: jeanelie@aol.com
Sent: Saturday, Dec 14, 2013 5:43 PM
To: Marline


That's BS, and it's not a mistake. It's a group email list. So the only way for me not to be invited is by purposely removing my email. I told you she is a troublemaker. But definitively, don't call or get involved with her. Specially after what she told you the last time....
.... I'll let Dominique know that her sister is at it again. and she can deal with it..

Love JC

So, as you can see. Marline did not fall for the initial kidnapping attempt by the. Mad Doc. So I sent the complaint below to her older sister Dominique

From: Jean Claude Elie
To: mjdc03@aol.com,
Cc: TElie381; rmarline02
Sent: Sat, Dec 14, 2013 7:38 pm
Subject: FW: Manmie Roselyne 70th BDAY

Dodo,

Marline just forwarded this invitation for my sister Roselyne's birthday celebration. It came from your sister Johanne addressed to "Family". The problem is that, this family now includes a bunch of strangers & excludes me. .... But she forgets that the seniors of this family remain Liliane, Roselyne and Claudy. And we deserve all the respect from the juniors

You all keep letting Johanne get away with her nonsense over and over. Seems like everyone is afraid of her. But this is where it stops. this invitation to the "family" is a farce that I take seriously. No one hijacks my family from me. I keep telling them that even though I am an extremely nice guy who never say no and will give my last penny and sweat to help my family, I am the worst MF to mess with..... ..Johanne needs to know that building a Camkids Taj Mahal on 225 street & linden by abusing, conniving and disrespecting others is not what make her somebody.

RESPECT For family & elders, and respecting the mighty $$ does, or it'll get you.

Claudy

Then came a shocking reply from Dominique that was no less than a confession of the jealousy these women carried for Marline and our marriage.

NIECE DOMINIQUE JEALOUSY EXPLOSION OVER
MARLINE & JEAN CLAUDE BEING 'ONE'

Before you read Dominique's reply, bear in mind that Marline & I had just celebrated our 2nd anniversary. So here is Dominique unable to control the jealousy..

From: Dominique [mjdc03@aol.com]
Sent: Tuesday, December 17, 2013 6:20 PM
To: jeanelie@aol.com Cc: TElie; rmarline02
Subject: Re: Manmie Rose 70th BDAY

Mon Uncle,
You know me by now....I SAY IT LIKE IT IS... whether you like it or not BUT I say the truth.

I read your message and with all due respect it sounds more like "blackmail" than anything else. I had to go back and checked Jo's invitation e-mail to see whether your e-mail was not included. In fact you are right yours was not there, but Marline's e-mail address is among the recipients.

So, didn't you say that you and Marline are one; that Marline knows everything and tells you everything?. Therefore, I don't see how you were not included because Marline received the invitation.

so, I personally feel like the "real issue" is being masked by false pretenses. If you want we can have a family reunion (with whoever you want present) so that we can go over the REAL issues because not everything is accurate.

Love,
Dodo

Now, are you shocked yet? I think it's worth for you to go back and read Dominique's reply again to see all the hidden messages. . But the most glaring one is the expression of jealousy and envy for my wife and I by writing: "..Didn't you say that you and Marline are one?"

Obviously her husband does not feel the same about her. But the saying of "... a man and woman becoming one upon marriage" was not my creation. It comes from the Bible, and used in most wedding ceremonies. Well, I guess Dominique did not like it either when she read the letter that my wife wrote to her family, in which she said to them: ..
"When we marry we become one. I would not have married JC if he was any other way'

But Dominique's most ridiculous claim was in writing: "I don't see how you were not included because Marline received the invitation"

Well, let me show you my reply to see how I handled those stupid comments from this otter niece whose diapers I had also changed, before doing the same for her baby sister

From: Jean Claude Elie <jeanelie@aol.com>
To: 'Dominique' <mjdc03@aol.com>
Cc: TElie38; rmarline02; eb1225
Sent: Thu, Dec 19, 2013 5:48 pm

Dodo

I just read your email from Tuesday... And all I can say is thanks, but no thanks.
So Marline is family before me. So Marline gets invited to my family events and I am supposed to follow her?? That's your logic.? Sorry I am not buying it.
Then why did she invite you? since your husband Patrick is in the invitation

Why did she invite Fanfan? His wife Donna is the invitation,

Why did she invite Guy? He is her husband and the party is at his house.

Even her children who live in the house got the invitation.
But when it comes to stupid Claudy, Marline is the family who I am supposed to tackle along with??. THE WORST THING I HATE IS FOR SOMEONE TO TAKE ME FOR STUPID, OR TO ACT STUPID AS YOU JUST DID.
There is one thing that you are right about. Yes, Marline and I are one and she does tell me everything
That's how I knew there was a party for my sister Roselyne

This is why she forwarded the me the email to show me I was not invited.

That is why she couldn't understand that she was invited and her husband was not.

That is why she agrees this was wrong contrary to you who think it was right,
AGAIN, I AM SORRY FOR THINKING I HAD A CARING NIECE AND A CARING FAMILY. I DON'T NEED TO MEET WITH YOU OR ANYONE IN FACT I DON'T WANT ANYONE TO WRITE BACK.
BYE
SO ON DEC. 22, 2013: My wife ignored Johanne's party and we went to Mixed Notes Cafe for a great time
AND ON DEC. 25: Johanne's last hope to steal my wife was dashed, as Mr. & Mrs. Elie celebrated Xmas at Marline mother's house.
- NOW, WE ADVANCE TO YEAR 2014
DOC DUPITON GAINS ARROGANCE
AS JEAN-CLAUDE TRIES TO HOLD FAMILY
The year 2014 started with a chill in the family with Johanne's vindictiveness fuse still burning, with no one in the family having the courage to make her get off the pot. So I decided to be the bigger man and attempt peacemaking to save the family.
CLAUDY PEACE-MAKER
So, as someone who always tries to find peaceful solutions to problems, I decided to make a move to put unity back in the family. So I reached out to her mother Liliane as an intermediary, and made this proposal to her.
Liliane,
I am going to solve Johanne problem. I am willing to forget all she did or said, including:
-The lie that I brought girls to my office, and me trying to escape paying rent.
- The solo invitations to my wife and the eviction letter she sent us.
- Even Dominique's inappropriate comments.
Now since Johanne can't refuse to answer you being her mother, you ask about all the things she did. And whatever explanation she gives, true or false, I will accept it and consider the matter closed. So, it's a capitulation on my part to put the family first. So let me know how you make out with her.
After days and weeks of not hearing back on my offer, I contacted Liliane & asked for what Joanne said. Then I could not believe my ears when Liliane told me:
"OH, YOU KNOW. SHE'S 40 YEARS OLD & I CANT MAKE HER DO ANYTHING"
So I said: "\Make her do what? Oh, even replying to her mother is making her do something? OK Thanks". That's when I realized how abnormal was Johanne's intransigence, and expectation that the world has to bow to her. Even her mother.
INVASION OF MY HOME
THE DAY THE MAD DOC FLIPPED
Now, weeks later, while I am in bed relaxing, my wife walks in and told me. "Oh JC, your whole family is here with Johanne to have a meeting"
Well, let me tell you, my few hairs stood straight up. My skin turned red. Because after rejecting my easy offer to Liliane, it was clear to me that Johanne will not come clean, So what the heck is an army of people going to achieve in a meeting?. With Johanne's stubbornness, there could be a senseless argument making things worse. Still I kept thinking of a possible way to spin this situation to a positive ending since the whole family made the effort to come to the house. So, I told to call Liliane for me, and when she came, told her the following:
"Tell Johanne that I want to talk to her alone to put this thing to rest without involving everyone. I guarantee you that I will settle with her one way or another. Then we will come downstairs together, and show everyone that peace is made.
"Good idea!", says Liliane, as she went to get Johanne. So I waited, waited and waited. After a while, I opened my door and asked "Where is Johanne?, I'm waiting for her". Guess what I am told...."JOHANNE LEFT. SHE WENT HOME"
CONCLUSION:
While there are many motives
driving the Claudes behavior, jealousy and arrogance was behind Johanne's decision to run home. Because, when her mother told her that I wanted to talk to her alone in my room, a red light went on in her scheming brain as she said to herself:
"Oh he wants me alone to force me to talk! Well, Dr. Dupiton does not go to anyone. People come to me. Who the hell does he think he is, staying in bed and calling for me? He used to rent my apt, now he thinks that Marline's Jamaica Estates house makes him a big shot?. Well if this house is his problem, I will take care of that. Then always showing off with his wife!. I'll take care of that too, and get Marline to kick his ass out."
Well months later, that irrational mindset was exposed during an argument with my wife who pointed fingers at Liliane and Johanne for teaching her about 'kicking a man's ass out'. Well, let me have you listen to the live audio clip . As Evidence don't lie.

WARNING: THIS IS HAZARDOUS TO YOUR EARS, AND SEATBELTS ARE REQUIRED TO RESTRAIN THE SHOCK.
How about that? You just heard my wife pointing fingers by name to Doc Dupiton's mother Liliane Claude, as having advised her to "...Just live with a man so that she can kick his ass out when she's done with him"
And this is exactly the advice that they'd push her to practice later, except with a husband. The extreme audacity here comes in the fact that all her women advisers had & still have their husbands for life. And now, here they come with more audacity to say that 'They did not get involved in our marriage'.
Like I said 'Evidence don't lie', and 'Live recorded audio evidence is the Gospel'.
NOW WE MOVE ON TO THE MOST DAMAGING YEAR OF 2015
MOVING TO YEAR 2015 -
MARRIAGE UNDER FULL ASSAULT
MY FAMILY REUNION PEACE INITIATIVE
HONORING THE LEGACY OF OUR MATRIARCH
Soon after Christmas 2014, I decided to make another attempt at pulling the family back together. So I used the milestone of the 10th year anniversary my mother's passing to plan the first family reunion in her honor on January 1, 2015. I went full scale with personally designed family tree posters and framed pictures of our matriarch to give everyone during a presentation of her legacy.
First, I sent out the invitation below to the entire family, even put Johanne's name first on my list of invitees. HERE IS THE EXACT INVITATION I SENT OUT
From: Jean Claude AOL jeanelie@aol.com
To 'Mdupit, donnafab, eb1225, frantz.balmir, guynamar, llclaude, mjdc03, nagenor, pecolimon, rmarline02, TElie381, vastey77, yami.mackenzie, JUBALSR, gisandre_mardy, gvmardypeds, marjorie0721, anacahona77, arielled95, bourjollys, cadijah_vastey, djoelle94, celie89
Subject: Special Family Gathering celebrating Anna-Rose Victor - 10 Years later

Hello Family & Close Family Friends :

This Holiday makes 10 years since the matriarch of the family "Anna-Rose Victor+ celebrated her last Holidays with us, before joining her maker. So on behalf of her children, and with the support of my wife, I am organizing a celebration of this milestone by hosting a special family dinner gathering/celebration in her honor. It will be a celebration of Love and a time of reflection.

I have also designed an "Anna-Rose Family Christmas Tree" which is attached to this email. I will have it printed on large posters. Everyone of you is on this family tree as direct descendent of Anna-Rose or as a special friend of the family. So find yourself on the tree. Also I'd like to have each family bring a dish to share, or a drink or dessert etc. Hopefully someone will work with Marline to coordinate what each person/family is bringing to avoid duplicates. Sounds like a good job for Tanisha.
Again, we want to make it a Special time for our mother to celebrate her sacrifices, the love and values that she has instilled in this family, including all the goods she has done for others.
If you can make it, we'll see you on Thursday January 1st, 2015 @ 5PM

Thanks
Claudy & Marline
Then I received many positive feedback from the invitation, one of which I share below, because it came from the nephew Eric Balmir Jr. who would later join forces with Doc Dupiton in dismantling the family.
December 26, 2014
Hello Uncle Claudy,
I am extremely excited that you have chosen to take the lead and host an event to honor Memmere after 10 years of her passing. I believe a celebration of our family values is long overdue! You have set an example of how we can continue to share our family values with our children and this needs to be well commended.
By the way I never call you Uncle Claudy ( LOL)/. I just felt I had to follow the chain of command structure you are setting
---
your nephew who loves you and respects you.
Eric Balmir
That message is the reason why , I keep asking him now in 2020, "Who is the real Ricky? The one who glorified his uncle above in 2015, or the one who suddenly tries to slander him as some drug addict to please Doc. Dupiton". Well, I am still waiting for his answer.
THE BIG FAMILY REUNION OF JANUARY 1, 2015
As the big day arrived, so came niece Dupiton & her family. I welcomed her with a hug as if nothing ever happened. I did not ask any question and simply made unconditional peace with her. It was to be a new beginning for us all.
The reunion went well and we agreed to make it an annual event the first of each January. Below are the souvenir group & family tree pictures. Please
The family was fully reunited and I was very pleased. Specially when my wife said to me after:
"JC, I think I know the problem with your family. YOU ARE MISUNDERSTOOD"
AN UNEX
PECTED SIDE EFFECT OF THE FAMILY REUNION
Still, my good deed had an unnoticed negative side effect on Doc Dupiton. One that elevated her level of jealousy over our more spacious and comfortable Jamaica Estates home that provided a better setting to host family events than her smaller Baldwin residence.
An obsessive jealousy tat took control of her one day when I was home and received this insane and mind blowing text message from Doc Dupiton.
Well, when I showed it to my wife, she did not know what the heck Johanne was talking about. So I replied to Joanne asking: "Please explain. Because my wife is home and I see no cops. And where was I supposed to go anyway?'. Well as always, she never replied by doing another one of her hiding tricks.
That's why I say that Jealousy is a terrible and dangerous thing
MARLINE'S FULL DEVOTED TO MARRIAGE IN HER OWN WORDS
But as 2015 went on, the second half of the year became an up and down roller coaster ride for Marline who was under increasing pressure to break her marriage from Mad Doc Dupiton, her sister Joelle Mith-Joseph, and single girlfriend Rachel Berthoumieux who was encouraging her into a single-wife lifestyle.
But Marline held strong as she expressed her commitment to the marriage through her positive messages to me below just weeks before they would manage to break her down to self-destruct her marriage. So I invite you to read her words and judge for yourself if that was a wife looking to leave her husband at the time.
SO IT IS CLEAR THAT IN SPITE OF THE OUTSIDE PRESSURES, MARLINE WAS STILL COMMITTED TO THE MARRIAGE. SPECIALLY FROM THE LAST TEXT ABOVE REQUESTING A 2-FAMILIES PEACE SUMMIT IN OCT. 2O15.
However as that request was rejected by these 2 families that were only interested in the demise of the marriage, let's go to the next month of November 2015 to witness Mad Doc Dupiton staging the most audacious kidnapping of a wife ever seen in the history of marriages.
THE ROAD TO THE 2015 THANKSGIVING KIDNAPPING
AFTER OUR RELIGIOUS MARRIAGE RETREAT
Now with all these ups and downs, my wife and I finally agreed to do something about them. So we registered for a marriage retreat called 'Retrouvaille' at the Immaculate Conception Seminary in Huntington LI (Pictured on the left). There, we were secluded for 4 days with 20 other couples, priests & prayers in the house of the Lord for an intensive, but fun program to strengthen our relationship, and make it immune to negative outside forces acting as viruses infecting our home.
. This is also when Marline was diagnosed with a strong "People-pleaser & professional Helper" personality, looking to please others for recognition & and acceptance. One that made her vulnerable to
people with ulterior motives, like the Claude, Dupiton, her sister Joelle and fake girlfriend Rachel.
So, we returned home from the retreat on November 14, 2015 fully rejuvenated and full of hope for a lifelong marriage. Upon learning of the success of our retreat, people who were supportive of us, mostly married friends of my wife were extremely happy and sent us many messages of encouragement. As proof, here are a couple that we received from soon after the retreat. I will not identify the writers, but you know who you are, and I again say "Thank You" for these kind words from 5 years ago.
BUT HERE IS WHAT WAS MOST DISTURBING & REVEALING
While we received many more such positive feedbacks from true friends of Marline and members of her club, guess who we never heard one beep from?


NOTHING FROM ANY MEMBER OF MY FAMILY, NOR OF MY WIFE'S FAMILY. AND THAT IS THE CRUCIFYING EVIDENCE OF 2 FAMILIES COMMITTED TO THE DEMISE OF A MARRIAGE.

That is why, upon learning of the success of our retreat, Mad Doc Dupiton immediately devised a plot to undo the positive results. She staged a successful "THANKSGIVING DAY KIDNAPPING OF MY WIFE" just 2 weeks after our return. So let's go to that.

- THU. NOVEMBER 26 2015 -
THANKSGIVING DAY KIDNAPPING OF MY WIFE

Now, what makes the kidnapping story unchallengeable, is that I will not be describing the event myself. You will actually see a live replay through the transcript of the heated text exchanges while the kidnapping was in progress.

A THANKSGIVING DAY THAT STARTED FULL OF GREAT PROMISES

As I said, coming out of our retreat, we were riding high, and looking forward to a spiritual Thanksgiving, as we had received an invitation from well known Pastor Samuel Nicholas of the Evangelical Crusade Christian Church in Brooklyn to serve Thanksgiving dinner & give away coats to the needy in the house of the Lord. It was an event sponsored by RockMasters, and that Marline was excited to take part in. B

ut as we also viewed that Thanksgiving as a day to celebrate the success of our religious retreat the evils of Doc Dupiton and Joelle Mith-Joseph were waiting in the wings to cause disruption.

But as we proceed toward the shocking kidnapping, let point out that the Mith demolition locomotive was already running full steam on parallel track #1 with psycho sister in-law Joelle having already banned me from Mith family celebrations, as was detailed in Episode #1 (The Mith Archives)

So for that 2015 Thanksgiving day, our plan was first go to Brooklyn for our charity mission, and upon returning, my wife would first visit with her family alone, then we'd finally head to my family's dinner at my daughter's house, where Doc Dupiton had no power to exclude me.

ROADBLOCK #1 BY JOELLE MITH-JOSEPH

We woke up early on that Thanksgiving day and started to get ready to head to the Evangelical Crusade Church in Brooklyn. But as we were us almost ready to leave, the phone rang, and It was the dreaded sister in-law Joelle asking my wife to cook a huge pot of rice & beans for her. Obviously, my expectation was for Marline to reply, as any of you would, as follow:

"Sorry Sis. I have another commitment with my husband to do charity service at a church in Brooklyn and we are dressed, getting ready to leave"

Well, the thing is that psycho Joelle already knew about our plans before calling. Plus she can cook, her brother Ronald is a good cook, and her husband Stan is a great chef whose passion is cooking. So Joelle had no use for Marline, except for trying to start a fight by throwing a monkey wrench in our plans. Furthermore, she was well aware of her sister's "People-pleaser & professional Helper" personality. So she expected my wife to grant the wishes of the ultra-possessive & controlling older sister.

SO, WHAT DID MARLINE DO?

To my shock Marline dropped everything and went for the pots and pans to start cooking with me standing there fully dressed with car keys in my hands. But unwilling to give the psycho sister in-law the satisfaction of a fight with my wife on Thanksgiving, I just went to my room. Now by the time Marline was done cooking, it was too late for the charity service. So I sent my apologies to the pastor and calmly waited for Thanksgiving dinner later at my daughter's house.

Next Marline went to visit with her family around 2PM, taking along Joelle's pot of rice and beans. Then I called my family and told them that we'd be there around 5:00PM.

ROADBLOCK #2 - KIDNAPPING IS SET IN MOTION

So as I waited for Marline to return, 5PM came and went with no Marline. So I kept on calling her, but got no response. Soon it was 6PM, and still no sign of life from my wife. Then at 6:33PM came a text message from niece Johanne Dupiton.


Well, at this point, let me turn the story over to the transcript of the text exchanges that followed detailing a wife kidnapping in progress.
100% FACT - 100% TRUTH - 100% LIVE. SO PUT ON YOUR SEATBELTS ON AGAIN.
6:33PM

JOJO TO ME

Happy Thanksgiving uncle and auntie. Hope to see you soon

6:35PM

ME TO JOJO

- Same to you. Was all set to come, but Marline is not home.
- Tanisha just called. I said Marline isn't here. Go ahead w/o me. Thx

6:40P

ME TO JOJO

Please have a conversation with Tanisha for me. I don't want Marline to call & give her a story

6:55PM

LILIANE TO ME

Happy thanksgiving Day brother. I was hoping to see you

7:10PM-

ME TO LILIANE

I was dressed ready to come since 4:30 But Marline messed it up. Talk to Johanne. She knows. Its too late now.

AT 8:00PM, I GET FIRST SIGN OF LIFE FROM MY WIFE

8:00PM

MY WIFE TO ME

I'm leaving my mother. do you want me to pick you up. If not I'm going alone.

8:05PM

ME TO WIFE

Marline. Oh, it's past 8:00, now you text? Well, they already ate. So I cancelled & said we'll see them for Xmas. Anyway, I had no dinner, so come home. We'll go out for me to eat

8:05PM

Wife to Tanisha &ME

By the way. Tanisha what is your address?:

8:12PM

ME TO WIFE

Marline, DO NOT go to my daughter house Alone & ruin their celebration. I already cancelled

8:15PM-

ME TO LILIANE

If Marline comes alone, DO NOT WELCOME HER.. Tell her that husband is waiting for her at home

8:20PM

ME TO JOJO

JOJO, PLEASE call her and TELL HER NOT TO COME, or I will be done with the family for good if u welcome her under these conditions.

FROM THIS POINT ON, THE MAD DOC & LILIANE GO INTO FULL SILENCE MODE
TO EXECUTE THE KIDNAPPING

8:30PM

ME TO JOJO
& LILIANE

Jojo, let me make it clear. If my family lets Marline upstairs, we'll be done for good. Marline cannot go show off & be a distraction at Tanisha's dinner. Everyone always say that they do not want to be involved. Ok. Now if you let her in, that will be max involvement, disrespect for me and you all will be responsible for the consequences.

THIS IS THE TIME FOR MY FAMILY TO STAND BY ME SO THIS NONSENSE CAN STOP. SO I REPEAT, MY WIFE MUST NOT BE ALLOWED UPSTAIRS, I WILL NOT FORGIVE YOU IF YOU PUT MARLINE AHEAD OF ME. I BROUGHT HER TO THE FAMILY. REMEMBER THAT. -LOVE YOU ALL. Claudy.
((Total Silence)

8:37PM

ME TO JOJO

Listen Johanne, At the Retrouvaille retreat, they discussed a personality issue called "The professional helper & people pleaser." They are people who will do anything to be loved and be accepted. This is the topic for our session this Saturday. So if you let her in, you will be feeding this problem. This is serious and you now have an opportunity to show that you are not supporting it. If you do, then there will be repercussions......(Total Silence)

8:41PM

- ME TO LILIANE

Liliane, If Marline comes, send her back home NOW. I told her not to go to disrespect me. Ok Liliane. I told Jojo not to let her in. She is my problem to deal with. I AM VERY SERIOUS ABOUT THIS LILIANE. DO NOT INVITE HER IN THE HOUSE. SEND HER BACK HOME. TELL TANISHA. THANK YOU.

((Total Silence)

8:48PM

ME TO JOJO

I KNOW THAT SHE GOT THERE. PLEASE SEND HER BACK HOME. I NEVER BEGGED IN MY LIFE. BUT THIS TIME I AM. SEND MARLINE BACK HOME NOW. SHE IS SCREWING EVERYONE'S THANKSGIVING. THANKS (Total Silence)

9:09PM

ME TO JOJO

Is she on her way back home? I tried to call you, Is she on her way back ? (Total Silence)

9:20PM

- ME TO JOJO

Jojo, Thanks very much. You might as well have taken a knife and stab me in the heart. That is what my family just did to me Have Liliane call me. GET MARLINE OUT OF THE HOUSE NOW. IF NOT, I AM DEAD TO YOU ALL. (Total Silence)

9:47PM

ME TO JOJO & WIFE

I need to know if she left yet. I tried calling Liliane and Tanisha. This is driving me insane with each passing minute. I need confirmation that she is out of there before I lose it for good (Total Silence)

9:53PM

ME TO JOJO & WIFE

So Marline was right when she told me that "My family don't care for me". You just proved it for real in spite of my pleas and begging you not to let her get away with it. Thank you. That's all I can say. Never thought that my family would go this far in showing they do not care. Enjoy "your Marline". You just broke the marriage for good, just as things were working after our 4 day retreat with God & prayers. Thank you again. I've been shamed......(Total Silence)

FINALLY - ALMOST 11PM A SIGN OF LIFE FROM MY WIFE

10:45P

WIFE TO ME

Hi JC. Having a good time. Dancing salsa with your nephew Ricky. Your family says that you are the one acting stupid

10:46PM

ME TO JOJO

This is what I just got from Marline. Now I am the laughing stock Now I know I don't have a family or a daughter. I was stupid begging you. Some family you are. No support never. Well here what Marline just sent me. "...Having a good time. Dancing salsa with Ricky.....". So, Do not call me for Christmas. You have Marline. (Total Silence)

NOW IT'S PAST 11:00PM - FEARING THAT MY WIFE WAS KIDNAPPED BY DOC DUPITON & MY SISTER
I DECIDED TO TRY THE MOST IMPORTANT QUESTION

11:03PM

ME TO JOJO

Sorry to bother you again Johanne. But I have one last question so I know how to deal with this situation when my wife comes home. This is very important.
"Did Marline refuse to Come home when she was asked? OR IS IT THAT YOU NEVER ASKED HER, NOR TOLD HER ANYTHING I SAID?"

That's it

NOW, IF YOU HAD ANY DOUBT THAT IT WAS 'WIFE KIDNAPPING'
HERE IS JOHANNE CONFIRMING THAT SHE KIDNAPPED MY WIFE WITH ARROGANCE

11:04PM

JOJO to ME

"SHE WAS NOT ASKED, NOR TOLD ANYTHING"

11:05PM

ME TO JOJO

(SO I CLOSED BY SAYING)

Thank you JOJO. Now you can all go to hell for sure. So you mean to tell me that all my conversations, texts, and pleas were just ignored? You all were just making a fool of me? So this a lot worse than I thought. You all don't give a darn about me. I should have figured that long time ago each time I reached out to my family. But stupid me, I kept on trying. Even having the party for mother last January, with her family tree and mom poster for everyone. Oh well. Good night. Thank you

MY WIFE WAS RELEASED AT MIDNIGHT & FINALLY CAME HOME.
SO THE MESSAGE TO ME FROM THE KIDNAPPERS
- We Control your wife, NOT YOU -
- We Control your daughter's house, NOT HER
- CHAPTER 2 -
DUPITON MASTER PLAN - PART 2\
DECEMBER 2015
WIFE & I CLOSED 2015 ON HIGH NOTE
Now In spite of the gravity of the wife kidnapping executed by Doc Dupiton in November 2015 as you witnessed above, by the time the year-end Holidays had arrived, the marriage was once more back on track. But I was still in denial of the fact that the family's ultimate goal was the destruction of the marriage. On the contrary, I was more concerned about my marriage destroying my family.
So, since the kidnapping incident had created a chill in the family, I suggested to my wife that we continue my family reunion tradition as means to once more pull my family back together. She said "Go Ahead"., and the invitations went out for January 1, 2016
MARLINE NEW YEAR RESOLUTION SEALS HER MARRIAGE COMMITMENT
Then comes Dec. 31, 2015, and my wife made that day specially memorable when I received this most heartfelt and encouraging New Year resolution for 2016.


What made that resolution more special, is the way she signed with "Your Queen". A nickname that I gave her when we first dated back in1998. So for her to recall and bring it back 17 years later in her resolution meant that she was serious.
THE BLIND FAMILY TRUST SYNDROME
I was so happy with her resolution, that I forwarded it to niece Dupiton with this bragging note.
Now, when I wrote '..if anyone.." in my text to Johanne, I was referring to my in-laws as the only troublemakers. Because I continued to believe that my family's actions were incidentals, as I was the victim of the dreaded "Blind Family Trust".
But a contributor to my blindness came from the fact that, while sister in-law Joelle Mith-Joseph operated openly and in my face, my niece Doc Dupiton operated totally undercover as a traitor in my home, a Judas at my dinner table, and a coward hiding behind her younger cousins to do her dirty jobs for her. Something that will become clearly evident in future Episodes, and which continues till today.
JANUARY 1, 201 6: FAMILY REUNION #2
So after the nice New Year resolution from my wife, the next day the family gathered at our home for our second annual family reunion. Each person participated by bringing a dish or drinks to make it a true family dinner. It was a day when everyone witnessed my wife and I making our resolution for a new start in 2016 with a promise to put the past behind us. A promise co-signed by Johanne Dupiton herself who, as she walked toward the dinner table, loudly proclaimed to my delight:
BUT WHAT MY WIFE & I DID NOT REALIZE, IS THAT AT THE END OF THE NIGHT, UNDERCOVER AGENT & JUDAS 'MAD DOC DUPITON' TOOK THE TRASH CAN WITH HER TO DUMP BACK ON THE MARRIAGE 3 WEEKS LATER.
However, the celebration ended on a high note with the family reunited once more. Then I sent a 'Thank You' note to everyone with the souvenir picture below of those who stayed till the end. (Click to expand)
Then we received these 2 replies, surprisingly from niece Johanne. cutely referring to me as cousin, and niece Dominique. But were they sincere or words of Judaism? Well, stay tuned.
FROM JOHANNE

FROM DOMINIQUE

From: Marie Dupiton
To: Jean Claude, Marline
Sent: Fri, Jan 8, 2016 2:02 pm
---------

Thanks cousin Claudy

We had a great time and looking forward for the next New Year gathering. Big thanks to Marline as well
Love,
Johanne

Hi Marline,

Hope the new year started on a positive note...

Thank you to you and Claudy for having us on New Year's Day! We had a good time. Let's hope for the very best especially with the home sale!

How are you doing? Are you getting ready to launch? I have started to inform some people by word of mouth and the question I get is on which site did I post it? Please let me know ...I am getting excited already.
Thanks, D
But strangely enough, the 2nd 'Thank You" from Dominique was sent only to my wife. The reasons being that:
1) I had firmly told her not to use my wife for her house sale as it could cause a conflict of interest in light of the family issues relating to our marriage, and,
2) There is this reference she made to some mystery project she was launching with my wife.
Therefore, her message was not meant for my eyes, All this proves that even a "Thank You" from these Claude women must be taken with a grain of salt, as the plan was being finalized to drop the A-Bomb on the marriage 3 weeks later.
JANUARY 14, 2016
A VACATION BOOKED WITHOUT MY KNOWLEDGE
THE FEMINISTS "ANTI-MEN CONTROL" MENTALITY TAKES ITS TOLL
Now, a couple of months back, I became aware of a secret arrangement made before attending our marriage retreat in EPISODE #2, for my wife to vacation alone with friends in Haiti as a way to prove that 'Her husband does not control her'. And as evidence, let me re-quote from Episode #1 (Mith Archives), what her sister Joelle told her in a letter regarding 'Control'
"Marline, ... JC has succeeded in alienating you to have "better control" over you ..... he said he would not allow you to go anywhere without him. ..this we cannot accept and you should not also"
But after my initial objection to the secretly planned trip, I capitulated after my 'Judas' sister Liliane and niece Dupiton convinced me that a gateway will be good for her, and will bring her back in better spirit. But with my 'Blind Family Trust', I never suspected that there was a scheme to take advantage of her time away from me, when she'd be more vulnerable.

So on Jan 14, 2016, my wife left with my blessings, and upon boarding the plane at La Guardia Airport, she text me this message, followed by my reply.
(SO ON JAN. 14, 2016 THERE WAS NO SIGN OF A MARRIAGE READY TO BREAK)

With my wife in Haiti, 2 days later I went with my daughter to Johanne birthday party at her house and had a great time with the family. So much so, that I spend a couple of days putting together this short souvenir video for her which I sent to the family. (Please Click to watch)
They say that a picture is worth a thousand words. I say a video brings life & emotion to words. Specially this one painstakingly handmade from pictures & presented to my niece as a souvenir for a great time at her home.

But now, it turns out to be an emblem of the worst treason, hate & jealousy from the one it was presented to.
(SO ON SAT. JAN. 16: NO SIGN OF TROUBLE WITH MY FAMILY )
With Marline being in Haiti for 7 days, get this nice message from her on WhatsApp.
(SO ON JAN. 21: NO SIGN OF MARLINE READY TO BREAK HER MARRIAGE)
However, don't you wonder why I had to find out from Johanne that my wife was on WhatsApp?.
Well the short answer is that the Mad Doc accidently revealed to me that she had followed my wife in Haiti from WhatsApp to keep the pressure on her as the plan to drop the Bomb is fully activated..
SUN. JAN. 24, 2016 - WIFE LEAVES HAITI
Now on Sun. Jan. 24, she leaves Haiti for NY via Florida. But a big snow storm in NY cancels all the flights. So she sent me the text below from Florida along with my reply.
(SO ON SUN. JAN. 24: ALL WAS FINE WITH WIFE 7 MARRIAGE)
- TUE. JANUARY 26 -
THE DAY OF INFAMY ARRIVES
TRACK #1 & #2 CONVERGE TO DROP THE A-BOMB
Marline leaves Florida and arrives home at 2:00AM Tue. Jan. 26. So I rush down the stairs with open arms to welcome her back. But I was met by a wife acting like a voodoo possessed person, loaded with anger and yelling at me to leave the house. Then after throwing everything she could get her hands on at me with a couple of hand slaps in between, she left the room to call the police.
Puzzled at the scene that was developing, I had reached for my phone to turn on the voice recorder. Next thing I know, the police comes, and to my shock, she tells them that: "She came home and found me in the house. That I was not supposed to be there, and that I tried to push her down the stairs, etc, Etc."
So I am arrested, taken to court, and was issued a temporary restraining order. But luckily, I did record the audio of incident in my room. Add as you will hear me often refer to "The Evidence that doesn't Lie", let me deliver to you the first one, with my seemingly possessed wife ordering this baffled husband out of his home, as the names of Johanne Dupiton and Liliane Claude mysteriously take center stage.
SO AS ANDERSON COOPER SAYS ON CNN,

NOW THAT YOU'VE SEEN THE TIMELINE
YOU AIN'T SEEN NOTHING YET.
AS THE TRUE DUPITON HORROR SHOW IS YET TO BEGIN
ABANDONED BY FAMILY AT MIDNIGHT
MAD DOC SAY MISSION ACCOMPLISHED
LET'S DUMP JEAN-CLAUDE ELIE
So, I leave home, armed only with a small suitcase, my laptop and headed to Dunkin Donuts on Hillside Ave. So I obviously reached out to the same family members that you saw at my family reunion 3 weeks before, and who you saw ne partying with on video the weekend before celebrating Johanne's birthday.
Remember that it is the same Joanne Dupiton who had proclaimed loudly from my dining room 3 weeks ago "YES, PUT 2015 IN THE TRASH CAN". Well, as I also told you, she took the trash can home with her, and now watch her dump it back.
.So around 12:00AM I broadcasted this distress SOS message to them.
Then I waited for their replies and expressions of shock from hearing what my wife suddenly did. Specially expecting a shocking reaction from Johanne who I was on the phone with the DAY BEFORE expressing my joy that Marline was coming home.
SO I WAITED, WAITED, AND WAITED SOME MORE, BUT NOT o\ONE BEEP. Then I started to get the strange feeling that, maybe I was being abandoned in the streets by my own family. So I started to wonder.
1- Is it possible that they already knew what my wife was going to do at the last minute?
2- If so, then why they did not to alert me so that I could prepare and avert the situation?
3- MOST TROUBLING: Could they have scripted the whole thing as hypocritical Judas in my home all these years?
RESCUED BY A GOOD FRIEND & HIS WIFE
So as time passed and Dunkin Donuts was about to close, I reached out to a good friend of mine and explained the situation. He and his wife quickly rushed to the rescue. They took me to their home where I was given great welcome, morale support and royal treatment for 2 months. Then I tanked them for their hospitality, and relocated to the home of my other sister Roselyne Balmir. The one with Alzheimer who just lost her husband Eric Balmir Senior
But from the moment of my SOS call, the complete Claude branch of my family, including the Dupiton and Colimond, cut off all communication and made me enemy #1 with NO EXPLANATION. Then I soon began to uncover & expose the Dupiton schemes. And as the stink started to rise from the Dupiton swamp to engulf the family, even affecting my daughter and Marline, Doc Dupiton and her renegades Women Army went on a personal assault targeting me for eradication in the most cruel, immoral and inhumane manners.
So, this when the true Dupiton horror show will begin. A true Alfred Hitchcock type psychological thriller, detailing my horrific voyage to hell and back. One scripted by Dr. Marie Dupiton of Camkids Pediatric, assisted by Psycho sister in-law Joelle Mith-Joseph and others to be featured later.
A horror story that had to be told, because the community must be aware of the evil that operates in its midst, behind the mask of a charitable physician. As such, she transformed the MD acronym from Medical Doctor, to Mad Doc.
THE CLAUDE & DUPITON CONSPIRACY BEGINS TO UNRAVEL
THE INITIAL EVIDENCES ARE IN
THE CULPRITS BEGIN TO SELF- INCRIMINATE
After leaving home, I started to add past events and warnings from Marline that I had not taken seriously, and little by little the pieces of a major conspiracy started to come together. So as I began to ask questions, the culprits began to incriminate themselves as out of a Consciousness of guilt . A state of mind that causes guilty people to do, or to says things that leads to self-incrimination. Following are 7 perfect examples of the Claude & Dupiton practically confessing to their crimes.
SELF INCRIMINATION #1: FAMILY IGNORING MY S.O.S. CALL
As mentioned above, once I was forced to leave home, I sent this distress message to my family, expecting them to be shocked and come to the rescue as any family would do.

But mine showed no emotion, no surprise, nor even asking me 'What happened?". A totally abnormal reaction toward a family member in distress.
CONCLUSION: By this inability to react or show emotion, the family incriminated itself through consciousness of guilt.
SELF INCRIMINATION #2: DOMINIQUE CLAUDE-COLIMOND JEALOUSY EXPLOSION
Now while staying at my friend's house, I started to look for a sign of life from the family, and their explanation for abandoning me in the middle of the night. Then 2 weeks later, I get the first sign of life in a ranting & jealousy-filled email from niece Dominique Claude-Colimond. One that reminds me of her 2013 jealousy e-mail when she complained:"... Didn't you say that you and Marline are one... and that she tells you everything?"
Well, here she is 3 years later in the first reply on behalf of the Claude and Dupiton:
From: Dominique Claude-Colimond
Date:02/03/2016 5:49 PM
To: JeanElie@aol.com
Subject: Re: Your text message
--------------

Claudy (Mon Oncle),
It is just so sad to read your messages. Marline did nothing to us. But you, to the contrary, you did a lot more with your words. Sadly, you have given us every reason to stay away and not get involved in your personal/marital life.
After all, I find it surprising that as our 1) uncle, 2) elder, 3)having been married 3 times, you are counting on us your children and nieces for marital advice, support, and intrusion in your personal/private life. Y.. You should have been our role model, our adviser. We should have been the ones turning to you for guidance not the other way around
Question yourself now on why three marriages have not worked out. If we had advised you not to marry your (3) wives, you would have not listened and would have found every reason to do the contrary.
What I don't understand is that you are accusing Marline of all the world's ills and yet you are and have tainted her reputation ... yet you want to remain in the marriage.... Something does not add up.
.....
I just hope that the (the couple you are staying with), will not be the next ones on your list of blame when an if they ask you to move out.
... Etc. Etc.
...
Dominique
Now, the first evidence of guilt is that she did not ask "What happened?". BUT SHE DID SAY:
Marline did nothing to "us". Therefore my wife belongs to "us Claudes"

She started the '0 for 3 in wives' slogan that they will all start to sing as their ultra-feminist motive to go after me.

As far as having "Staining my wife's reputation" , I challenge her to show me one time that I tried to stain Marline in all my writings. I only referred to her as a victim of the instigators.

Then in writing: "I just hope that (your hosts) ..will not be the next ones to blame when and if they ask you to move out". That was a confession of their objective to have me kicked out from everywhere I live, including my marital home.
But the biggest confession of guilt came in writing: "..Yet you want to remain in the marriage.... Something does not add up".
CONCLUSION: In just one email, Dominique incriminated her family at least 5 times in the conspiracy to dismantle the marriage out of an obsessive jealousy and a deranged ultra-feminist mentality)
SELF INCRIMINATION #3: LILIANE CLAUDE MARRIAGE COUNTER
Following that incriminating e-mail from niece Dominique, here comes her mother Liliane Claude identifying herself as another professional marriage counter, already looking past Marline and toward a 4th marriage for me.
Again, I am not the one saying it, you can read the 'Evidence that does not lie' in Liliane's own written words to me below in French:
WOW! 'Comedies'?, my 'Next wife' ?. This nonsense came from my oldest sister and family elder. Do you believe this? Well, you better.
CONCLUSION: Through her own handwriting just 2 weeks after being put out of my home, sister Liliane Claude incriminated herself through consciousness of guilt and stupidly in calling for a next wife.
SELF-INCRIMINATION #4: LILIANE CLAUDE, THE JAMAICA ESTATES LAWYER
Now we have sister Liliane confirming once and for all the jealousy over my Jamaica Estates residence. Because soon after being forced out of my home, I informed her that my lawyer said I should be able to return home once he gets the restraining order dismissed. Now you'd think that would be great news from little brother Claudy to big sister Liliane. Right?. WRONG!
Well let me have the 'Evidence that does not lie' speak for me, as sister Liliane shouted back, while switching from her poetic French to a more powerful Kreyol
Now all the sudden, my sister Liliane became my wife's lawyer, as an expert in NY Estates laws. A diploma earned working as a secretary at "Bureau des contributions" in Haiti.
But the desire to see her brother disappear was consuming her so much, that the first time she saw me at our sister Roselyne Balmir, she once more yelled at me in front of my now defunct brother in-law Eric Balmir Sr.
CONCLUSION: Sister Liliane Claude incriminated herself as obsessively jealous of Marline's house, and as a cruel sister wanting to see her inquiring brother disappear.
SELF-INCRIMINATION #5: MAD DOC DUPITON'S JAMAICA ESTATES OBSESSION
Now that Liliane Claude and her daughter Dominique confessed that one of their motivations was the jealousy over Jamaica Estates, let's see what her youngest daughter, the Mastermind Mad Doc Dupiton has to say about my Jamaica Estates residence
Now, you may recall that before getting married, I had a spacious 3 bedrooms apartment-office above Camkids Pediatrics. So after the marriage break up, Doc Dupiton made sure to give me a piece of her mind about Jamaica Estates. And as usual, let me have the 'Evidence that does not lie' speak for itself in this text that Doc Dupiton had delivered to my cell phone
Now, the first thing I want point out from that message, is that one expectation we have for a physician, specially one taking care of our children, is honesty. And Doc Dupiton just showed maximum scheming, and vindictive dishonesty in saying that I had 'moved from the room above Camkids". And since I let the 'Evidence that does not lie' speak for me, here it is in a floor plan that I had made of my full apartment/office in 2013 as a free service to my niece Dr. Dupiton who was planning to remodel upon us turning over the apartment back to her. That was also before she served Marline and I an eviction notice. PLEASE TAKE A LOOK: DOES THIS LOOK LIKE JUST A ROOM ABOVE CAMKIDS TO YOU?
DISHONESTY CASE PROVED & CLOSED:
Moving on, we have the 3 Claude women of Liliane, Dominique and Johanne singing in chorus about me being '0-For-3' in wives. Now they just proved themselves to be '3-For-0' in Jamaica Estates jealousy, thus making them '3-For-0' as 'Haitian Just-Come". who think that Jamaica Estates is Beverly Hills, worth killing someone for.
SELF-INCRIMINATION #6: DUPITON LIVING INSIDE OUR HOME UNDERCOVER
But it seems like Mad Doc Dupiton was so jealous about our Home, that she seemingly lived there also undercover. Because, just as sister in law Joelle Mith-Joseph did in Episode #1 , Mad Doc was also using my wife's children on her to create division. How do I know? you may be asking..
Well, the 'Evidence that does not lie' told me. And it came directly from the Mad Doc in this message where she presented herself as an undercover witness to Marline's Children contributing to the marriage break up,.
CONCLUSION: While Undercover Agent Mad Doc is a great Fact-Twister, she still incriminated herself as "The Spy On the Inside"

SELF-INCRIMINATION #7: DUPITON & CLAUDE AS EVICTION MASTERS'

Well, unknowing to me, Doc Dupiton and her family's desire to get me kicked out of any residence was more obsessive than I thought. And it started when she first sent Marline and I an eviction notice from the above apartment that she called 'A Room'.

Then after getting Marline to kick out her husband, you read niece Dominique above wishing that the couple I was staying with would be

next

to ask me to move out

.

But it became clear that the obsession to get me out of the Jamaica Estates house had reached a dangerous level, high enough to put my life at risk.

FIRST: There is Marline's recording above that revealed the family teaching her to "Just live with a man so she can kick his ass out when done with him.

SECOND: We had the life threatening "Faking-230BP" diagnosis that Doc Dupiton gave to my wife to keep her from rushing me to the ER with a 230 Blood Pressure. An incident that I made reference to in the past, but for which T had kept the criminal details 'Classified' . Well, these details will be fully declassified through a Special Episode in the near future, alleging Dr. M. Dupiton of Attempted Homicide.

THIRD: This one is to me one of the most audacious self-incriminating evidence I will present today. It happened when Doc Dupiton felt that my wife was not acting fast enough to kick me out of the house. So when she heard that we were looking to attend the Retrouvaille retreat to save our marriage, she seemingly flipped into temporary insanity. Because as my wife and I were home and at peace one day, Doc Dupiton dispatched the most mind-boggling command to me via a text message. And the only way for you to believe it, is to see the 'Evidence that does not lie'. So ere is Doc Dupiton ordering me to self-evict from my residence which she calls 'THAT house'.

WARNING: SEATBELTS REQUIRED BEFORE READING
Well, when I showed it to Marline, she had no clue what Johanne was talking about. So when I text her back saying that "My wife is home, and I see no cops" . Mad Doc did a 'Houdini' disappearing act.
CONCLUSION: Self-incrimination from temporary insanity caused by uncontrollable obsessive jealousy.
SELF-INCRIMINATION #8: DUPITON'S FAMOUS 'EX-WIVES CLUB'
| | |
| --- | --- |
| | Another promise that Dr. Dupiton made to Marline in exchanges for dumping her husband, was membership in a fictional Ex-wives club with my first wife, where she'd be happier as a free woman who is not controlled by a husband. |
The 'Evidence that does not lie' came in Marline's own handwriting confirming the promise to Doc Dupiton in this text message I had stumbled upon..

Well, at the time of this discovery, and with my "Blind Family Trust", I took it as an inappropriate joke. Still I had scolded my wife by sending her this message.
Then when I confronted Johanne with Marline's text, she did another Houdini disappearing act, and never disclaimed making that promise to my wife.
But what is concerning is that, in writing that message to Johanne, Marline could not realize that such a club was not even remotely possible, since my ex-wife was happily remarried, and neither did Johanne & Dominique have any plan to leave their husbands for some imaginary ex-wives club.
CONCLUSION: Mad Doc has too many self-incriminations for me to count.
MOST POWERFUL SELF-INCRIMINATION
DOMINIQUE'S DISDAIN TOURING MY HOME.
Now, this case of early expression of jealousy toward my new marital home is one that bothered me for years and never shared with anyone before. In fact this is the first time that Dominique will realize that I was aware of what she did on her first visit to my new home a decade ago, just 2 months into the marriage. So I finally decided to share it today because of its enormous significance in confirming the lifespan of the jealousy I reported above.
So Dominique, since you are reading this publication, I will be addressing you directly and publicly as I recount what you did 10 years ago. Hopefully, as the elder of your generation, you and your little sister Johanne will realize that underestimating your uncle Claudy's intelligence and not respecting the value of his seniority represent how you, along with your other juniors brought down the family.
But before I start, let me say to the readers that this story is rooted in a long-standing tradition that is always honored in the Haitian community. That is, whenever someone acquires a new residence, then welcomes first time visitors to his home, he first topic of conversation is always the new home. Then the first order of business is, either for the host to offer a tour of his new home according to protocol, or for the first time visitors to request one as a show of happiness. Afterward, he/she receives feedback on the good aspects of the home with ideas for improvements, or at the minimum get comments like the home has great potentials. In the end, the idea is to make the person feel good about the new residence, and to share, or at least fake sharing some happiness.
WITH THAT, LET'S O TO THE DOMINIQUE STORY BY ADDRESSING HER
As I said Dominique,
it was 2 months into the marriage when my wife and I invited you all for your first official family visit to the new home of uncle, brother and father Claudy in Jamaica Estates. So I was excited at the prospect of showing you the new Elie family residence. Upon arriving, and after all initial welcome, I expected someone to say "Claudy, aren't you going to give us a tour?
Well, when that did not happen, I followed protocol and made the offer to you Dominique, and you said 'OK". So from the living room we went upstairs. I took you to my bedroom and pointed to Marline's children rooms and guest room. At this point, 'Do you remember what your reaction was?"
Well, you quickly peeked into our bedroom, then looked toward the other rooms. And as I expected to get an initial feedback from you over the largest bedroom in the family, I only heard you murmur a sound like 'Hmm'. Then to my stupefaction, you turned around and headed back down the stairs ahead of me, as if you had seen a ghost, to join the other women. Basically, you put a sudden end to the house tour without saying one word to me, except for that 'Hmm' sound which will not pass for a word in any dictionary.
Well, I did not know what to think or do. So I quietly went back down alone to rejoin everyone, and did my best to hide my embarrassment during the whole evening. And for the next 10 years I kept the embarrassment to myself until now. In fact I was so embarrassed for myself and the family that I never said anything to my then new wife Marline, who is learning about that incident right now, along with the rest of the world.
Well Dominique, I am telling that story today because I finally realized what to make of your perplexing reaction back then.
As I said before, in my engineering career as a technical problem solver, the most effective formula I used against the toughest problems was the simple '1+1+1=?' addition.
So in the case of your strange reaction, I just did the following addition:
+1: For your previously stated shock that Marline and I are one.
+1: For saying that 'Something doesn't add up for me wanting to stay in the marriage'.
+1: For Johanne saying that I moved 'From a room to Jamaica Estates, instead of '...moved with my wife'.
+1: For Johanne ordering me self-evict and leave, what she referred to as, 'THAT house'.
+1: For Liliane saying that I cant go to 'THAT house 'without a signed paper from Marline'.
+1?: The unknown factor
So to solve the equation, I needed that last '1' which was the missing link to the 'WHO, WHERE & WHEN' it all originated from. Then when you suddenly cut short the tour of THAT house with a simple 'Hmm' sound, you gave me all three. You gave me:
The WHO: Which was you, Dominique unable to handle a tour of THAT house.

The WHERE: Which I witnessed happen on the 2nd Floor, inside of THAT house, .

The WHEN: Which was10 years ago, just 2 months into the marriage during the family's visit to THAT house,
THEREFORE: I was able to complete the equation as:
1+1+1+1+1 = OBSESSIVE JEALOUSY TRIGGERED UPON JC & MARLINE SAYING "I DO", THEN ME MOVING TO THAT HOUSE IN JAMAICA ESTATES
An obsessive and consuming jealousy that ultimately broke a marriage, dismantled our family, indoctrinated my daughter, pushed Marline into a life of denial, then exploded into the most horrific, inhumane and hateful prosecution of a family member. A prosecution that nearly cost me my life, and impacted my vision without one of you giving a darn if I ended up dead or blind.
Therefore, this is the horrific story of your uncle who traveled to hell, through jail and shelter, and who, by the grace of God, returned to tell his story to the world, and looking to turn it into a Best Seller Book, so that others will not become victim of:
The dangers of 'Jealousy from within Family', and the perils of 'Blind Family Trust'.
A book dedicated to the legacy of my late mother, your grandmother

And because of her, I gained the following:
The character to stand up against wrong, evil and injustice

The intellect to put my story on paper for others to learn from

The integrity to stay above the swamp, and to keep my head high when others go low.

The wisdom to not return Hate with Hate, nor an Eye for an Eye, but the ability to offer love, understanding, and forgiveness in return.
Therefore Dominique,
Your inability and that of others around to accept accountability, feel sorrow or extend apology for wrongs done to others, are what prevent you from even welcoming peace or to embracing forgiveness extended to you.
IN CLOSING, LET ME RECALL YOUR WORDS OF FEB. 3, 2016:
In that email 2 weeks after the marriage beak up orchestrated by your sister Johanne, you wrote this condemnation phrase to me:
"... I find it surprising that as our 1) uncle, 2) elder, 3)having been married 3 times, you are counting on us for marital advice, support... You should have been our role model, our adviser. We should have been the ones turning to you for guidance not the other way around..."
Well Dominique, let me finally address your statement:.
Above your statement, you read about integrity, character, the wisdom of returning hate with love, and offering peace, forgiveness, etc. etc. All positive words from the same uncle Claudy to the same people who drove him through hell and shattered marital, parental and family relationships. Words that do not reflect animosity, or desire for reprisals. You must also remember that on the same year that you wrote that statement condemning me, and while I was being slandered as crazy, mental, drug addict etc., I wrote you a sincere apology letter for wrongly accusing you of something that you did not do.
So Dominique, these words and actions on my part reflect extreme level of role model behavior and advisor toward you and my other juniors in the family while under fire.
Obviously, you have not been able to receive these advices or appreciate the Role Model Image you were presented. But I hope that you will now, just as the thousands of readers in your company, agree that these represent images of a solid role model and advisor
Therefore,, this is the moment to prove that your stated desire for a male role model and adviser in your life were not simply empty words of vindictiveness toward the uncle who has always been and remains a solid Role Model and Adviser. even while under fire.
The actions you take today as the elder of your generation, the elder sister of Johanne Dupiton, and elder cousin of my daughter & nephews will go a long way in reshaping the legacy of this family which, for the 10 years after your "Hmm' reaction has been a family of hypocrisy, traitors in my life, and Judas at my dinner table.
Ex-Uncle Claudy
Messenger of truth, Advisor, and Role Model,

Last word to the Readers,
Before I close this Episode #3 where you have been presented a significant amount of information in the complex Dupiton Conspiracy, I strongly recommend that you do a second reading in preparation for the next level of troubling events you will be exposed to in Episode #4
CLOSING EVIDENCE
So let me leave you with one of the most incriminating audio/video evidence provided by an angry Marline, pointing directly to Liliane and Johanne Dupiton as Masterminds of our troubles
SO MY LAST WORDS TODAY IS
- CHAPTER 3 -
THE MITH FAMILY ARCHIVES
THE STARTING POINT TO THE MAD DOC DUPITON MASTER-PLAN
INTRODUCTION
This episode of the RockMaster Horrific saga fueled by jealousy and hate, opens the archives of my in-laws Mith family to expose the critical period called 'The Starting Point' to the saga that would follow.
One that also opens a new disturbing can of worms that will hopefully break down these bonds of secrecies and gag orders keeping everyone from speaking freely about what they know.
Because it is time that those behind these conspiracies and schemes to realize that you can't mess with someone's wife, daughter marriage and life, then tell him in the manner of Doc Dupiton "If you don't like it, TOO BAD"
THE 2 TRACKS SYSTEM
It is most important for you to know that the events leading to today's catastrophic situation were actually run on 2 separate tracks. The Mith Family Track #1 conducted by my sister in-law Joelle Mith-Joseph, and the My Family Track #2 conducted by my niece Dr. Marie Dupiton of Camkids Pediatrics.
Now, I am going to take you down the Mith family Track #1 conducted by Joelle Mith-Joseph, traveling from the 'Starting Point', heading toward the year 2020, where we find my separated wife Marline in a state of denial, and my daughter in a mental state of confusion.
THE STARTING POINT - LIGHTING OF THE FUSE:
Now the main engine of the Mith family track #1 was ignited in 2014 when my sister in law Joelle Mith-Joseph, who I also refer to as 'Monster in-in-law', took advantage of an internal family dispute at the Elie residence, involving my wife's then 25 year sold daughter Tiffany, to launch the most devious accusation and slander attacks to destabilize the marriage of her sister Marline Mith-Elie.
THE FACTS & THE STARTING POINT INCIDENT
The date was Jan. 14, 2014, and the time 2:00AM, when Marline and I were having a loud discussion inside our bedroom, with me complaining about her daughter's misbehaviors and her sister's intrusions in our lives, as these were THE ONLY subjects of arguments in our marriage.
Suddenly, the door swung open violently as her daughter Tiffany blasted in with her video camera running. After ignoring our repeated orders to get out, she lunged forward, grabbed her mother's right arm & started to drag her out of the bedroom like a bag of trash all the way to the doorway. At which point I ran over, grabbed Marline's left arm, and with Tiffany throwing all kind of insults at me, I was able to pull my wife back in the room and close the door. It was a mother/daughter wrestling match, where the overmatched Marline still came out on top by landing an accidental blow that left Tiffany with a swollen lips.
The next morning, her mother had a serious talk with her, stressing that incidents of the kind must never be repeated. But that was not good enough for Tiffany who ran to aunt Joelle, and maliciously said that mommy's husband had hit her.
Well Joelle saw that as a gift from above, and quickly upgraded the girl's lie to "Jean Claude Assaulted & punched Tiffany', without giving one reason why as a senior citizen, I would do this at 2AM, in MY BEDROOM, wearing underwear. But that is what her X-Rays vision could see from her house while sleeping in her bed. Anyway, you will soon read the gory details in her own writings that my wife immediately rejected.
But Joelle would have none of that, and pushed the cruel lie on her brothers and uncle who chose to take her words. As such they ended up carrying a huge blame for the disaster that would follow for not doing what anyone else in the world would have done. That is to give credence to the words of the 2 adults of the home over those of a girl invading her mother's privacy while videotaping.. But in taking Joelle's words over my wife, they forgot that the evidence of the facts was in Tiffany's own video.
So when I insisted on getting a copy of the video which was running for some 2 minutes, Tiffany provided only the last 15 seconds. A 15 seconds recording which she somehow started in the middle of my struggle trying to pull my wife back into the room. So just like the missing minutes in the Nixon Watergate tapes, we are missing some 2 minutes of the Joelle-Gate tape.
But guess what? If only 15 seconds were provided, it would be the worst 15 seconds for me, showing me assaulting and punching Tiffany, and proving Joelle was right. AGREE?
SO, AS THEY SAY ON CNN, "LET'S GO TO THE VIDEOTAPE". ONE PRODUCED BY THE SO-CALLED VICTIM TIFFANY, TO SEE THE ASSAULT & PUNCH THAT JOELLE CLAIMED.
Well, I think that we can unanimously agree that Joelle Mith-Joseph owes me an apology. Because the only hitting you heard about was Tiffany claiming that 'You hit my mother', with Marline immediately and strongly replying 'No. he did not hit me... Get out Tiffany"
Now, for Joelle to see me assaulting and punching Tiffany in the same video you just watched, makes one wonder if this whole thing was not pre-staged. But I am willing to pay a million dollars to see what the missing 2 minutes of the Joelle-Gate tape would show.
Then came Joelle's next audacious act of disrespect toward her sister and our home.

HOME INVASION - THE NEXT DAY
So the next day as all was quiet at home, here comes Joelle blasting herself into our home, like Tiffany did in our bedroom, chasing me around the house, from my office through the kitchen, dining room, living room like a crazy lady yelling 'Violence, violence, violence', until I ran to my bedroom and locked the door. Then she told Marline's son Nicholas to call the police on me. With everyone in that family seemingly under the control of Joelle, just as those of my family are under Johanne Dupiton, Nicholas actually called the police. So the police came, wasted their time and left.

The next day, boss Joelle dispatched her kid brother Richard to the house, who headed straight to my 2nd floor bedroom with Joelle's 'No Violence" line, telling me:
"I don't want to see violence here... Next time you have problems with my family, you deal with me".
So feeling sad for the kid trying to prove his manhood to big sister Joelle, instead of grabbing a baseball bat against the intruder, I did exactly what Marline wrote in a letter to her family below: "...Jean Claude stayed calm and even shook his hands".
Now the question is, how far is Joelle willing to go to get me? And as you will see next, SHE WENT A WHOLE LOT FARTHER.
And for that, let's go to the Main Event of my wife Marline getting ejected & humiliated by her sister Joelle.
JOELLE HUMILIATING EJECTION OF MARLINE
So, let's go into Joelle's humiliating ejection
of her sister to the streets. And as evidence, you will also get to read the story directly from Marline in a letter to her family following the incident
So, here we are months after Joelle's creation of the fictitious 'assault & punch' Tiffany story. All the while still pushing it, as Marline is holding strong in rejecting it. So Joelle decided that a little public humiliation of her sister might change her recollection of that night.
That day, Marline was celebrating her mom's birthday at a restaurant. We got there before the rest of them. And as I was seated at the table joking with my mother in-law, Marline came in, grabbed my arms and said "Let's go, we're leaving". So I asked, "What the heck is going on?". She did not reply, but I could see smoke coming out of her ears. Arriving outside, I saw chaos with an audience watching a spectacle with Joelle as the director. And immediately, Marline blew up and became the baddest lady in town, blasting, and cursing at her brothers and Joelle who had instructed everyone NOT TO ENTER THE RESTAURANT UNTIL MARLINE SENDS HER HUSBAND AWAY. Something never heard of in any family in the civilized world, and even in the uncivilized world.
Then after Marline finished dumping a truckload of "#*%##" on them, and the smoke stopped coming out of her ears, she took my hands and said "Let's go home honey. We're not wanted here".
Well, I said to myself "You go girl". And deep inside I felt good and proud that 'I had a No-BS wife who would fight for her husband and marriage'.
A fighting spirit that she reconfirmed a full year later in this text message to me
NOW, LETS GET TO THE MEAT OF THINGS WITH THIS WAR OF LETTERS BETWEEN MARLINE & HER FAMILY. (Remember: Evidence don't lie)
THE MITH LETTER - FROM THE ARCHIVES
MARLINE BLASTS FAMILY - JOELLE BLASTS MARLINE & JC
What you are about to read is the kind of made for Hollywood stuff, reaching a climax as Marline & Joelle go head to head in an exchange of letters when Joelle sent her a reply that was no less than a brainwashing bible. Read and you'll witness psychological brainwashing at its best. Or should I say 'at its worst'.
So, let's start with Marline's letter blasting her family over the humiliation & ejection from the restaurant, while strongly defending her husband and marriage.
2014 LETTER FROM MARLINE TO HER WHOLE FAMILY
AFTER EJECTION FROM RESTAURANT
From: Marline Elie
TO; MY family

Dear All,

I can not begin to tell you how I felt on Saturday evening when I was treated like an outcast, by my family.

I was chased away like a homeless dog or maybe worse. I was Humiliated and disgraced. On the day of my dear Mom's birthday celebration. I was so happy to celebrate her birthday I told Joelle lets buy another cake and sing Happy Birthday again at the restaurant. I rush and brought the cake for her.

I told mom that morning, when I came to take care of her, like I do every (Saturday morning and almost every night for years) We are going to celebrate your birthday in Style.

I invited my good friend and her Mom to celebrate with me and then, I was Humiliated and force to leave.

This was about my Mom, the women that I love, the women that I take care of almost every night. That was her day . Not mine or Jean Claude or anyone else. You could have held our insults till the night was over just for her. You did not have to acknowledge us, that would have been fine with us. I did not deserve that treatment.

I was not going to bring this up anymore , I said my peace on Saturday. But something happened Sunday night when I came to take care of my Mom. Like I've done for years every night rain or shine, snow or hail. She looked at me and said " why didn't you come to my party, everyone was there except you. "You had something better to do". "You were the only one missing". "I missed you". I started to cry. I was forced to lie to her and told her I came but I was not feeling well so I left.

Ricky you left me a letter on Sunday explaining your position toward Jean Claude and his insults and I respect that, that's your decision. Then I came to this phase telling me that everyone felt the same way about me leaving with my ( low life) husband. You did not say low life, but it was assumed.

Well that was it for me. Let's let everyone read all the emails that have been circulating, we are all adults.

Yes, I saw all the emails some I read some I deleted, the emails Ricky wrote, Joelle wrote, Nicholas wrote, I wrote and Jean Claude wrote.. Everyone said hurtful things, disrespectful things. I say, if you can dish it you should be able to take it. When people write about someone you have to expect the person to write you back. You might not like what the person said but that is the risk you take.

For some of you who do not know the story here it is:
This situation started with a accident. Like every married couple argue. Tiffany heard and she came to see what was going on and in the heat of the moment she got hurt. I was upset & Jean Claude left home. After we both calm down he came back home. Tiffany was not satisfied with my action she decided to call Joelle, Ricky and the entire family. That was her decision.

The next day Ricky came to my house, went up to my room and started to talk to JC, Jean Claude stayed calm and even shook his hands. Then Joelle came and made Nicholas call the Police The police could not do anything because the incident was over. There was no evidence of any domestic violence. .

To make a long story short. This incident was over. It was an accident and it will not happened again.
Tiffany decided she didn't want to be in the house anymore and moved. It saddened me to see her go but it was her choice. I helped her move, help her furnish and hosted her house warming.

Recently Jean Claude reached out to her but she was not ready to communicate. Hopefully one day she will.

No one is perfect, we all did things we are not proud of. I will not mentioned names your know how you are.
Jean Claude is not worst than any other husband out there.

I'm not going to defend JC he can do that himself. But what I'm not going to tolerate is everyone thinking they are better than him.

He is not a low life, he is a educated man. I do not marry low life, all the men in my life have been professional. They may not be your cup of tea, but they are not stupid. In occasion, they might say stupid things or do stupid things. But that is another story. Yes, Jean Claude may have said some insulting things but he is only reacting to what they have said about him. His a proud man worked hard for what he has. Like every man, he will defend his position.

I never got involved in any other family members married or relationships. We all had moments we wish we can take back. We all have family issues, I will not get into everyone personal issue, but we all have them. Some more than others.

No one can love my kids like I do. People how have more than me wouldn't sign loans for their kids to go to college. So, do not tell me about sacrifice and supporting my kids. God has bless me with good health, for me to be able to work and stay in my home.

I have not asked anyone for help. I can take care of myself. I've been through worse in my life,. Occasionally If I need some help I will ask for it. The times that I've ask, Joelle was being there for me and I would always pay her back within 2 weeks, plus I always signed her promissory notes.

I Married Jean Claude because I love him. He is not perfect and neither is anyone else. His a good man , a little old fashion. A caring husband, giving and lots of fun. Yes he has his moments like we all do. He is not the monster you guys make him to be. He is always there to help everyone but he is not going to let anyone walk all over him.

I would not have married him if he was any other way. When we marry we become one.

I've gone alone many family functions, but realized everyone has their spouse, or girl friend expect me. Why? I'm married, I love to go out with my husband we have fun together. ,

So If you do not want us in your home or your event just say so. We do not want to be where we are not wanted. We do not want to make any one feel uncomfortable.

In closing, I was hurt by your action but as a catholic you have to forgive, and I did.
But I will never forget. I will never put myself in that position to get humiliated again by the people I love the most. I'm a loving, caring, giving person. I love everyone. I'm not going to let anyone treat me any less.

One blessing I have, is that I'm a very confident person and I have a great sense of humor and a high self esteem. I do not have lots of money, but I have a good heart. My home is always open for my family and friends.

With these qualities I'm able to make it.

Marline

THEN COMES JOELLE'S BOMBSHELL REPLY: The one I refer to as her 'Brainwashing Bible" of Marline. The yellow highlights are her control keywords and phrases.
THE JOELLE BRAINWASHING & CONTROL BIBLE
ORDERS MARLINE TO BREAK MARRIAGE
From: Joelle Mith-Joseph
To: Marline Elie
October 2014


Hi Marline,

I was not going to respond to your e-mail , however when I noticed the time you sent it so early in the morning(5:02 am) I realized you must have been in great distress and unable to sleep. I also decided at this time to only cc this e-mail to the above individuals.

Marline I suspect somehow direct or indirectly your dear husband Jean Claude probably influenced you in writing this "defend Jean Claude e-mail" you sent to all of us.

Reading your e-mail provoked the feelings of reading the e-mail of an abused, brainwashed woman. Jean Claude must feel in heaven for feeling he has succeeded in alienating you from our family so that he can have "better control" over you .....this is what he always wanted...he said he would not allow you to go anywhere without him.

Marline you said you are a strong woman with a good self esteem; yes indeed this is what I always thought of you, the way we were raised, however I am not so sure anymore... you are perhaps unaware of the damages done to you recently by your dear husband.

You made the decision to marry Jean Claude, you said "he is a good man and a caring person", and that you are happy with him, you have fun with him and love him...good for you. However Jean Claude may have succeeded in fooling you but he knows he cannot fool others. What disturbs me and the rest of the family is that this "good man" assaulted your daughter, said very nasty, things to her and did not see anything wrong with it and you and him described it as an "accident". Jean Claude knew very well it was not an accident....just as his suspected abuses to you are not accidents.

Marline it may make you feel good to defend your husband, fine with me but you do know "your real husband". I do hope for your sake he is changing. I know there is a "grandiose feeling" of having "RockMasters" as your husband as you parade in the Haitian community and likewise Jean Claude may feel good about getting an desirable woman like you that other men wanted....however life is more than that. I respect Jean Claude as your chosen husband however, after what he has done and said to the family ,he cannot without apologizing "push himself on us" and telling us he has control over you and would not let you go anywhere without him....this we cannot accept and you should not also.

Marline you and Jean Claude made several references to my past difficulties with Stan. Stan is aware of those references. Yes you are correct nobody is perfect. However, "big difference" Stan did not verbally abused or assault anyone. I was never abused verbally or physically. Stan is indeed a caring and generous individual, an excellent father to Yasmine , a good provider someone who also likes to have fun but plans for the future. Most importantly when we did realize our difficulties instead of denying them and "pretend everything was fine", we obtained professional assistance which we paid fully out of pocket. Denying a problem exist and let oneself be "brainwashed" that "everything is fine" are classic symptoms that professionals often see in relationships where verbal and physical abuses are present.

By the way, with regards to reportedly the job Jean Claude was assisting Tiffany to get; I agree with Tiffany, with her history of conflicts with Jean Claude why should she trust him with her transcript. Jean Claude should have respected her decision to refuse his assistance. If Jean Claude has such great job contacts he should use it for himself and to assist you and I know you are looking for a better job. this I am saying sincerely.

By the way Marline, I did not open the attachment with Jean Claude's resume...I am not interested , it would not impress me at all. A resume is as good as what its owner does with it. In the psychiatric clinic where I work we have many patients with Ivy League education, graduates from Harvard, Yale, Columbia, Princeton, etc. with Law, medical and engineer degrees, worked at various high profile distinguished places and currently mentally ill and unable to work. So if one reviewed these individuals resumes , one would indeed be quite impressed.

Marline, our family all care for you, we love you, we have nothing against you and respect your decision to be with your husband, the man you said you love.. However, "we are all concerned about you" and praying for you. I will always remain available to you if you need my assistance.

Love,
Joelle

Then comes a second letter from Marline to her family with more defense of her husband
2ND LETTER OF MARLINE TO FAMILY
From: Marline Elie

TO; MY family

Tiffany is not as sweet and innocent as you think. She said some nasty disrespectful things to him and to me. I had to put her in her place many of times.

As far as me alienating the family I just wanted everyone know how I felt.. Yes my husband is not welcome in my family, how do you thing that makes me feel. When any of us have spouse issues we try to help not alienate. I Love you both, but as the bible said a women will leave her family and go with her husband.

Ask anyone who knows Jean Claude, he is not a bad person he just felt he was attack without him telling his side. I hope we can clear the air soon.

PS Joelle not everyone is a case study

Marline.

Marline's last comment about 'everyone not being a 'case study' is in reference to Joelle being a psychotherapist working with the less desirable at Queens hospital. So Marline was reminding Joelle that she suffers from occupational hazard.

But blasting Marline was not enough for Joelle. She decided to turn her guns of insanity & insults on me. Please read:
JOELLE GOES WILD & CRAZY
ATTACKING & INSULTING HER SISTER'S HUSBAND
From: Joelle Mith
To: jeanelie@aol.com
c: richardmith@aol.com; RDamally@aol.com; Tiffanyrose.charles@gmail.com

Jean Claude,

My family and I are all wondering "what did our Marline get herself into by marrying a psychotic alcoholic". .. You need help ASAP. I and the others have put up with your insane behaviors for Marline's sake however you crossed the line recently WHEN YOU PUNCHED MY NIECE TIFFANY ON THE FACE AND TRIED TO CHOKE MY SISTER MARLINE…
…. You feel so inadequate that you cannot offer Marline much that you try to find someone to blame for your problems. My self esteem is too high for you to touch me!
You are delusional if you really want others to think your marriage is "great and solid". It is so great that you have been verbally and physically abusive to Marline and recently tried to choke her and punched her daughter she loves so much on the face?

......Since you have nothing better to do you have made it your focus to try to destroy the good relationship Nicholas and Tiffany have with their mother. Everything was just fine...until you came!
Marline did her Very best to raise two college educated young adults.
..The house was purchased by "THEIR FATHER AND MOTHER". I KNOW IT IS DIFFICULT FOR YOU TO ACCEPT...".THE HOUSE IS NOT YOURS" "MAYBE IN YOUR OTHER LIFE YOU WILL BE ABLE TO AFFORD A HOUSE IN JAMAICA ESTATES".

I am not bothered by your ungrateful attitude towards me. This is what having a poor self esteem does to people. They blame others for their inadequacies.
You are RockMasters with a VERY BAD reputation in the Haitian community. you know it. It is even true with the people who laugh with you!

Some things for you to remember; I was the one who the day after your wedding to Marline I had to open all your gift envelopes to find money to pay people you owe. On the next business day I left my job in the middle of the day to go to the bank and deposit monies from the envelopes. This is indeed Ghetto...not Marline's children as I have heard you called them.

One day Marline will wake up and evaluate your comment that "you are the best husband for her". Personally I think the evaluation already took place

. I am concerned about the effects of the stress that YOU have introduced in her life the past couple of years. Unlike your delusions "that Jean Claude is a nice guy", Nicholas and Tiffany are so fearful for the safety of their mother in the home with a psychotic alcoholic like you who offers Nothing to their mother

Good Luck and Get Help!
Joelle

wow. crazyyyyyyyy
Then this letter of Marline to kid brother Richard who was having his son's christening, but who told Marline not to bring her husband. So here comes Marline once more defending her husband
MARLINE TO BROTHER RICHARD
ON HIS SON'S CHRISTENING
Hi Ricky,
I need your help in solving this issue.
When you came to my house and got involve in my family issue was because Tiffany was accidentally hurt. As her uncle you wanted to make sure she was safe. All is done and we moved on.
Jean Claude is not a bad person, I would not married him if he was.
Tiffany was accidentally hit .Jean Claude would never hit a women.
I love my husband and I want him to feel comfortable again with the family.
Please invite him to the baptism, I want him to join me in this joyful occasion
Thank you in advance.
Marline
GUESS WHAT? KID BROTHER RICHARD DECLINED HIS SISTER'S WISH TO HAVE HER HUSBAND AT WITH HER AT THE BAPTISM - WOW - CONFIRMING THAT HATING JC HAS PRIORITY OVER SISTER'S HAPPINESS. BASICALLY NO SISTER LOVE
Well sister in law Joelle was not done with me as she unloads insulting texts messages to my phone. Here are a few samples.
JOELLE BLASTING ME WITH
A BARRAGE OF INSULTING TEXTS
--------
My brothers Ronald , Ricky and I made the decision that we do not want you to drive our mother's car...The car does not belong to your wife.. since you are so rich pay your car repair bill so the repair person can release your car or go purchase a new one.
-------------
I was not interfering with your abusive marriage. This is my sister's choice because I know things are not as Ok as you are pretending. My mother's car is my business & the business of my brothers. I had already told Nick to bring the car to my mother.
---------------
..No….the house belong to marline and her children's father. it is not yours. Get it to your thick alcoholic head I do not want you to use our mother's car.. We made the decision together......I feel bad for marline and I am praying for her daily.
---------------
You are so used to dealing with trash that you wanted my sister to elevate you...stop kidding Yourself. you try to live a lie to pretend that you have when you do not...others even people who are suppose to be your friends know the lie you are living....
---------------
You feel so inferior...nothing to offer except hiding under your RockMaster......well you cannot find one individual who can say bad things about my character ...but alas I cannot say the same for you..
---------------
I have no time for you low life, psychotic, abuser and alcoholic ...I and my family are very concerned for our beloved , my sister marline.. we will continue to pray for her. She needs lots of prayers living with you...we feel for her.
---------
Poor Marline... May God protect her and give her strength and bless her with the happiness she so deserves.
SO YOU JUST WITNESS WHAT MARLINE DEALT WITH AT THE STARTING POINT
VICTIMS & CONSEQUENCES
MARLINE VICTIMIZED BY SISTER JOELLE
When I say that Marline is a greater victim of her sister Joelle than my daughter is a victim of my niece Johanne, you just saw the evidence in the intensive pressure Marline was under from her sister to get rid of her husband. So, let me list a few examples of that pressure being applied over the years, with Joelle acting as a dictator with authority over everyone and everything belonging to others.
THE HITTING TIFFANY SCAM:
Joelle who is very domineering of her sister, also knew that Marline was extremely sensitive for her daughter, who in turn was controlling of her mother. So Joelle calculated that by teaming with Tiffany to push the 'Assault & punch' scam, Tiffany could be helpful in pressuring her mother into a choice between daughter or husband. A scheme that you will soon see in action.

IT'S TIFFANY'S HOUSE:
After another act of disrespect by Tiffany who then went to her grandmother's house, Marline's uncle agreed that Tiffany needs to apologize to me before returning home. But the authoritarian Joelle who controls Marline's home and children decided otherwise. So she sent Tiffany back to tell me "this is my house". So no apology needed.
The results: Another Joelle created dispute in our home.

DICTATOR GIVES POLICE COMMAND
Now standing in her living room (OOPS, I mean MY living room), Joelle's authority over Marline's children took a new level, as she commanded Marline's son Nicholas to call the police on his mom's husband. Guess what? The son did in the presence of his mother. WOW! Well, as I said before, Police came then left.
The Result: Well, you can guess it, as Nicolas becomes the man of the house.

JOELLE BANS JEAN-CLAUDE FROM MITH RESIDENCES & EVENTS
Then boss Joelle raised the pressure on Marline by directing her brothers to ban Marline's husband from all family events, as proven in Marline's letter begging her kid brother about his son's baptism, saying: "..love my husband and I want him to feel comfortable again with the family. ..Please invite him to the baptism..". But kid brother cannot override Boss Joelle, and the request was rejected.

BAN EXTENDS TO MY MOTHER IN-LAW
Joelle's ban extended to my mother in law's house that she legally blocked me from in a restraining order (As you will see below in a court filing). So Marline was forced to attend all her family's events at her mom's house alone, which she also complained about in her letter stating : "Yes my husband is not welcome in my family. How do you think that makes me feel?."
The Result: For the sake of peace and my wife's sanity, I did not object to staying home, and told my wife "it's ok. I understand, you must go to your mother"

TAKING CONTROL OF HER MOTHERS CAR
Now here she comes making my wife irrelevant in the case of her mother's car. That was the time my car was at the shop and Marline let me use her mother's car that was just gathering dust in her garage. Upon Joelle observing me driving it, she immediately called our home with another order to Marline's son to get the car key and return it to her mother's house, blatantly ignoring that it was also Marline mother's car. So when I told her that only Marline can give orders in this house, she exploded into a fit of insanity and sent me this text that you saw above.
...I do not want you to use the car ...The car does not belong to your wife.. I told Nicholas to bring the car to MY mother's house. MY mother's car is MY business..."
The Result: Another argument with my wife who accepted to be irrelevant in her family

\MITH FAMILY BANNED FROM ELIE RESIDENCE
Next, Joelle tightened the noose around Marlines neck by banning all members of the Mith family from stepping foot inside Marline's house as long as her husband lives there. Then after Tiffany had moved to her apartment, she told her mother that she would never step foot in her house either. A most outrageous act that was encouraged by Joelle and her brothers. It does not get more immoral than that.
The Result: Marline's daughter was used to create division in our home, just as my daughter was used by my family.

JOELLE HIDING FROM MARRIAGE COUNSELOR
So Marline and I agreed to seek the advices of a marriage counselor who determined that Joelle was the main source of our problems. So he suggested that he meets with her. Marline was excited to hear that and quickly gave him Joelle's number. Well, if you remember the case of Dr. Dupiton hiding 2 weeks from a pharmacist to avoid refilling an important prescription for me, Joelle spent 2 weeks dodging the counselor to avoid helping her sister.
The Result: The counselor concluded that he cant help us if he can't reach the root of our problems. So Joelle succeeded in ruining our effort at peace That is what's called 'Destructive Sister Love , the Joelle Style'

MY 1ST ORDER OF PROTECTION:
At some point, I had enough of Joelle's heavy dose of intrusion and creating problems in my marriage. So I told her that if she did not stop interfering in my marriage, that I would file a complaint against her. Next thing I knew, she went to court and filed a case of harassment and attempt to ruin her professional career. So she was granted a temporary restraining order against me. My very first in life.
The Result: Just as my niece Dr. Dupiton has done, Joelle has a weapon in hands to execute my 1st arrest in life.

MY 1ST ARREST IN LIFE COURTESY OF JOELLE:
With an order of protection in hands, Joelle went to the police to claim a violation from sending her an email. So she had the police arrest her sister's husband in the presence of her sister. I got arrested for the crime of marrying her sister Marline who she sees as her personal property to control & decide for.
The Result: Joelle gets credit for my first arrest in life that led to a major argument with my wife.
With that, let me go to the last and most evil & dangerous lie of them all.

KILLER HUSBAND - THE MOST EVIL LIE EVER:
Now, let me present you Joelle Mith-Joseph at her worst and blowing off the top of the cruelty scale with the most EXPLOSIVE LIE. But first, let me remind you of what Marline told her family about the 'Assault & Punch' Tiffany lie. Marline wrote: "... Tiffany heard loud talking and came to see what was going on.."
Now please read how Joelle translated Marline's words in her court document. Are you ready?? Here is a picture from that document

Let me read it loud & clear. Joelle stated that "... He assaulted my sister's daughter when SHE INTERVENED TO KEEP HIM FROM KILLING HER MOTHER..."

This is the court filing in which Joelle also reinforced banning me from family events by adding her mother in the order of protection:

(stay away from petitioner's mother)
THE TRUTH: RICH-JOELLE IS ACTUALLY A CHEAP-JOELLE TO SISTER MARLINE
First, I must show you that the Joelle who bragged about being a financially well-off person, is actually a cheap-Joelle living in Jamaica Estates.
A JAMAICA ESTATES that people like Joelle & Doc Dupiton think is Beverly Hills, and makes them behave like, what us Haitians call, "Just-come".

A JAMAICA ESTATES that made Doc Dupiton send me this jealousy message about Jamaica Estates

So Happy that she broke the marriage. And I had moved from a large 2 bedrooms apt, not a room

A JAMAICA ESTATES that made Joelle Mith-Joseph send me this most disrespectful text

Now, this can only be the thinking of someone with 'inferior' mind who came from 'dealing with trash' and stumbled on to Jamaica Estates to become the perfect 'Just Come'.
But before giving the chocking evidence that Rich-Joelle is Cheap-Joelle, I must tell you that another problem for her is the fact that, as the 'Nothing to offer' husband of her sister, I have financially supported my wife from day 1 in ways that Rich-Sister Joelle never could or would.
Now, what I am about to say is not to put my wife's financial affairs in the streets, as we all go though period of financial hardships, specially as a single mother with 2 kids in college. But if Marline wants to blame someone, she only has her sister to blame. Because exposing Joelle through her insulting writings, is the only way for Marline to understand the negative impact that this sister had on her and her children.
So here are the facts: At the time, we got married, Marline had been unemployed for a long period of time,. Then with her real estate business going slow, a daughter in college and outstanding college loans for her son, things became tight to the point that foreclosing proceeding had started on her Jamaica Estates house. So with my RockMasters business flourishing, I was able to stop the foreclosure by making all the court ordered payments, plus clean up other delinquencies, while making repairs and improvements to the Jamaica Estates house to tune of $100k. In fact I got to the point of giving her one of my business credit cards to use at her leisure.


Then I took her from a Camry to a Lexus LS430 that she still drives today, while so-called rich-sister Joelle was driving some basic, no-frills vehicle.
SO THE QUESTION FOR JOELLE IS:
"Before Marline married her 'low-life, nothing to offer' husband, what kind of support did she get from rich-sister Joelle?'
To answer that question, let me refer to another one of Joelle's most creative and ugliest lie, claiming that 'She heard me call Marline's children GHETTO". But this word 'Ghetto' is what I would use to describe the kind of support that I witnessed 'rich-sister' Joelle give to 'poor sister' Marline who had asked her for a lousy $20.
That is when I realized that rich-sister Joelle was actually a cheap-sister. Because Joelle WOULD NOT help a sister in need with $20, UNLESS it was a LOAN with a legally signed CONTRACT requiring repayment within 2 WEEKS.
What! you don't believe me? Then let me have Marline tell you herself. In fact she commented about that in the letter to her family after that same sister evicted her to the streets from a restaurant. But if you did not pick up on it from her letter at the time, now you will understand what Marline meant by writing:
."..I have not asked anyone for help. .. The times that I've asked Joelle, ..I would always pay her back within 2 weeks, plus I always signed her promissory notes..... (Words of Marline Elie)
WELL, THIS IS WHAT I CALL "GHETTO". A rich sister from Jamaica Estates forcing her younger sister to sign a contract with a maximum of 2 weeks to repay a $20 loan. So if it was not for Marline's RockMaster\ husband who Joelle calls "..inferior, nothing to offer but your RockMaster", Marline may not have had a Jamaica Estates house today for her and her children.
Well, if you think that you've seen the worst of Joelle, think again, as this was just a preview. For the worst, let's go to Joelle and Marline's children.
JOELLE'S DOUBLE STANDARD
NEGATIVE HISTORY WITH MARLINE'S CHILDREN
Now, what I am about to describe is the type of truth that Marline will do anything to deny when it comes to her sister. So I figured that by exposing the undeniable facts below, she will have to face them. Because facts don't lie, and these are facts that I personally lived.
So let's go to Joelle taking command of Marline's children as toddlers, with me as a live witness.
PSYCHOANALYST JOELLE MENTAL MANIPULATION OF TODDLERS
This one goes back to the time Marline and I first dated in 1998, when I had front seat view of Joelle programming Marline's children when Tiffany was around 7 & Nicholas around 10. My first strange observation was with Joelle coming over Marline's house about every other week, and, without saying anything to her, would direct the children to a separate room where she'd spend 1-2 hours speaking to them alone behind closed doors, after which she'd just leave. Marline was never involved once in those hour-long sessions, and when I'd ask her "what is it that Joelle keeps coming over to talk alone to your young kids about behind closed doors?, to my shock, Marline never had a clue. nor did she ever ask, or even ever attempted to join these sessions.
Well, I don't know of any mother who would turn over her toddlers to a psychotherapist sister without knowing what message was being fed to their young minds on a bi-weekly basis for years. Specially one whose profession is that of a psychotherapist working with mental patients, drug addicts and the less desirable elements of our society for the city of NY at Queens hospital.
Adding to that, is the comment Marline made in her 2nd letter above to her family in 2014. A letter that Marline closed by saying to Joelle:
"... PS Joelle. Not everyone is a case study
Basically saying to Joelle that she had a few loose leaves up there. Maybe Marline was not yet aware of that when she was turning her toddlers over to Joelle or hours and on.
THE CHILDLESS MOTHER CONNECTION
But there was another condition that, in my non-professional opinion, was the major reason for taking over Marline's toddlers, and also another e jealousy factor. It is that "young sister Marline was 2 children ahead of big sister Joelle who could not have children of her own". So since Joelle considered Marline as her possession, so she assumed the same for the children. Then it was her house, her marriage and husband who had to get the hell out.
BLASTING MARLINE OVER COLLEGE LOAN CREDITORS CALLING HER
Now, as a single mother who wanted the best for her children, Marline over extended herself with loans to send them to the best colleges. Nicholas went to Morehouse University, and Tiffany demanded to go to the private LIM Fashion & Business College in Manhattan with the children of Macy's and Gucci. So I began to also help her payback the loans for Nicholas that depleted her 401k plan. Money that I still have there, but that's another story.
THEN COMES RICH-SISTER WITH A COLLEGE LOANS DRAMA
For this one, you need to sit down, or you will fall down. Seemingly, a debt collector looking for Marline Mith in Jamaica Estates, called the house of Joelle Mith. And while I was using Marine's Laptop one day, an email popped up from Joelle about debt collector & Nicholas college loan that I was handling. So I automatically opened it, and my eyes could not believe what Joelle wrote to her sister Marline.
Well, read for yourself. Maybe your eyes will believe, as evidence don't lie.
From: Joelle Mith-Joseph
To: Marline Elie
Marline,
.
.... Stan is concerned about the debt collector having our home phone number which he said can easily be used to trace our home address, and place a lien on our house which we may not be aware of.

Also he said given the sensitive nature of his job these kind of activities are not allowed. And if this is in regard to money you owe, this is not allowed by his job and can jeopardize his job..."

So please in the future do not give our names, phone number and address as an alternate way to contact you.

Also please call these people and request that our phone number be removed as a contact for you.

Take Care!
Joelle
Not one word of concern. Not one offer to help. Just get your 'F#*&G' creditors off my back and my 'F%$#G' phone. And DO NOT use me for reference ever.
No need for me to say more. But there is more & worst to come.
But let me tell you with total conviction that, knowing her husband, he had nothing to do with that email. All the words were 100% Joelle's, just like the words in Nicholas & Tiffany's atrocious letters that you will soon read below.
Still, I did the proper thing by sending an email to her husband Stan telling him that, 'since I am dealing with these college loans for my wife, I will make sure that this does not happen again.
BUT IT GETS BETTER: Next thing I know, Marline comes home in a fit of anger, because Joelle had just blasted her for letting her husband see her email. Because that is "Controlling her". You do remember this dreaded "Control" word.
THEN IT GOT WORSE: Next, the crazy psychotherapist flipped and turned on me with another fit of insanity email informing me that my wife is her 'MY SISTER' who she owns, controls, and no man can have.
PLEASE READ, CAUSE EVIDENCE IS MY GAME
FROM: Joelle Mith-Joseph

TO: Jean-Claude Elie

-------

I, like the others are concerned for our blood relative and

MY S

ISTER

Marline....

.I replied to

MY SISTER'S

e-mail.... Are you so insecure that you have to read

MY SISTER'

s e-mails.......
you should direct your comments to yourself...

You need to get a life.... I guess since you are so insecure and have nothing better to do , you have plenty of time to Snoop in MY SISTERs private communications.

You cannot stop me from communicating with MY SISTER...we are all aware of your Snooping... I and the others will continue to communicate with her....directly!

GET a Life JC!

Joelle Mith Joseph
BUT HERE'S THE BIG REVELATION IN THE EMAIL
As I often say, I tell my story through the words of the actors, and you've heard me say a few times that Joelle sees her sister Marline as her personal property. Now here comes Joelle handing me the evidence on a silver platter.
All you need to do is count how many times Joelle practically yelled 'MY SISTER' at me in capital letters. She did it 5 times to make sure I get the message that my wife is her 'MY SISTER' and her property.
Just as she told me above that her mother's car is also her property, once more using loud capital letters. "...The car does not belong to your wife.. MY mother's car is MY business..."
Once more, Evidence don't Lie. And this one proves that anything belonging to anyone is her property of Joelle, Including husbands.
But it just keeps getting worse as her obsession created a delusion that I don't want her to communicate with her, ''MY SISTER'. Because by writing "...You cannot stop me from communicating with MY SISTER". I would like someone to tell me when and when I said such thing, since my communication to her husband was about a bill collector calling his house.
In the end, Jean Claude is not the problem, it is any man who dared to marry Joelle's 'MY SISTER'. And no one needs to be a psychiatrist to see that we have in our hands is a psychotherapist Joelle with serious psychological and behavioral issues.
Now, if you are not in a state of shock yet, the next one will take you over that edge. that. It is the case of keeping Marline's children down.
RUINING CAREER OPPORTUNITIES FOR TIFFANY & NICHOLAS
Now this next story of Joelle's attitude toward Marline's children will not only make you mad at Joelle, but make you sad for Marline who must have been a lifelong psychological victim of her sister, if she could allow Joelle to negatively impact her children's future.
Now, even as Joelle was using my step-children against me and their mother's marriage, I tried to give them support in ways that would also be beneficial to my wife. And the best way to do it, was with career opportunities that would give them independence from mommy, and for Marline to see the fruits of her heavy college investments.
This is something I did in the past for other youngsters. The best example was for my sister Roselyne Balmir's son Frantz Balmir who I took from a bank teller Job, and into 2 solid engineering career positions which have grossed him over 2 million dollars so far, without a Thank You. Except to evict me from his now Alzheimer stricken mother's house by order of niece Mad Doc Dupiton. But that's ok. Because I did not really do it for him or for Thank you, but for my dear sister who was there for me and my education in that same house.
So if I could do it for my sister's son, I could also do it for my wife's children.
TIFFANY'S GUARANTEED CAREER OPPORTUNITY
Tiffany was the first one I was able to land a great Marketing position for through an ex-employer's contact, starting at $52,000/year right off college. All the president wanted to see was a transcript confirming course completion, and the job was hers.
But when I asked her for a copy of her transcript, she arrogantly refused. So I asked Marline on the side to get it from me/ But for some reason Marline could not get it either. A transcript that Marline had paid for with a small fortune in loans.

So you must be asking yourself if Joelle had anything to do with that one also? Well, let me hold that answer for now, and present the evidence that the job was REAL with this email I received from the president of the company weeks after. EVIDENCE DON'T LIE.
From; Bob
Sent: Monday, March 11, 2013 11:16 AM
To: 'Jean-Claude Elie'
Subject: FW: Marketing Rep. Position

Hello Jean Claude,

Just touching base with you. I just received this email below from Jeff. He hired someone else for the Fashion Display Marketing Rep.

He said he never got your step-daughter's school record that I asked you to send him. He only needed proof that she completed her school work at LIM.

What happened?
Bob
From: Jeff DeMarco
Sent: Monday, March 11, 2013 11:02 AM
Subject: FW: Marketing Rep. Position

Good Morning Bob

Hope you had a restful weekend after last week

Jennifer accepted our offer for the Fashion Displays Marketing Rep. for the New York area. She agreed to 52k with the bonus package you had proposed and Medical after 3 months.

By the way I never got to consider Jean-Claude's step daughter because I never got the info I requested. Jean had promised it to me right after the New Year Holiday. But I could no longer wait to fill the position. So you might let him know of our decision.

Also, I am leaving for London next Monday. You, me and Brian should get together on Wed. to go over the proposal

Jeff
SO WHY DID TIFFANY LOSE THE POSITION.
For that we return to Marline's sister Joelle who explained it in her first blasting email to Marline, . And quoting Joelle:
",... By the way Marline, with regards to reportedly the job Jean Claude was assisting Tiffany to get; I agree with Tiffany, with her history of conflicts with Jean Claude why should she trust him with her transcript. Jean Claude should have respected her decision to refuse his assistance. If Jean Claude has such great job contacts he should use it for himself and to assist you"
The answer to the question: Joelle cost Tiffany a career position with her bad advice. But Tiffany's arrogance and disrespect of her mother by not giving her the transcript upon request was the first factor.
NICHOLAS: THE NEXT LOSER
.Around that same time, I also had Nicholas come to my office above Camkids, and helped him rewrite his resume. My plan was to submit it to W. Volcy, president of Solution Management who is well known in the community. As proof of my intentions, here is part of Nicholas resume that is still on my computer

Now, the owner is also a customer and a friend who attended our wedding. So as he had plans to open new branches in Queens and Long Island, getting Nicholas an entry business position at a minimum, was a 100% guarantee. Specially hearing that it was for my son in law.
SO WHAT HAPPENED?
Well, when Joelle pulled that stunt with the Tiffany transcript, then the drama over Nicholas school loans with the debt collector, I said the hell with everyone and did not go any further.
So, I say to Joelle:
Yes, Joelle, you screwed up Marline children once more. Because I was ready to help them on a path for a better future like I have done for other youngsters. And today Tiffany could have been a Marketing Executive working in the fashion industry she went to school for, and Nicholas managing a business location. So they and Marline can thank you for that.
JOELLE'S MENTAL CORRUPTION OF THE CHILDREN
GETS A TASTE OF CRIMINALITY
Now what I am about to present you will send chills to your bones to the point of asking yourself what goes in the mind of some people to engage in such cruel mental coercion of youngsters to disrupt the lives of others. Specially when it's done within a family. In this script, the lead actor is once more Joelle Mith Joseph, and her subjects are my wife's children Tiffany and Nicholas.
Now after having walked you down the path, from the kids coercion as toddlers, to involving them into schemes against their mother's marriage like the boycotts & bans, the police phobia, the 'Punch & Assault' Tiffany plot, to spoiling career opportunities for them, we have now arrived at the point of maximum mental cruelties.
Now to open this case, I have to refer back to Joelle's 'JC the Killer' label that she created in a court filing against me when she stated.
Now after she created the 'JC the Killer' fictional character, she needed people to publicize it for her. And who was best for this new dirty job of hers than Marline's children who she already took control over from a young age.
THE DEVIOUS PLOT: NICHOLAS FIRST TO BE USED
Somehow Joelle managed to coerce Nicholas into thinking that his mother's life was in danger with Jean Claude in the house. And even though he never witnessed any such sign living with us for over 3 years at the time, Joelle's psychotherapist expertise made it an easy brainwashing job for her. But even if Nicholas did not believe in this claim that he never witnessed, his authority figure Joelle said it. So he had to accept it as fact.
Having accomplish that, Joelle granted him the title of "Man of the house" with the right to order his mothers husband to leave the house. And here is how it went.
With Nicholas sold on the 'Killer-JC' scam, Joelle went for the kill. She provided him with a News Article of the murder of a young mother in the Bronx by her boyfriend as representing what I would do to his mother. Then she had him publish it to his entire family in an email with Nicholas ordering me to leave the house. Even taking responsibility to make ends meet financially, when he did not even have a job.
Now before you get to read this most shocking email of a lifetime from a young dependent son about his mother's husband, there is another troubling fact you need to know.
First, it is impotent for that email to look as if it was totally Nicholas idea, and that the Bronx murder news article was totally his finding. But the obvious contradicting evidence is in the yellow highlighted words that came directly from Joelle brainwashing letter to Marline above
WARNING: If you have a weak heart, you might think twice about reading this.
FROM NICHOLAS CHARLES
TO THE ENTIRE MITH FAMILY, INCLUDING HIS MOTHER MARLINE
From: Nicholas Charles <nicholas.charles1@gmail.com>
To: rmarline02 <rmarline02@aol.com>; tiffany charles <tiffanyrose.charles@gmail.com>; josepmar <josepmar@GPychhc.org>; mjmith <mjmith@aol.com>; richardmith <richardmith@aol.com>; RDamally <RDamally@aol.com>
Subject: JC needs to leave Permanently!

Hello Family,
I am not going to give him a chance to make this a Romeo and Juliet ending and losing my mother to an unstable & coward of a man.
He is unstable and I am not going to let this continue until this happens.. He obviously delusional, has a drinking problem amongst other severe problems and needs to leave the house permanently and get counseling.

I will do whatever it takes to make ends meet, it is not worth the emotional stress, verbal and physical abuse. Thank you.
This stuff happens everyday and escalates until it's too late and someone is permanently injured or dead!
Thank you.
(Click below)


Nicholas Charles
Morehouse College '09
Business Administration; Finance
I know the shock you just got. But here is a HUGE point. I know Nicholas, and I know he did not come up with this. Even the vocabulary is not that of a business graduate, but that of a professional psychotherapist suggesting counseling. And as for repeating Joelle's line about drinking problem, just ask Nicholas how many time he has seen me drunk in 4 years? He will honestly say ZERO.
But Joelle did not stop at Nicholas. Marline's daughter Tiffany was next in line with a letter of her own.
TIFFANY JUMPS ON THE JOELLE'S BANDWAGON:
Now let me first say that, while Nicholas acted out of immaturity and as a boy trying to prove his manhood to a controlling aunt, Tiffany's case is more mischievous & that of a selfish daughter who controls her mother. So working with Joelle was a perfect match.
So here is Tiffany's email to the adults of the Mith family who welcomed it. After reading it, you will ask yourself "Where did morality go with the adults of the Mith family?"
FROM TIFFANY TO HER ENTIRE FAMILY
-From: tiffany Charles <tiffanyrose.charles@gmail.com>
To: mjmith <mjmith@aol.com>; richardmith <richardmith@aol.com>
Cc: Nicholas Charles <nicholas.charles1@gmail.com>
Sent: Mon, Jan 20, 2014 2:35 pm
Subject: Fwd: JC needs to leave Permanently!

This crazy man wants Nicholas out now also. I've made he decision not to stay in the house anymore coming April

I will be moving out

but I am honestly scared for my mother to stay in the house with this insane man.
Tiffany
Again, we see Joelle's signature through the highlighted yellow words, using Marline's children to feed this trash to their seniors
JOELLE'S DOUBLE STANDARDS SHOW DEVIOUS MOTIVES
Now while we can say that we just witnessed insanity at work, but in the case of Joelle's insanity, she is very conscious of what she is doing with Marline's children., The evidence is in observing her double standards when she finally became a mother to an adopted daughter from Haiti.
Now, I do not claim to be a psychiatrist or any kind of behavioral analyst, but being a problem solver, when the signs are there to be seen, I will see them. And in the case of Joelle the new mother, the signs of her double standards clearly rose to the surface. Because while she supported and even instigated misbehaviors by Marline's children, she was raising her new daughter Yasmine with such strict rules, principles and discipline that even Marline and I had commented that she was too rigid.

The evidence came to us during our wedding ceremony. Because the moment that the traditional 'garter on the leg' routine was announced, her daughter was rushed out of the room as that was too indecent for her eyes.
But when it came to Marline's children, things like respect, good behavior, discipline. manners, etc. went out the window. Even the act of Marline's daughter bursting into our bedroom at 2AM with a video camera, was welcomed by Joelle, just as the 2 atrocious emails above by Nicholas & Tiffany were welcomed by her.
But it all brings to life one of my favorite quotes that says:
"Jealousy comes in many shapes, and jealousy from within family is most perilous". And in this case, the jealousy came in the shape of a sibling who could not have children, toward the one who had 2.
So as I move from Marline's children to my daughter, there is one Haitian proverb that I often heard growing up. A Creole proverb that says: (English translation on the right)

And if it was applied by Marline, instead of giving Joelle control over her toddlers, we would not be here today..
SO LET ME HAVE A LITTLE TALK
WITH JOELLE DIRECTLY
As I often say, the thing I hate most, is for people to take me for stupid. And you Joelle, just did. So when Marline realized that you took her husband for stupid, she reacted by sending you my professional resume so you can see that her husband is not only better educated than you, but a greater professional achiever. But once you read it, and unable to accept what my resume told you, you decided to bluff and send this reply to Marline
By the way Marline, I did not open the attachment with Jean Claude's resume...I am not interested , it would not impress me at all. A resume is as good as what its owner does with it. In the psychiatric clinic where I work we have many patients with Ivy League education, graduates from Harvard, Yale, Columbia, Princeton, etc. with Law, medical and engineer degrees, worked at various high profile distinguished places and currently mentally ill and unable to work. So if one reviewed these individuals resumes , one would indeed be quite impressed.
Guess what Marline said to me after reading your reply? She simply laughed and said: "Oh yes, she read it". You read it so much that you compared my education with that of Ivy league schools, Harvard, Princeton etc. Then you compared my career with those of "High profile distinguished positions".
You would not have made those comparisons if I was a High School dropout or a janitor.
Having established that your education and career achievements do not come close to mine, let's see how I stand as Marline's husband compared to your husband Stan.
COMPARING HUSBANDS
Now, since you present yourself as an expert on what makes a good husband, I have quite a story to say about yours.
BUT LET'S START WITH ME:: Below is a summary of how you described me as Marline's husband, and what you told Marline about her husband in writing:
"JC...You feel so inferior... You are used to dealing with trash... You wanted my sister to elevate you .. what did our Marline get herself into by marrying a psychotic alcoholic like you... You try to destroy the good relationship Nicholas and Tiffany have with their mother... Everything was just fine until you came. Etc. Etc.! "
Well, I guess that it's time we do a little good/bad husband Facts-Check between your husband Stan, and Marline's RockMaster husband. The best place to start is with this comment you made to Marline in reference to some problem you had with your husband. Again, you told Marline, and I quote:
Marline... you made several references to my past difficulties with Stan... Yes you are correct nobody is perfect. However, "big difference" Stan did not verbally abuse or assault anyone.... instead of denying our problems and "pretend everything was fine", we obtained professional assistance..."
Well, since you accused Marline of denying the problems with her husband, don't you think that it's time to share with everyone & the community what were your problems with your husband?. Well, I knew that you'd agree to share both sides of the husband stories.

But since I already know the full story, let me save you the trouble of writing. It goes this way:
THE STAN JOSEPH HUSBAND STORY
Once upon a time a few years ago, you were at home when your doorbell unexpectedly rang. And when you answered it, there was this woman at the door. And instead of you asking her who she was, she asked you who you were. And after you identified yourself as Mrs. Stan Joseph, she gave you a funny look and said:
"Ma'm, I don't know what your story is. But the man you claim to be your husband is my man. He's been living with me in our home in the Bronx (or Manhattan) for years. So check your story?.
Seeing that you were about to have a heart attack, she figured that she can help speed that up by dropping a Huge Bombshell, She added:
"Not only we've been living together for years, we have a child together"

WOW, WOW. Here you are unable to give a child to your husband, and he had another woman give him one
. WOW! So Mr. Joseph was a double-dipping bigamist. Where was Jerry Springer?
So as all hell broke loose in the Mith family, when your sister Marline and your brothers discovered that your husband was a bigamist, did they do the same things done to me? Specifically::
Did Marline do like you, and blast into your house to chase Stan around every room yelling "Bigamist, Bigamist, Bigamist?". Then called the police on him?. OH NO! WHY NOT?.

Well, did brother Ricky run to your 2nd floor bedroom to yell at Stan "I don't want to see this or that in this house. Next time you want to be a bigamist, you deal with me". OH NO! HOW CO\ME?
Anyway, while a bigamist husband with child out of wedlock is one that 99.9999%, of wives would never forgive, and definitively not your sister Marline, you that you got professional help, forgave him, and the 2 of you got back together. Now I respect the fact that you have overcome this insurmountable problem with counseling. But that brings up an important question.
"How come when Marline and I got professional counseling for the problems you created, and the counselor asked you to come visit him to help your sister, you went hiding for weeks so you would not help her?
The answer is simple
FIRST: There is your obsessive and deranged belief that Marline is your property, and no man can have her. Not Jean Claude or any other.
SECOND: there is the chronic Jealousy that you and my niece Mad Doc Dupiton share. A jealousy over our marriage, happiness and status in the community,. One that you confessed to in your letter to Marline, and I quote:
Marline ... I know there is a "grandiose feeling" of having "RockMasters" as your husband as you parade in the Haitian community. And likewise Jean Claude may feel good about getting an desirable woman like you that other men wanted....
CONCLUSION: Since you & Doc Dupiton are not these desirable women that other men wanted, and your husbands are not a RockMaster to parade with in the Haitian community, you decided to ruin our marriage. But you Joelle got stuck with a bigamist husband because other men only want desirable women like your sister Marline.
CLOSING ADVICES TO JOELLE MITH-JOSEPH
'When you live in a glass house, you do not throw rocks.

Before you decide to be judge, jury and executioner in someone else's marriage, "Make sure your house is in order".

Be careful in picking your fight & adversary. Make sure you do your homework first.

Never mess with a senior who is 100x smarter than you could ever be in this lifetime, or the next.
And with that, on to the next topic about Marline the fighter.
MARLINE & JC DO NOT GIVE UP
- OFFER PEACE TO THE MITHS

Now in spite having been subjected to the most outrageous, inhumane treatment, character assassination, and intensive pressure put on my wife, we did not lose hope and continued to search for a resolution. Here are just 2 such peace initiatives by Marline and I to her family.

MARLINE CALLS FOR ALL-FAMILIES SUMMIT
As Marline was till fighting for the marriage, it was just 5 months before the break up that she came up with an idea that she was sure would be the solution. She decided to call for an all-families summit for peace with her family and my family. At the time however, I was not aware of Doc Dupiton's undercover operation on Track #2. So when I told Marline that I was all for it, she was extremely happy as shown in this message she sent me.

BUT MARLINE'S HOPES WERE CRUSHED AS PEACE SUMMIT WAS "REJECTED". BECAUSE THE FAMILIES PLAN WAS TO KILL THE MARRIAGE, NOT TO SAVE IT.
Therefore, when Marline had sent me a message saying:: "JC... You just don't know. I fight for you all the time..", you just got one evidence.

JEAN-CLAUDE: REACHES OUT TO THE MITHS:
While being attacked and by Joelle & the Mith family, Jean-Claude did not give hope and decided to take the high ground with personal outreach to the Mith family on 2 occasions.
THE WRITTEN INVITATIONS TO THE MITHS:
It was in 2015 & 2016 when the universal ban was in effect, that Marline and I had planned 2 new year's day celebrations at our home. Now seeing how my wife was affected by her family staying away from her home, I decided to be the "Bigger Man". So I sent written invitations to all members of the Mith family hoping to break the ice. Here is the first one I sent to them for our Jan. 1, 2015 celebration. It was signed 'Jean-Claude and Marline'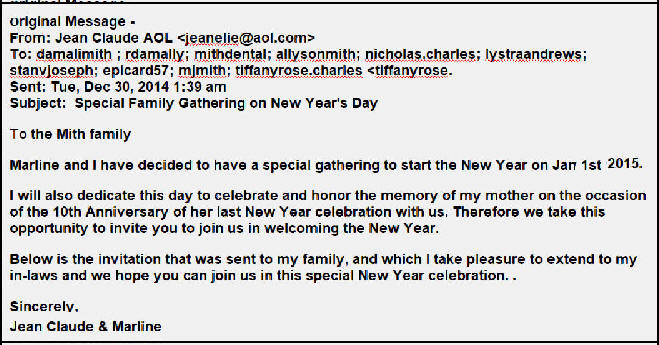 Well the reply came in from Joelle speaking for the Mith family, and it was "DECLINED".
While disappointed, we did not give up. So one year later, and still under the Joelle ban, the same invitation was sent for our January 1, 2016 celebration, and the reply from Joelle was no different. It was again stamped "DECLINED".
So it was confirmed that the Mith family's priority was not Marline's happiness, but hating Jean-Claude.
REACHING OUT TO TIFFANY - A SAD STORY
Now the deepest sadness I observed in my wife came from her daughter boycotting her house. A most heartless act from a daughter, and sadly supported by Joelle and her brothers who could not see a mother's sadness,
Marline's hurt got to the point of asking me to accept blame and give some apology so that her daughter would end the boycott of her home. Obviously an impossible request for me to accept. But in the end, for the love of my wife and feeling her pain, I decided to write a letter to Tiffany accepting some responsibility for the incident, with an apology that the incident took place. In the end I reached out to her heart with a plea on behalf of her mother. Here is the full original letter a year and half after the incident in our bedroom. A letter that I am publishing for the first time.
Jean Claude Elie
Engineer, BS, MS, ME
917-406-5535 178-15 Henley Road, Jamaica Estates, NY 11432 jeanelie@aol.com
---
June 21, 2015
TO: Ms Tiffany Rose Charles

FROM: Jean-Claude Elie

Dear Tiffany,

I am writing you this letter in the hope of resolving an old matter which is still causing significant unhappiness to my wife and to you personally, as I've been told. It is an incident that your mother often refers to as the starting point, and the root of all later conflicts between my wife, her family and me after you moved out.

Thus, against my prior objections, and regardless of where guilt or culpability resides, I concluded that I must take the higher ground and do what is required to bring back peace to my wife, my marriage and the family.

I married your mother because we share a sincere deep love. I became her husband with a commitment to bring her the happiness that she deserves in her later years and for the many sacrifices she made in her life. Then, I was hoping to receive the same happiness in return. But unfortunately, this commitment to her is having unintended results originating from past conflicts between you and I since my arrival in my new home here. The climax came with the incident of January 2014, during which you were hit on the lips. Initially, it was described as a voluntary punch, but confirmed to have been an inadvertent accident during the melee that took place in my bedroom that night.

Since then, I have been asked many times by my wife to apologize to you for this accident as the key to our peace. However I always strongly objected because I didn't see the necessity for an apology, because:
I did not agree that I was responsible, and truly believed that the accident occurred during the struggle with your mother as she was pulled out of the room, and,

Because apologies are for voluntary actions that someone regrets doing, and wishes to retract. Not for an accident, since accidents are routine occurrences requiring simply a statement of 'Excuse me' or 'I am Sorry' at the time of the accident.
However, I am putting a4side all my personal opinions above, since this incident is having such a lasting and dramatic effect on our lives. Therefore, I decided to elevate it to the apology level and to personally deliver my apology to you in writing. So:

On this day of June 2015, I, Jean Claude Elie, husband of your mother Rose Marline Mith-Elie, extend my sincere apology to you, Tiffany Rose Charles, for any perceived complicity on my part resulting to you getting hit on the lips during the incident involving you, my wife & me.

For the sake of your mother's happiness and the creation of a peaceful atmosphere in our home and with your mother's family, I look for your acceptance of this sincere apology.

In addition, I also understand from your mother that other past instances are issues that still bother you today. Specifically, the day I came in your room requesting that you clean it up. Then there was the time when I asked for your school transcript for possible employment with an ex-employer. Lastly, the times I was encouraging you to get your driver's license as something that I believe is useful to have.

Being a father who has assisted in raising a proud daughter, I assumed that as a husband, it was also part of my responsibility to support and help give guidance to my wife's children if the circumstance presented itself. However, even though my intentions were good, either my approach, or perception of my intentions were not properly delivered or received.

So, for all these other instances of misunderstanding, miscommunication or misperceptions, I extend a second apology to you.

I do want you to know that I understand the mutual love and bond between you and your mother, as I had experienced a similar, but somewhat different, love with my late mother. So, any thoughts that I wanted to create divisions between your mother and her children were truly a misunderstanding of my intents. As no one has the power to destabilize a mother/daughter bond which started the day of conception.

To conclude, I want you to know that I am someone who is, and has been around young adults like you for years, and has helped many of them with personal life issues and various forms of educational assistance.

Your mother and I got married out of love, years after we met in 1998. But lately, the relationship has lost its charm and focus as we became embroiled in these family issues.

So I hope that with this letter of apology, we can all have a new beginning for your mother and everyone's sake.

I asked your mother to deliver this letter to you, and will wait for your feedback from her.

Sincerely,

Jean Claude Elie, Eng.
well, did that work? Think again! This is when I finally realized that heart, love and feeling did not exist in the Mith world, only hate. And from the feedback I received" . Maybe if I got down on my knees and begged Tiffany for forgiveness, I might have had a chance, which was no chance.
So the family had decided that Marline was doomed if she stayed with her husband.
SO HERE IS THE BIGGER PROBLEM TODAY
IF AFTER READING THIS LETTER WHEN I SWALLOWED MY PRIDE TO CREATE AN APOLOGY & MAKE A PLEA TO TIFFANY ON BEHALF OF HER MOTHER, AND TODAY TO HAVE MARLINE SAY THAT I "TRIED TO ALIENATE HER FROM HER FAMILY, & THAT I DID NOT LIKE HER FAMILY, CHILDREN & FRIENDS", IT IS A CONFIRMATION THAT MARLINE IS NOW LIVING N DENIAL OF ALL THAT YOU JUST READ ABOVE
A STATE OF DENIAL THAT IS KEPT ALIVE BY HER SISTER JOELLE & FAMILY, AND REINFORCED BY THE DUPITON CAMP, PRESSURING HER AGAINST ANY COMMUNICATION WITH ME.
- CHAPTER 4 -
THE RACHEL BERTHOUMIEUX CONNECTION

Booking Agent for 'Single-Wife ' lifestyle

A Scandalous Intrusion
The drama of Rachel Berthoumieux began in 2015, the year of horror at the Elie home when outside forces launched the most intensive assault on the couple's union of nearly 4 years young, purely out of women uncontrollable jealousy. A destructive assault originally scripted by these principal characters.
Joelle Mith-Joseph (The Brainwasher)

Dr. Marie P. Dupiton (The Mad Doc)
THEN ENTERS RACHEL BERTHOUMIEUX - THE BOOKING AGENT
Rachel Berthoumieux got her fame by scripting the first hijacking of my wife that preceded Doc Dupiton's audacious Thanksgiving-2015 kidnapping of my wife\. It was 9 months earlier that my wife's single girlfriend Rachel Berthoumieux executed the more audacious Valentine Day Hijacking to Haiti.
But things would later go from audacity to arrogance when the two of tem would join forces to execute a 3rd, and even more complex "James Bond 007" type mission of a wife-hijacking under the eyes of an unsuspecting audience at a Heal Haiti Gala in October 2015.
So, during that dreaded 2015 year, there were at least 3 kidnapping/Robbery of my wife. Two of which you are about to relive in this thriller chapter, starting with Rachel's Valentine Day Hijacking
THE ROCK'S HORROR SAGA
Staring: Rachel Berthoumieux - Co-Star: Mad Doc Dupiton
BACKGROUND:
It all began in January 2015 when my wife told me about an invitation she received to a family wedding in Haiti, and of her desire to attend. Something that I saw as a great opportunity for her to get away on a relaxing little vacation with her family, and also give me a little time to myself.
But when I later realized that none of her brothers, sister, mother, uncle etc. were going, I found that very strange for a family wedding. Well, to make the story short, I discovered that she was not fully truthful with me, and that it was NOT her family's wedding, but the wedding of someone from her ex-husband's Charles family. Therefore, that invitation was just a formality to Marline as mother, since her Charles children were expected to attend this function by their father's family. Marline was not really expected to show up.
So I obviously changed my mind over her going for many reasons, beside the fact that she was not expected to attend,
FIRST: It was a Valentine day wedding when couples are supposed to celebrate their love together.

SECOND: I got scheduled for an eye surgery for that same week , when a wife is supposed to be by her husband's side.

THIRD: Marline was unemployed at the time with me solely responsible for all the house finances. So such an expense was no longer warranted for a non-family function.
However, at the time, Marline was already under pressure by the women instigators to prove that 'her husband does not control her'. Something that her sister Joelle had clearly told her in a Brainwashing letter that you can review HERE, and from which I quote:
"Marline... JC cannot "push himself on us" and telling us he has control over you and would not let you go anywhere without him....

Then unknowing to me at the time, there was Doc Dupiton's undercover indoctrination of my wife into an Ultra-Feminist philosophy that says:
A real woman or wife must not allow her husband or any man to "CONTROL" her, tell her "WHAT TO DO", WHEN or WHERE TO DO IT.... Such woman under control, would be a disgrace to the female gender
Finally, there was her "People-Pleaser" personality weakness that she was diagnosed with months later when we attended the "Retrouvaille Retreat" for married couples.
So after some disagreements over this issue, I figured that this unnecessary trip was a settled matter. Specially after Marline and I confirmed our reservations to a Valentine's Day Gala by Kwizine Arts Catering for Feb. 14, 2015.
THEN ENTERS INTRUDER RACHEL BERTHOUMIEUX
Then days after confirming our Valentine gala reservation, I was using my wife's laptop when I noticed that it was logged-in to a 'Gmail' account that I never knew she had. And just as "God always works in mysterious ways for me", at that exact moment, a new email popped up, and it was from her friend Rachel Berthoumieux. who seemingly had a secret means of communication with my wife.
THEN I SAW A BOMB in THE SUBJECT LINE
Now, are you ready for this? The Subject line read: "JetBlue Airline Booking Confirmation". So I quickly hit the "Open" button. Now, as the truth man who does not speak what he can't prove, here is the 'Evidence that does not lie'.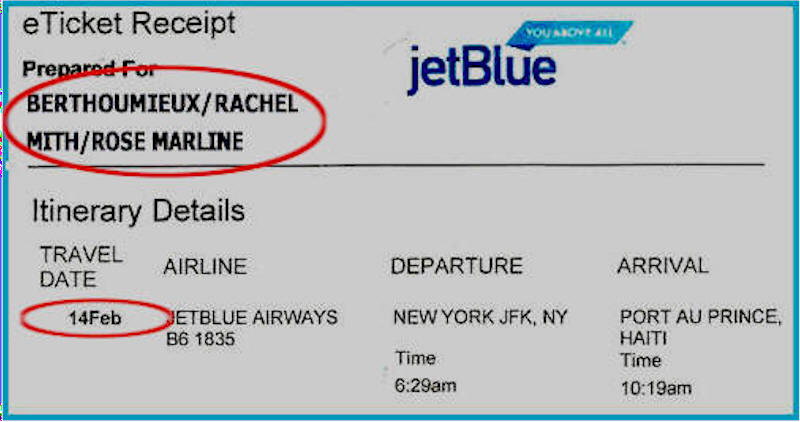 AN AIRLINE RESERVATION FOR RACHEL & MY WIFE FOR HAITI ON VALENTINE DAY. THE SAME DAY THAT WE HAD JUST CONFIRMED OUR VALENTINE'S DAY GALA RESERVATION.
CONFRONTING RACHEL
So in total dismay, I tried to reach Rachel to inquire as to what these tickets were about before talking to my wife. So I tried to contact her, but she kept ignoring my messages and calls. As I insisted, she finally replied with this blasting text message full of insults & threats;

Now, I immediately recognized her reply as a guilty reaction from a' Consciousness of guilt".
Because, why didn't she simply say that 'Marline had asked her to make the reservation for her". Instead, she went the ghetto route with ill-mannered words of "Police, BS, Disturbed, Will not tolerate, etc.".
In the end, she exposed herself as a woman with low character, class and education. So much so, that she could not see that in her attempt to insult Marline's husband, she actually showed maximum disrespect for Marline herself
Because I know that NOT ONE of you, men or women reading this story, would address your good friend's spouse with such disrespect on a simple inquiry. And let me remind you that Rachel is a woman who had pushed herself into being a second Maid of Honor at our weeding, when Marline already had Marline's true friend Cherely as our Maid of Honor.
But when Marline told me how Rachel was begging her to also be a maid of honor, I reluctantly accepted. So if you were a guest at our wedding, you now know why we had 2 Maids of honor, when all weddings always have one.
PEOPLE-PLEASER MARLINE DEGRADES HERSELF TO RACHEL
So when Marline heard that I had contacted Rachel about the secret Airline Reservation, and saw Rachel's angry message to me above, her 'People-Pleaser' personality took over with the fear of losing Rachel's friendship.
So rather than scolding Rachel for insulting her husband, Marline did the most self-degrading thing ever, by apologizing to Rachel in a disturbing letter that also reads like a love letter. So much so, that I had labeled that letter as 'Classified', and never to be released. But now, with a fully brainwashed Marline in denial telling me "You hated my family, friends and kids", the truth had to come out. So here is the declassified 'Evidence that does not lie" in Marline's letter to Rachel
WARNING: Please sit down with your seatbelts fastened for the shock you are about to receive
From: Marline Elie
To: Rachel Berthoumieux

Rachel,
You think I'm going to let JC break our friendship. He will be the one out of my life.

He is a sick man. As I told him, I'm giving him one more change. If he was a boyfriend he would have been out

I already told him MY FAMILY AND MY DEAREST FRIENDS COME BEFORE HIM. He begged me to marry him. ….. Then he started with Tiffany, then Joelle then you and anyone that is close to me.

He will never have the kind of friendship that we have. Anyway I just wanted you to know I miss you
I'm sorry for my stupid husband illness at you. and hope you can forgive me because I put you in his life and you do not deserve that.

He knows now that if he ever talk to you or any of my friends or family like that we are done.. Any way hope to see soon

Love you,
Marline.
Now, all this because I was inquiring about a secret airline reservation made for my wife, just as 100% of husbands and wives would have done.
.Obviously I was extremely upset at my wife for unfairly insulting me with Rachel instead of addressing my inquiry. Then degrading herself to Rachel with an apology letter that sounded like a love letter. But while I attributed her behavior to the chronic 'People-Pleaser' abnormality that gave her the fear of losing Rachel's friendship, I had questioned Rachel's reason for being receptive to a wife's expression of a love that put her above the husband.
MARLINE DOUBLES UP ON HUSBAND FOR RACHEL
Now with Rachel delighted by Marline's apology and her willingness to dump her husband for her, she decided that an apology from Marline was not enough. So for Marline to truly prove loyalty to her, she had to make Jean Claude apologize also. And if you won't believe what Marline did, let me have the 'Evidence that does not lie' tell you with this blasting message she sent me requesting that I apologize to Rachel.
PLEASE; Keep the seatbelts on.
From: Marline Elie
To: Jean Claude

JC.
You are finish with me. You mess with my sister, my daughter or any of my family and my friends you better lose my number. You will not tell me whom I can talk to or see. I will talk to and see whom I want.

You are sick get help. You don't apologize to Rachel, do not ever speak to me again. I mean it By the way, I told Rachel just like I told Joelle to sue your Ass for harassment. I will find a man that will love me and all my family and friends.
Do not call me to bail you out or come to get you. Call your family.
Marline
Well, at least Marline still thought I had a family
Now that you are a believer, let me just show you how this incoherent letter was a reflection of the brainwashing she received from Joelle & Johanne in putting Marline in her current state of denial
FIRST: There is her reference to the "Police & arrest" teachings that were first introduced by Joelle with the "Assault & Punch Tiffany" fabrication that was covered in Episode #1(Mith Archives). Then reinforced by Johanne with her campaign of false police complaints that will be presented in the upcoming episodes of horror.

SECOND::, You have Marline saying "I will find a man...", which also comes from Joelle's brainwashing letter telling Marline: "... JC may feel good about getting an desirable woman that other men wanted".

THIRD: We have Marline's constant complaint about me 'not loving her family and dearest friends". First, I did not know that in taking her as a wife, I also took all her family and girlfriends as wives to love.
THEN RACHEL GOES TO NEXT LEVEL OF ARROGANCE
By this time, I had enough of this Rachel who thinks that she also controlled my wife on top of the obsessive-possessive sister Joelle.. So I decided to put an end to their secretly booked Haiti vacation by calling JetBlue and cancelling the reservations. That's when Rachel decided to prove to me that she truly had something stronger with my wife than I did.
Rachel proceeded to call the airline back, and rebook the reservation that I cancelled for my wife. So on Feb. 14, 2015 Valentine day, Rachel picked up my wife from home, and without saying good bye to me, Marline left the house, and headed to Haiti with booking agent Rachel Berthoumieux for vacation and a wedding with her ex-husband's family, leaving her baffled husband to have a lonely Valentine.
PLEASE DO NOT CONFUSE THIS FEB. 2015 HAITI TRIP, WITH THE JAN. 2016 TRIP WITH HER CLUB THAT LED TO DOC DUPITON GIVING THE FINAL BLOW.
COMING BACK FROM THEIR SINGLES VACATION
Upon my wife's return, I welcomed her back with open arms, hoping that she had gotten this 'People-Pleaser' urge out of her system, having proven to big sister Joelle, Johanne and Rachel, that 'her husband cannot control her moves'.
Oh, I forgot to tell you that Rachel had also paid for my wife's airline reservations on her credit card. I don't know if she was reimbursed, but regardless, the arrogance of Rachel hijacking my wife on valentine's day after insulting me was extreme.
AFTER HER VICTORIOUS WIFE-HIJACKING, RACHEL FELT ON A ROLL.
Now to show you that Rachel's level of arrogance had no frontier, let me present you the 'Evidence that does not lie' with 7 real cases of Rachel continued imposition on my wife.
WARNING: For these 7 cases, you might want to grab some Valium and Aspirins to avert 7 heart attacks
CASE #1: THE 2015 HAITIAN ROUNDTABLE GALA
Later in that dreaded 2015 year, the Haitian Roundtable Organization was having its annual Recognition Award Gala in Manhattan. And since I was keeping an eye on Rachel, I later discovered that she had once more secretly invited my wife to go with her to the gala, and leave her husband JC in bed.
But this one scheme of Rachel turned out to be a little more challenging for my wife to pull off. Because she knew that hell would come to Jamaica Estates if she tried this public display of infidelity. So, she had to find an excuse to give to Rachel, because the expected normal wife response of "Sorry, but I can't go to such a gala without even telling my husband" could be viewed as her husband still controlling her moves. So she came up with this reply "Oh Rachel, I can't afford to go. I just spent $500 on busted water pipes".
FIRST: It's very true that $500 was spent on busted pipes, the dishonesty with that reply is that, the $500 came out of MY pockets, as part of the $100K I put into the house, including to save it from foreclosure for her.
SECOND: Her next big problem with Rachel's invitation was the $150 Min price tag to attend the gala. Because without her RockMaster husband by her side, there would be No VIP welcome for Marline showing up with some Rachel.
THIRD: The last option left for her would be to charge the admission on the RockMasters Business Master card that I gave her in her name to spend as she pleases with no questions asked.

But the problem with that one is that the Credit Card bill comes to me, and hell would surely come down on Jamaica Estates.
So that was one failed attempt by Rachel. So let's go to Case #2 of 7
CASE #2: RACHEL'S DAUGHTER GRADUATION
One night, my wife told me that she was going to her mother house, as she did each day taking care of her before bed. The only difference this time is that she never came back. So I kept calling & texting her with no answer. It was not until past midnight that she finally realized she had to answer. At which point she text me to say that 'she was at a party at Rachel's house for her daughter's graduation, where I was not welcomed.

Therefore to again prove to Rachel that 'her husband does not control her moves', she had to sneak out of the house like a teenager, and likewise give a big lie using her mother's name.
On top of that, it was a party where just about everyone knows me, and the question she'd be showered with upon arriving alone would be "Where is the Rock"?. Well, I have no clue what excuse she came up with, but as far as Marline was concerned, any excuse was safer than telling Rachel that "she could not come since her husband was not welcomed"
So Rachel won that one also. So let's go to Rachel Case #3 of 7, as each one gets better and better.
CASE #3: RACHEL'S SOBs SHOCKER
That was the day we had a full VIP invitation from the owner of SOBs to a special event. And If I remember well, it was an event in honor of President Michel Martelly. So, our table was waiting in the VIP Section, and our names at the door on the select VIP list.
But as we were getting ready to head to SOBs, psycho sister in-law Joelle Mith-Joseph had managed to trigger my wife into an argument with me. At which point, I got so fed up with my wife giving all these crazy women licenses to cause problem in our relationship, that I was no longer in the party mood. So I told Marline to forget about the party, and that I will call Jube, the manager in the morning to apologize for our no-show. So she got upset, and again headed to her mother's house, as I went to bed.
So the next day I called Jube at SOBS to excuse us for not showing up. But before I had a chance to do so....(PLEASE MAKE SURE YOUR SEATBELTS ARE STILL FASTENED). Jube said:
HEY ROCK!. SORRY YOU COULD NOT MAKE IT. BUT WE TOOK GOOD CARE OF YOUR WIFE & HER GIRLFRIEND RACHEL.
Wow! So when I thought that my wife was at her mother's house, it was just another lie. Because Intruder Rachel must have told her "Dump the sucker husband trying to control your moves, and let's go to SOBs", with Rachel also having the audacity to use MY VIP status for Free admission.
IMPORTANT NOTE REGARDING 'CONTROL' AND 'MOVE'
Now, you have often seen me use the term "Control my moves" to explain my wife's behaviors. But I just realized that you may think that its my own interpretation of her state of mind. THE TRUTH is that this term came from Marline herself. So for the 'Evidence that does not lie', here is Marline writing it to me words for words recently in 2019
Obviously, this is total child talk from a married woman in her 50s. And this recent message to me last year (2019) is solid proof that till today in 2020, she remains in full denial that her sister Joelle, my niece Doc Dupiton, her daughter Tiffany and this so-called girlfriend Rachel, are the main actors \who took advantage of her weaknesses and broke her down to self-destruct her own marriage.
So score one more goal for Rachel in the 'Volè madanm moun" Department. But you ain't seen noting yet. So let's go to case #4 of 7 as the plot thickens.
CASE 4: A NIGHT ON BROADWAY THAT WAS NOT TO BE
We are now in the 4th quarter of that dreaded 2015 year that started with the Rachel's Valentine day wife-hijacking . As for this case #4, it was on a nice Sunday afternoon at home when I saw a TV commercial for a new Gloria Estefan show on Broadway. So knowing that my wife is a fan of Gloria Estefan, I decided to surprise her with an evening on Broadway with show & a romantic dinner at a fancy Manhattan restaurant.

Now I go to excite her with my great plan, but she tells me that she could not go because she had a house to show. So I told her to reschedule the showing. But she said that the people were from out of town and would be leaving in the morning. So I was disappointed, but agreed to reschedule the romantic evening.
But what bothered me is that she did not ask for the showing times or the possibility of catching a later show. In addition, I was aware of a meeting taking place that afternoon by the Heal Haiti organization which Rachel and Doc Dupiton are members of. So for my peace of mind, I later took a ride by the residence of one of the organization's executives. And to my disbelief, guess what I saw? My wife's car parked in the area, attending a Heal Haiti meeting with Rachel, that was more important than a romantic night on Broadway with her husband. Thus bringing to me the realization that these words to Rachel from months before reflected her reality:
"Rachel... I already told him my family and my dearest friends come before him.... he will never have the kind of friendship that we have... Anyway I just wanted you to know I miss you ... hope you can forgive me etc. etc.
Therefore, a meeting with Rachel's organization where her "People-Pleaser & Professional Helper" skills were needed by Rachel, had priority over a night on Broadway with her husband.
AN IMPORTANT DISCLAIMER: LET ME CLEARY STATE ON BEHALF OF THE ORGANIZATION THAT NONE OF ITS MEMBERS, WITH THE EXCEPTION OF RACHEL & JOHANNE DUPITON, HAD A CLUE OF WHAT WAS GOING ON THAT DAY. AND EVEN LESS, OF WHAT WOULD FOLLOW A WEEK LATER IN THE NEXT CASE #5
So, let's take it to the next level with case #5 of 7.
CASE #5: THE BIG PLOT & PROMISES MADE AT THE HEAL HAITI GALA
In this example, we find organization staff members Rachel Berthoumieux and Dr. Marie Dupiton joining forces to pull off the biggest wife-hijacking job so far, with the bait of a membership promise.
It was October 2015, and my wife and I were scheduled to attend the premiere of a movie produced and directed by a niece in-law of mine. The whole family was going, and RockMasters was provided with 2 backstage VIP tickets for having promoted the movie.
So, as it was nearly time to head over, I got dressed and waited for my wife to return from an errand. Except that time was passing and she was not returning. So I called and text her with no response. Finally, I got the idea of calling my niece Johanne Dupiton, who I knew went to the movie showing, to explain why we were late.
AN UNEXPECTED CALL THAT MADE THE DOC DROP A BOMB
Now, in answering my call, Doc Dupiton had no choice but to come clean with the truth, and our conversation went something like this:
Me to Doc
Jojo, are you at the movie premiere. I'm home & can't find Marline
Doc Dupiton
Oh, Oh. she is here at the Heal Haiti gala
Me in shock
What is she doing there? I'm waiting to go to the movie premiere in Brooklyn
Doc Dupiton
She's here because that's her club that she's a member of
Me in shock
No she isn't. She was just helping with a journal
Doc Dupiton
(with arrogance)
Well she is. AND IF YOU DID NOT KNOW, NOW YOU KNOW
And as proof that my wife was again hijacked by Rachel and Johanne, the 'Evidence that does not lie' was provided by Facebook. So here is the trio of Rachel, Doc Dupiton with her sister Dominique, surrounding my wife at the gala,
Picture taken while dumb husband JC was left stranded at home with 2 VIP tickets in hands for a movie premiere with his wife. Well, at least this time my 'People-Pleaser' wife did not have to worry about the admission price tag. Her services as 'Professional Helper' took care of that.
Then as we look at this 2nd picture, we see the puppet husbands of Guy Dupiton and Patrick Colimon, seated with their wives, quietly watching them hijack my wife. And neither of them was able to say that this was not right, or at least be man enough to send me a message warning me of what was going on.
But then, I remembered Marline telling me before, and I quote:
"Guy can't say a word in that house afraid that Johanne will kick his ass out.
But ironically, Marline was the one who Doc Dupiton made kick her husband's ass out" while the Doc held on to her Guy. Thus explaining why he had to be a Monkey No-See, Monkey No-Speak for that night
BUT IN THE END: The real sad tragedy of that evening, was Marline's inability to realize that, while the instigators of Johanne, Joelle and Dominique were respectably seated with their husbands, she was the only 'Mrs.' in the house seated with a single girl Rachel rather than her respected husband Jean-Claude Elie. Then having to lie again each time she was asked for her husband. All this uncharacteristic and self-degrading behavior just to please Rachel, Joelle and Johanne, is what makes this story so sad.
BUT LET'S NOT FORGET 'THE BIG MEMBERSHIP PROMISE OF THE NIGHT':
Now, you should remember the ridiculous promise of membership in a fictitious 'Ex-wives Club' that Doc Dupiton had made to Marline in exchange for dumping her husband. It is the promise that Marline had confirmed in this text message to Johanne.:

Then came the promise from Rachel and Doc Dupiton for membership in the Heal Haiti organization in exchange for Dumping her husband. And while the evidence of this promise is circumstantial, it is as good to me as Marline written confirmation of the ex-wives club to Johanne.
In the Heal Haiti membership promise, the evidence was provided by Doc Dupiton herself during my phone call to her looking for my wife's whereabouts. In fact, it was her arrogance that caused her to stupidly reveal to me that Marline was a member of the club. And when I questioned her on that, Doc Dupiton replied with an arrogant tone of victory telling me:
"WELL SHE IS A MEMBER. AND IF YOU DID NOT KNOW, NOW YOU DO"
Basically admitting and claiming "MISSION ACCOMPLISHED'. And this is the same victorious arrogance she would have 1 month later after executing the 'Thanksgiving Kidnapping of my wife.
A mission she completed by telling me:
"YOUR WIFE WAS NOT ASKED NOR TOLD ANYTHING

So Rachel won again by teaming with the Mad Doc to score a huge goal. But the biggest one is still coming in Case #6 of 7
CASE #6: NEW YEAR'S EVE SHOCKER
Now before I present this most consequential case #6 that took place on the last day of this dreaded 2015 year, let me summarize where we stood on that day.
.The year of 2015 was one of maneuvering a roller coaster marriage around the obstacles constantly being thrown in our path, that always targeted Marline as shown in the previous 5 cases.
However, with each a low point that we'd reach, I'd be even more determined not to give up and exerted quiet patience until Marline would rebound from the trigger. Basically, I was dealing wit 2 personalities.
FIRST: The personality that caused Marline to write the 2 crazy messages above to Rachel and I, while she behaved in manners detrimental to the marriage.
SECOND: The personality that, after rebounding from a trigger, would write me positive messages, like the 3 samples below, where she'd even be apologetic for her words and actions toward me. Messages that often followed one of the above Rachel triggered cases during the 2nd half of 2015.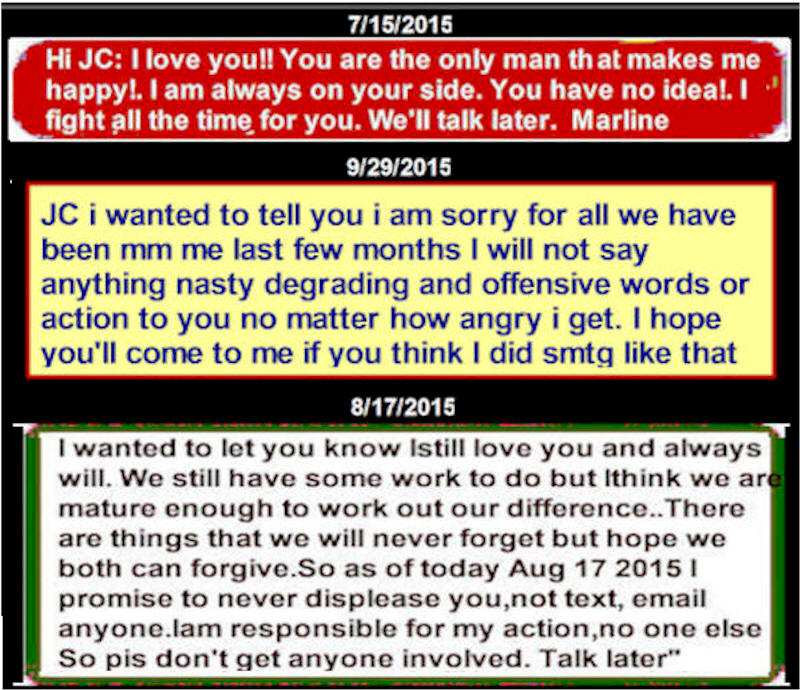 Now this case #6 will help you see how those 2 personalities coexisted in conflict as she would flip from one to the other in minutes upon getting triggered by Rachel. For that, let's go to the last day of the year.
COMES DECEMBER 31, 2015
A month after attending a successful religious marriage retreat that was spoiled by Doc Dupiton's 'Thanksgiving kidnapping that triggered my wife's destructive personality, she managed to make the final rebound of 2015 by sending me this heart-warming and hope-filled resolution for 2016.
So with a renewed commitment for 2016, we decided to celebrate the new beginning at Mirelle's Restaurant with the group Enpresyon. But I had no clue that Rachel B. would also be there waiting to be the spoiler one more time.
RACHEL'S EXPLOSION OF RUDENESS
.Arriving at Mirelle's, Marline and I were directed to our table next to the stage where many of our acquaintances and the event promoters were seated. And to my surprise, so was Rachel whose seating at our table was not coincidental, but requested. However, after having received the above resolution from my wife hours before, I no longer felt that Rachel was a threat in triggering my wife.
So, as I went around the table to shake everyone's hands, I came upon Rachel. And as any reader here who was at our table can remember, I did what any well-raised and educated person would do in a social setting. I reached out to shake her hands & say Happy New Year.
Well, the rude Rachel first ignored me. So thinking that she may have not been looking, I reached out a 2nd time, then a 3rd time. At which point the ill-mannered Rachel made a sudden angry gesture toward me yelling "STAY AWAY FROM ME". It was an ugly public display of what Haitians refer to as 'Vyé Moun', or 'Machan pwason'.
\Well, being the gentleman who will not allow anyone to drag me down into their swamp, I simply smiled and took my seat at the table.
Then came Marline acting as if she did not see Rachel public disrespect of her husband. So she momentarily switched to the triggered 'People-Pleaser' personality, and went to chit-chat with Rachel, as if to say to her, "I don't have a problem with you".
But while I was more embarrassed for my wife getting no respect from the fake girlfriend, Marline soon reverted back to the positive personality who sent me the New Year resolution above, and we had a great time as Rachel became irrelevant at the table.
Then comes the next day January 1st, 2016, we welcomed my family to our home for my 2nd family reunion. One that I organized as the constant peace maker to recover my family from Doc Dupiton's Thanksgiving kidnapping of my wife. So as far as I was concerned, the issues with my family were behind me, and Marline's New year resolution meant that 2016 would be a different year.
BUT HOLD ON AS THE RACHEL TRIGGER IS STILL ACTIVE.
So, a day later, since Marline never mentioned the New Year's Eve incident with Rachel, I wondering if she actually saw it. So I asked her this simple and safe question:
"Darling, did you see what Rachel did on New Year's eve, and how she yelled at me in front of everyone?
Well, this is when I realized that the simple mention of the name Rachel was a trigger. While I expected her to say 'No she did not', whether true or false, what I got was totally out of this universe. I watched her demeanor suddenly change as she turned to me with these exact words that are engraved in my memory for ever.
"Sé pa rélé pou'l té rélé sou ou sèlman. Sé kraché pou'l té kraché nan figi'w"
(Translation: She should have simply yelled at you, she should have SPIT in your face)
Now however shocking and mentally abnormal was that reaction, it revealed a much bigger problem. Because I knew that Marline did not really wish for Rachel to have publicly spit in my face in her presence during a New Year's Gala at Mirelle's restaurant. The big revelation again is that the simple mention of the name 'Rachel' is a powerful trigger to make her switch personality. However, the name 'Rachel' was not the only trigger that I confronted. But before revealing the other triggers, let me take you to the climax with the final Rachel Case #7. One where the magnitude of the psychological problem that these triggers inflicted on Marline will become as clear as spring water.
CASE # 7: THE BIG BLUFF - TESTING MY WIFE WITH A STAGED INFIDELITY..
Now, once I got over the shock of the 'Rachel spitting on my face' comment, I decided to test the power of the Rachel Trigger by staging a test that I called 'THE BIG BLUFF'.
So one day while in bed with my wife, I told her that I had a confession to make about the Rachel she thinks is such a good trusted friend. (PLEASE REMEMBER THAT THIS WAS A BLUFF).
So I put on my Hollywood hat, and started my Academy Award performance by saying:
Marline, I have a confession to make to you. Your friend Rachel had made many passes at me which I avoided. She first came on to me on the dance floor at the xxx party. So much so that I had to step back from her. Not just because she is your friend, but because I'm a dedicated husband who will never cheat on you. But with all the drama going on with her, I figured that it's best that I come clean with you before she gives you the reverse of the story to get back at me..
Then I waited to see if the result of the bluff from her reaction. Now, at this point, I was expecting one of these reactions, after which, I would tell her that it was just a test,
REACTION 1: That she'd be shocked, confused and start asking tons of questions.
REACTION 2: That she'd pick up the phone to call Rachel, at which point I would end the test.
REACTION 3: That she'd jump off the bed, head for her car to go to Rachel.
REACTION #4: For this one, I ask the readers to think of how you would react in that situation with your spouses.
Well, what I got from Marline did not fit any of the above. Her reaction was immediate, instinctive and totally unexpected. Because without taking one second to reflect on what she just heard, Marline looked at me and delivered this reply:
Oh! I know what happened. You are the one who went after her. She didn't want anything to do with you and kicked your ass. I am sure that's what happened.
So in shock, I asked, "Don't you care"?. To which she replied "I don't believe you". So I said "You don't believe me without even checking?". At which point, I was more hurt that my wife would not care if her girlfriend came on to me. In fact she seemed more annoyed at me confessing it to her. At this point I decided not to tell her the truth to see how long she would go with it.

But seemingly, my confession only triggered her into a denial mode, fearing that if I am telling the truth, it could jeopardize her friendship with Rachel. So I decided to take the bluff to the next level with BIG BLUFF #2.

BIG BLUFF #2
So I raised the stakes by telling her,
"Well then, I will make a full confession and you can kick me out if you want. Because Rachel and I did get intimate the first time, and when I realized it was a big mistake, I immediately put an end to it, and rejected her future advances as I first told you".
Then to make it sound more realistic, I added a fictional date, location where it happened, and even described her undergarments.
At this point, I made sure to stay a safe distance away, ready to yell that "IT'S NOT TRUE" before her laptop came flying at me.
But guess what? She just kept working on her laptop ignoring me. So I decided to put all my cards on the table, and pulled the 'HIGH RISK BLUFF #3'
HIGH RISK BLUFF #3:
So in trying to find the limit of the Rachel Trigger power that would put my wife in such a high state of denial, I decided to raise the stakes to the critical level. So I said to her:
"OK lets erase all doubts right now. Pick up the phone and call Rachel in my presence. But before telling her what I said, ask her if she has a small tattoo on her right butt. Now if she says yes, then you figure out how I know."
Obviously I do not know anything about any tattoo, and was ready stop her the minute she'd pick up the phone.
But guess what? As much as I pushed her to call, she would not do it. Because such convincing evidence that I had an affair with Rachel would end the friendship that she described in her letter above as:.
"... You think I'm going to let JC break our friendship. He will be the one out of my life.... He will never have the kind of friendship that we have.
THE POWER OF THE RACHEL TRIGGER
According to the result f my BIG BLUFF tests, the controlling power of the Rachel Trigger on Marline is so enormous and abnormal, that a 'Ménage a trois' would be preferable over the loss of the friendship.
Now, as I stated in Case #6 above, while the focus today is the Rachel trigger, there were other triggers impacting my wife. But before I identify the other significant triggers, let me jump 3 years ahead as Rachel tries one last hurrah.
PESKY RACHEL MAKE A RESURGENCE 3 YEARS LATER
Now here I was in 2018, and 2 years after discovering the undercover operation of Mad Doc Dupiton who drove the last nail in marriage demise, my focus was in getting her to face accountability for her actions. But the always stubborn and intransigent Mad Doc chose to start a campaign of terror to destroy me rather than admit to her cruel sins.
So to increase the pressure on her, I decided to take my story public on father's day 2018. A story at the time that was purely focused on the actions of my family.
My first publication was via email to a small group of acquaintances, and text message to my phone contacts, that included a Rachel Berthoumieux.
But upon receiving my text, Rachel saw it as an opportunity to become infamous once more. Because, while I did not expect any reply, and received any from anyone, suddenly a single reply was delivered to all the group members coming from Pesky Rachel, dated Aug. 15 , 2018, 10:11PM.
So as the evidence man, let me present Pesky Rachel in the 'Evidence that does not lie".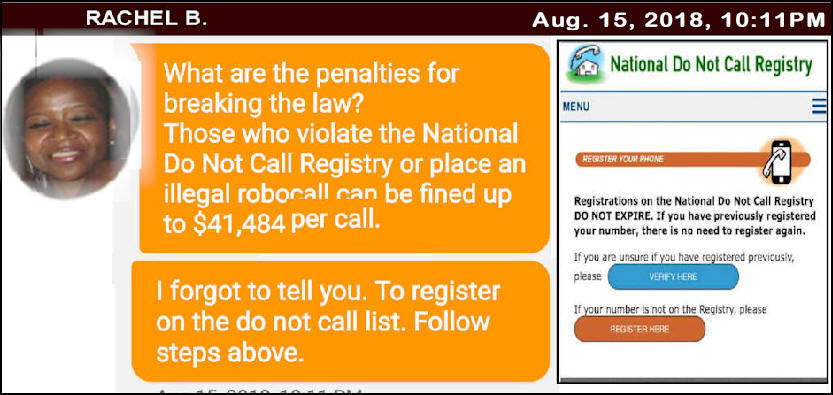 So if Rachel is wondering why she is under a global spotlight today, it is because the pest that she is, has refused to fly away.
MY LAST WORDS & ADVICE TO RACHEL
So I close this chapter with these words of wisdom, and advice to Rachel Berthoumieux
'Life is a school we wake up in each day". So I hope that this experience in my classroom of life as taught you these 4 life lessons
Lesson #1: The role of a maid of honor is to provide positive support to the couple, not to become the wife's booking agent in promoting a 'Single-wife' lifestyle.

Lesson #2: A true girlfriend with character, does not insult and disrespect her friend's husband. As the greater disrespect in your case went to Marline, and not to me.

Lesson #3: Choose your adversaries carefully, and never pick on someone more educated, and 100x smarter than you could ever be.

Lesson #4: Never inject yourself in someone's marriage to create division. Because it creates the 'Boomerang Effect', which you got a dose of, as represented in the artwork below,.

So if you learned these 4 lessons as my good student in the 'School of Life', you will not repeat the same mistakes, as your associates Mad Doc Dupiton and Psycho Joelle Mith-Joseph have learned the hard way.
SO RACHEL, I CLOSE YOUR EPISODE WITH MY LATEST ARTWORK
It does not say that you are a Machan'n pwason. It only reflects your ugly behavior at the New Year's Eve Gala of Dec. 31, 2015 at Mirelle's restaurant..
When Marline wrote "JC is not going to let anyone walk all over him", this is just what you tried to do
. THEREFORE YOU GOT TO PAY THE PRICE.
CONTINUE TO NEXT CHAPTER IN EPISODE #5


A Punk-Al Character &{positive words of a community Lady